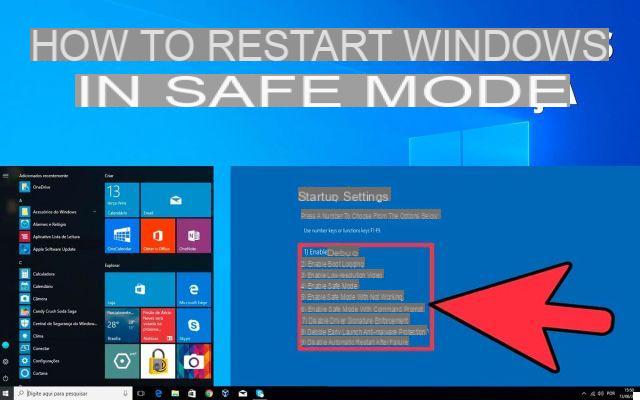 La Windows 10 Safe Mode it is one of the most important functions present on Windows because in this way it is possible to solve problems related to the operation of the computer, startup problems or other kinds. Safe mode is also called "safe mode" and allows you to start the operating system even in critical situations.
But how do you put Windows 10 in safe mode? The procedure is certainly a bit different on Windows 10 compared to previous versions where you could access with the classic "press F8 while the PC is starting up… a method that no longer works on new PCs due to their high startup speed.
However there are several ways to start the Safe mode in Windows 10, and below we will show you the most used and simpler ones.
Put Windows in Safe Mode with Rescue Disk
If you can't start Windows 10 (and get stuck in an automatic repair loop and / or get a blank screen when Windows tries to open), the best way to boot into safe mode is to use a recovery disk il installation disc original Windows 10.
RELATED ARTICLE: Recover Data from Windows PC That Won't Start
If you don't have one of these two discs, don't panic as they are both relatively "easy to make". But to create one of these discs you will need to temporarily use another Windows PC, obviously working. For more information, read the following guide on how to create recovery disc for Windows 10:
How to Create Rescue Disk for Windows 10
If you want to create a bootable USB stick for Windows 10, read this other guide of ours: how to create recovery USB for Windows 10
Once you have created the installation or recovery disc, insert it into the USB drive and restart your PC.
If you are using the installation drive, your PC will boot to the Windows installation screen where you need to click on "NEXT" followed by "Repair your computer".
The USB drive should instead start the Windows 10 Start Menu Blue Screen. Here, click on "Troubleshoot> Advanced Options> Go to Other Recovery Options> Startup Settings> Restart"
The PC should now reboot into a new blue screen named Startup Settings. Here, press key 4, 5 or 6, depending on which iteration of the safe mode you want to enter.
Put Windows 10 in Safe Mode with Shift + Restart
If Windows is starting up (even just on the login screen), the quickest way to go to Safe Mode is perhaps to use this other method.
Click the power button in Windows 10 (which you can access not only from the Start menu, but also from the Windows logon screen - useful if you can't log in to Windows). Then hold down the button Shift while clicking on the option "Restart".
This should open the boot menu of the blue screen we talked about in the first method above. From here you can follow the instructions to enter Windows 10 Safe Mode.
Put Windows 10 in Safe Mode from Settings
Another method to put Windows 10 in safe mode is to go up Settings (gear icon in the Start menu or type the word "settings" in the Windows search bar).
Then click on "Update and security"->"Restoration"->"Restart now"Under the heading"Avvio Avanzato".
This will take you to the "start" menu with the blue screen already seen in the first method. Click on "Troubleshoot> Advanced Options> View Other Recovery Options> Startup Settings> Restart. " After booting your PC to Startup Settings, select 4, 5 or 6, depending on the version of Safe Mode you want to use.
Put Windows 10 in Safe Mode -