How many photo do you have on your iPhone or iPad or iPod? I imagine many, like all the owners of a device such as iPhone, iPad, iPod who, thanks to their high resolution and camera quality, are ideal for taking beautiful photos. And as if that were not enough, in addition to the photos taken via iPhone / iPad / iPod, then there are all those photos that we transfer from a PC or Mac to them to create real photo albums.
To transfer photos from computer to iPad / iPhone / iPod, most of us use iTunes, but more and more people are using iTunes alternative software such as TunesGO.
In this article, however, we do not want to talk about how to transfer and manage photos on iPhone, iPod or iPad, but simply about how to delete photos quickly and easily. The operation of deleting photos might seem like a simple thing to do, but it is not so as it is possible to delete photos from iPhone and iPad only if they are photos taken and created by the device itself.
For those photos imported from the PC or Mac via iTunes instead, their deletion is not possible from the device, but should still be used iTunes!
How to Delete Photos from iPhone, iPad, iPod via iTunes
The iPhone uses iTunes, software for PCs and Macs developed by Apple for the company's line of mobile devices, to both transfer photos to your iPhone and delete them. You can configure your sync preferences in iTunes to remove photos from your iPhone. Below we see in detail the steps to follow. Pay attention to every single step in order to avoid unpleasant surprises!
How to Delete Photos from iPhone, iPad, iPod without iTunes
The procedure to delete photos from your iOS device, with iTunes, is certainly not the simplest and most intuitive. If you want to delete photos from iPhone, iPad, iPod without using the heavy and complex "iTunes", then we recommend using the application TunesGO.
Step 1. Installa TunesGO
First download the software on your computer (available for PC or macOS). Here are the download buttons:


Step 3. Collega iPhone al computer via USB
After download and installation, connect your iPhone / iPad / iPod to your computer (PC or Mac) via USB cable. Your device will be immediately recognized by the program: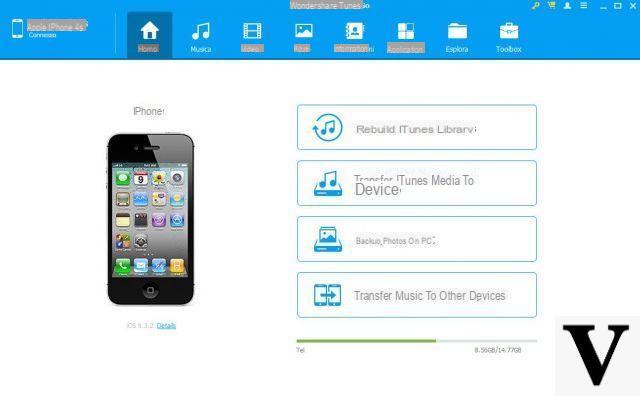 Step 4. Delete Photos from iPhone without iTunes
At this point, click on the "PHOTO"And you will be able to see in the center of the program all the photos and photo albums stored in your iPhone / iPad / iPod.
To delete unwanted photos the only thing to do is select them and then click on the trash can icon ("Delete"). You will be able to delete multiple photos at the same time and regardless of whether they were taken from the device or imported from the PC via iTunes!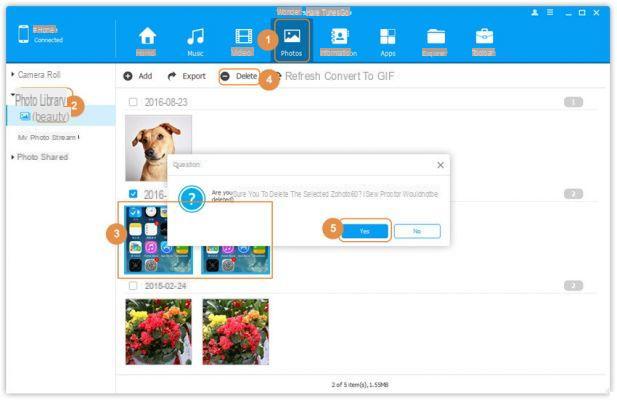 I have no folder selected in iTunes under "Aperture" and yet I find 16 thousand photos on the iPhone and the iPhone full, I also tried the method of selecting only 1 folder, but it does not delete them. I have photos on the iPhone that I have NEVER chosen to put on and I don't know how to delete, I have tried them all but nothing works ...
Thanks. I downloaded the application and conveniently deleted many photos, but not the PC added albums which are now empty. How can I delete these empty albums?
Thanks David
all done in just over 2 minutes of exceptional watch, perfect thanks
So with tunes go I can also delete from the computer the photos on my iPhone that have been imported by mistake from the computer via iTunes?
hello is it also compatible with IOS9 on Ipad air 2?
perfect app and great advice.
Thank you
Hello, I deleted some photos and videos with this program on an iPhone 4. The deleted photos and videos still remain on my phone but I can't open them. Among the deleted videos there was one deleted by mistake. Now, the video remains in the library but when I open it it tells me "unable to find the requested URL on this server".
Do you think it is possible to recover it?
Thank you very much!
It is no longer recoverable ... what you see is only what remains in the cache, but the video in fact no longer exists ...
really useful and helped me to solve the problem of the photos to download, very useful
I connected the iphone 5 s to the computer and on itunes it says that I have 2000 photos, which take up 5 gb. I would like to delete these photos but I can't find them. There are only 600 photos on the phone. How can I delete the others?
I passed some photos from the PC to an iPhone 5 and in addition to those I found all the photos of the PC and even videos. I can't delete them neither from the pc nor from the iPhone. What should I do? I've read the tips but can't find the Photoshop album or Photoshop elements item.
By the way, these extra videos and photos take up space!
Can you help me?
Good evening,
when I have to add a new folder to the ipad with any content I go to itunes "file" - "add folder to library" .... but what if I then want to remove it? to do so that itunes no longer draws from there?
Thanks for your kind reply.
Now I try to go into itunes and it says "the iTunes Library.itl file is protected, on a protected disk or you don't have write access for this file" Help!
Hi, is it normal that when I click to remove a photo it always gives me loading and therefore does not delete it?
Make sure the iCloud service is turned off on your device ...
My iPhone memory is almost full and I can't insert any more music, so I would like to delete the photos that I had imported from the computer, only that with the TunesGo program I get "Delete failed" what can I do?
I passed some photos from the PC to an iPhone 5 and in addition to those I found all the photos of the PC and even videos. I can't delete them neither from the pc nor from the iPhone. What should I do? I've read the tips but can't find the Photoshop album or Photoshop elements item.
By the way, these extra videos and photos take up space!
Can you help me?
Hi, I have an iphone 5 and yesterday by attaching the iphone to the pc I made the automatic synchronization and I cannot delete the photo of the pc that is saved on the iphone, do you know how to help me?
Turn off automatic sync and then try deleting photos again.

I tried but it still ticks 🙁 I can't even remove the picture album from my computer
Hi, I have an Iphone 6 and I can't delete the photos I transferred from my pc to the device, I followed the instructions but I can't find the Photoshop Album or Photoshop Elements item from the pop-up menu.
Could you help me
I only had Windows but then I bought an iPad …… And a lot of problems started! At what I see common problems. Long live the Apple
gabry just backup your phone
sorry, to me from delete failed, I tried to synchronize from empty folder and the photos are left to me 🙁
Thanks for the explanation, quick and easy !!!!
I also have in my Iphone 4s this folder synchronized x mistakenly by Itunes which is called FROM MY COMPUTER and which clogs my memory. I tried with TunesGO but I can't get rid of it. Thanks
hi to all I would like to delete only the syncrinized folder x mistakenly called FROM MY COMPUTER, is it possible? in this imported folder you cannot delete them as you usually do with other photos. a nice nuisance. I have IPHONE 5S. Thanks in advance
Try TunesGO, you should be able to remove that photo folder ...
I downloaded TunesGo, it opens the music, the playlists, but when I go to open the photos, which is the only reason why I downloaded it, it doesn't show any ..
I have an iphone 6 with ios 8.02, maybe that's why ..
I uploaded photo albums with itunes but when I open the album on the iphone the photos are messy, not as they were in the folder on the pc. How do you rearrange them?
I correct myself, the folder is called "photo stream"
In the case of the photos in the "photo stream" folder, these are present on iCloud… they should be deleted directly from there, otherwise they will always appear on the phone.
Sorry, but I downloaded the tunes go program, but it doesn't delete the photos in the "streaming" folder. because? and how do i get rid of them?
Hello a few months ago I had some photos in the streaming that I normally deleted on the iPad gallery..Now I want to know if these photos are still there and if I connect a device to my account they are there even if I have deleted them, thank you very much
a couple of months ago I passed the photos from the pc to the phone via itunes now I would like to delete the photos but I can't. how do you do it with itunes?
But the photos are permanently deleted or is it possible to recover them?
To permanently cancel I recommend using this other app:
https://www.softstore.it/ios-software/safeeraser/
Thanks a lot,
I finally managed to delete the photos I uploaded to iPhone 4s
from the pc.
A thousand thanks! Clear advice, I finally managed to delete the photos from my iPhone 4s that I had
Synchronized by pc.
I have a mini mac with leopard 10.5.8 and it doesn't support TunesGo… what can I do? is there any alternative?
I have deleted all backups from itunes.
Eventually you can still find traces on the PC from old backups made in the past of my iPhone 4s and recover deleted photos.
How can I be sure that no one can in any way recover data that may still remain in memory on the PC
There are data recovery software that could recover such deleted backup: https://www.softstore.it/utilita/data-recovery/
To be sure to permanently remove the data left in memory on the PC you then need a "File Shredder" software like this: http://www.adsmcard.com/2011/09/remo-shredder-cancellare-definitalmente-files/

Instead, to permanently delete the photos from the device it is better to use SafeEraser: https://www.softstore.it/ios-software/safeeraser/

thank you very much… I'll try as soon as possible
Hello, I have a problem with iphon 4s, I can no longer download the photos on the pc, as soon as I authorize from the iphone it is as if the cable were disconnected .... could you suggest something?
Guys to me I can't connect the device, it says there was an error with the connection, I try and try again but it always does the same thing. Can you help me?
Make sure itunes is still installed on your computer… it only serves to let the program communicate with the device.
How do you delete multiple photos I have to hit ctrl and then?
Select photos while holding CTRL. Once you have selected all the photos, click on the Delete button to delete them.
I have another problem: they transferred my contacts (450/500 phone numbers and email addresses) from bleck berry to iphon 4s. All good the contacts are in their place in alphabetical order etc. etc. However, all the numbers and email addresses went into contact. The problem is that I can't delete the contact. Usual procedure: I click on the contact (before opening a life) I click on modify a life anyway and scrolling to go to the bottom to click delete contact at a certain point the screen disappears and you have to start over without getting to the bottom. I tried to delete number by number but it's infinite. Is there a system? Thank you
the photos taken go into the album (photo roll). Still in the album I create one or more folders with various names and insert the photos. I go back to the photo roll to delete the photos and I also delete them in the folders I created. Can you help me?
Hi, if you are looking for a way to delete photos from the camera roll but NOT from the folders created here is how to do it:
https://www.softstore.it/cancellare-foto-da-rullino-foto-e-non-da-album-iphone-ipad/

Thanks 1000 Adim

I downloaded the program but in order to use it you have to buy it. € 38,00. Do you agree? If you recommend it, I'll buy it. When does he pass the photos from the cell to the cp where do you put them? no photo destination screen appears. L o does it automatically but I don't understand where they go. Hello and thanks

By purchasing the program, once you decide to save the photos on your PC, a window opens in which you can choose the folder on which to save them.
hello I have downloaded the program on the pc but it does not download the photos can you help me? thanks
I also have an iphone 4 with 7.1 and it tells me that "Delete failed" HELP!
This problem maybe happens with photos that are on the device after an iTunes sync. In this case you can try to delete all the photos by re-synchronizing with iTunes (with an empty folder ...). Here are the steps:
Step 1. Connect iPad to computer via USB and run iTunes.
Step 2. Click on the icon for your iPad and you will see the control panel appear. Click on the item "Photos".
Step 3. Select "Sync Photo from" and select an empty folder on your PC. Click "Apply" to start synchronization and delete all photos.

Greetings! By following the procedure listed above, will all the photos of the iPhone be deleted or only those imported from the PC to the iPhone?

Thank you!

All the photos you select are deleted ... both those from the iPhone and those imported from the PC ...

I apologize for the petulance but, how do I select the photos? From iTunes I can only select the PC folder to synchronize with the iPhone and not the photos I want to "save" or delete ...

I was referring to the use of the TunesGO program ... not the use of iTunes ...
i have an iphone 4 with update 7.1 i can't do it 🙁
Today we have updated the program to support version 7.1
Yes, I did it this way, but it replies to me "delete failed"
Why doesn't it delete the selected photos and delete them one by one?
To select multiple photos at the same time, just hold down the CTRL key on your computer keyboard. Once you have selected all the photos you want to delete, click on the "Remove" icon at the top.
Thanks for the article, simple and clear.
One question…. If I delete photos from the iPad, from streaming photos, the same ones not in streaming but saved in albums or in photos or events etc…. Do they stay on the iPad?
Yes, the photos that are not streaming but saved in the album or in the camera roll, remain on the iPad.
How to Delete Photos from iPhone, iPad, iPod with or without iTunes -