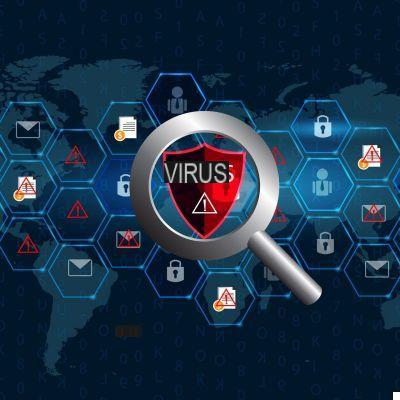 Choosing the best antivirus is essential to effectively protect your PC. Antivirus software should scan the PC system, identify threats and remove them. Zoom on the best antiviruses of the moment. This content was produced by our partner Clic2Load.
Indispensable for accessing information and various kinds of entertainment, the Internet is both a necessary and dangerous means of communication since it exposes terminals to numerous viruses. With the number of attacks increasing day by day, it is more and more difficult to protect your PC. This is why antivirus software must always be more effective in securing our computers. Thus, the choice of an antivirus is an important step which must correspond to the needs of each one while allowing a secure navigation on Internet.
What is an antivirus?
Antivirus is software designed to protect a computer. It protects the user's privacy as well as banking data and various information stored in the computer. This software is designed to scan the system for threats and issues due to malicious code. He then proposes to eliminate them and protect themselves from them. However, antiviruses do not show the same performance and the differences concern several points:
their ability to analyze the different types of threats (spyware or malware);
the amount of problems that can be identified;
how the software will handle detected viruses.
The best antivirus is the one that is able to deeply scan the system and remove all types of viruses that are detected.
Why do you need to install an antivirus?

© Mohamed Hassan

Every day virus writers search for new ways to access personal or business data on computers and devices connected to the Internet. Fortunately, security software develops effective updates to protect against malware, ransomware, phishing scams, and other types of viruses. However, not all antivirus software has the same functionality. Standard antivirus systems are able to scan a system, detect threats and repair them. As for problem management, the best antiviruses can quarantine threats when they can't remove them completely.
Prefer a paid or free antivirus?

© Mohamed Hassan

The best antiviruses use innovative security tools combined with powerful features. Easy to use, they are also excellent value for money. To choose effective protection against recent threats, it is necessary to invest in powerful antivirus systems that offer comprehensive solutions. Paid services allow you to benefit in particular from an antispam filter, advanced firewalls and parental controls. For businesses, professional antiviruses are accessible by subscription and offer suitable functionalities.
Choosing the best antivirus doesn't mean you have to spend more money. You can choose free and powerful antiviruses, such as Bitdefender Antivirus Free Edition or Kaspersky Free.
Our selection of antiviruses to protect a PC
Each antivirus in the following list has been chosen for its effective capabilities and features, all at a good price-performance ratio.
Bitdefender AntiVirus Plus 2019

© Bitdefender

Reliable and precise, Bitdefender Plus 2019 antivirus has web filtering to prevent access to malicious sites. It is a secure system that protects banking transactions and online purchases thanks to a powerful password manager. This software is also popular for its anti-phishing module, which detects malicious links in search engine results and denies access to dangerous sites. For its 2019 version, this security software is distinguished by multi-layered protection against ransomware with the ability to scan linked devices through the Bitdefender Central mobile application. With the Total Security 2019 edition, the antivirus system can cover up to five PCs or Macs as well as all Android and iOS devices. The annual subscription is € 29.99 for one device.
Download Bitdefender AntiVirus Plus 2019
Norton AntiVirus Basic

© Norton

The outstanding features of Norton Antivirus Basic software range from financial security to advanced privacy protection. It is an antivirus system that effectively blocks malware. With the URL blocker, malicious websites are no longer to be feared. Suspicious downloads are also quickly detected and stopped. Even though malware finds a way to get into the computer system, internal monitoring helps quarantine threats. Easy to use, the Norton Antivirus Basic antivirus offers configurations appreciated by professionals and individuals. The subscription for one device is 29.99 € per year.
Download Norton AntiVirus Basic
Webroot SecureAnywhere AntiVirus

© Webroot

Extremely light on the system, the Webroot SecureAnywhere AntiVirus program takes up little space on the hard disk and does not clutter up the RAM memory. In addition to scanning the system, it provides intelligent malware monitoring with effective anti-phishing, firewall and network connection monitor, advanced anti-ransomware, and other cool features. For a device, it takes 34.99 € per year.
Télécharger Webroot SecureAnywhereAntiVirus
ESET Antivirus NOD32

© NOD32

Comes with a real-time malware protection module, ESET NOD32 Antivirus is one of the best protection systems against various attacks on the Internet. In particular, it has an anti-ransomware layer, URL filtering to ban malicious websites, and modules that prevent attacks with PowerShell and other malicious scripts. It also offers a device control module to limit the risk of infection from other devices (USB, hard drive and devices connected via Bluetooth and FireWire). This security ally is accessible with an annual subscription of € 11.63 per protected position.
Download ESET NOD32 Antivirus
Kaspersky Anti-Virus

© Kaspersky

The powerful Kaspersky Anti-Virus software is based on the essential elements of security. It has efficient internet filtering which blocks malicious URLs. Capable of removing threats, it is equipped with intelligent surveillance technology. In addition, this program is easy to use and is suitable for both beginners and experts alike. Reliable and consistent, Kaspersky antivirus is available from € 39.95 per year.
Download Kaspersky Anti-Virus
Avast Anti-Virus

© Avast

Easy to use and free, Avast Anti-Virus software blocks various types of dangers, including malware and spyware. It's also found to be effective in stopping sending or receiving potentially infected emails, as well as features designed to monitor files and programs that block suspicious ones. In 5 minutes, the Smart Scan analyzes the state of the computer, then corrects any problems. It is possible to add additional modules to optimize the overall security of the PC.
Download Avast Anti-Virus
This content was produced by our partner Clic2Load.
to read also: 17
NEWS: Apps and software
Are our Clic2Load tutorials hidden sponsored articles?
For a few months, we have been publishing tutorials and files written by Clic2Load. Some of our readers have told us about their ...
2 years ago