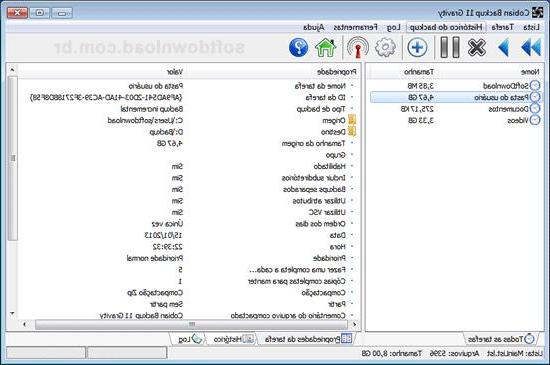 Il BACKUP it is the operation that allows you to secure your most important digital files, or even the entire hard drive of your computer. It is in a nutshell one of the most valuable maintenance tasks you could do on yours PC Windows. Thanks to the presence of the backup of your data, a sudden hard disk failure or an accidental deletion or formatting will not be painful and lethal for your files.
There are various ways to back up your PC and we have already discussed it in this article. Now instead we will focus on the "software" mode and see which are the best programs to backup Windows PCs (Widnows 10/8/7 / Vista / XP) in a simple, automatic and safe way. Here is a ranking with the most popular backup software currently available on the market.
# 1. AOMEI Backupper Professional
AOMEI Backupper is a full-featured backup program that can backup various types of data. Simple file / folder backup is supported, as well as disk cloning, partition backup and whole disk backup.
A simple one is included in AOMEI Backupper Professional wizard as well as the ability to compress a backup, split a backup into smaller parts, and even the backup files currently in use.
Click on the following button to download Aomei Backupper for free, install and run it.
Support Windows 10/8/7 / Vista & XP
From the initial window access the tab BACKUP from the left and choose the type of backup to perform from: system backup (read how to backup the entire comptuer system), File Backup (and folders), Synchronization files, Disk backup, Partitions Backup.
After choosing the type of backup to do, for example "Disk Backup", a screen will open where you can name the backup, choose the disk (or partition) to back up and then choose a destination (eg USB stick, external disk, CD / DVD, etc ...)
Finally, just click on "Start Backup"To proceed. Before the operation, you can access the options to customize everything.
In fact, by clicking on "options"At the bottom you will be able to access a window where you can add comments to the backup you are about to create, set a compression, an encryption, the splitting of the backup files, etc ...
By clicking on "Planning"You can set a backup to be done automatically for example every week, every month, etc….
AOMEI Backupper Professional is priced at only $ 39,95 (lifetime license) and is compatible with all Windows systems (Windows 10 included)
Once the backup has been made, the restore process can be done at any time always through Aomei Backupper: just access the RESTORE function of the program and from here choose the backup to restore:
#2. Acronis True Image 2018
Acronis True Image 2018, like the other popular backup programs described here, is a complete backup solution for your home computer.
You can back up your files selectively or perform a full backup of your entire Windows PC, saving it in places like an FTP server or external hard drive. For example, to back up your entire PC here are the steps to follow:
1. Open the program and access the function Backup:
Entire PC is preselected, leave it as is:

2. Set a name for the backup and select where to save that backup. By default it is set Acronis Cloud but you can change it.
3. Click Options to schedule the backup time, the files to save, etc ...
4. Click Back up now to conclude the operation
There are numerous advanced features and unique ones including AES256 data encryption, file preview, Facebook backup and restore to another account, email notification of completed backups, mounting backups as normal disks, 5GB of free online storage for one year, one hard drive wipe tool, sandbox mode, a PC cloning utility, real-time ransomware protection, file verification, and much more.
Acronis True Image 2018 is priced at $ 49,99 USD and is available for all major versions of Windows, including Windows 10 and Windows 8 as well as macOS systems.

# 3. EaseUS Todo Backup Home
EaseUS Todo Backup Home is a good choice for anyone looking for a good backup program for Windows PCs. It not only backs up files and folders, such as documents and mail, but also entire drives, partitions, and even Android devices.
It is easy to use thanks to the built-in wizard that guides you through the process of creating a backup job. It also supports standard features like compression and email notifications.
Screenshot:
EaseUS Todo Backup Home is also ideal for migrating the operating system to a new hard drive and for cloning data between disks that use different sector sizes.
EaseUS Todo Backup Home is priced at $ 29,00 for a computer and works with Windows 10, 8, 7, Vista and XP. Lifetime free upgrades are available for an additional $ 30,00.

# 4. Genie Backup Manager Home
Genie Backup Manager Home it's another good choice for home backup needs. Like other backup programs, it allows you to back up your entire system, certain files and folders or even certain types of files such as music, photos, etc ...
Backup and restore wizards simplify data protection and disaster recovery. Compression features, email notifications, online backup options and pre-configured backup sets make Genie Backup Manager Home a good choice even for advanced users.
Genie Backup Manager Home is priced at $ 49,95 and works with Windows 10, 8, 7, Vista, and XP.

# 5. O&O DiskImage 12 Professional
DiskImage 12 Professional makes it easy to back up your data, from individual files to entire hard drives, even those on which Windows is installed. Other features include encryption support, the ability to restore data to hardware other than the source, and an easy-to-use wizard that compacts the program window and lets you use the backup and restore functions in a real way. simple.
DiskImage 12 Professional costs $ 49,95 and can be installed on Windows 10, 8, 7 and Vista. The price goes up to $ 69,95 if two to five computers need to be backed up.

# 6. NovaBACKUP Professional
Like other backup programs, NovaBACKUP Professional it can act as disaster recovery software and backup hard drives, system partitions, and specific files and folders such as movies and music. A simple wizard is used to encrypt the backups and choose the source / destination folder. Beyond these features, NovaBACKUP Professional can enable virus scanning, send email notifications and restore backup images on different types of hardware and drives.
NovaBACKUP Professional has an annual price of $ 49,95 for backing up a computer. Works with all Windows versions, from Windows 10 to XP. There is also an option to purchase discounted versions of NovaBACKUP Professional which can be used on three or five computers.

# 7. Ashampoo Backup Pro
Ashampoo Backup Pro is based on a simple wizard that allows you to back up an entire hard drive, individual files, and folders, emails or bookmarks to and from any local or network folder. Among other features, file versioning and custom compression are supported, as well as encryption, email reporting, individual file and folder recovery, and automatic suspension if too many system resources are used.
Ashampoo Backup Pro costs $ 15,99 and works with Windows 10, 8, 7, Vista and XP, as well as Windows Server 2012, 2008 and 2003. You can also purchase a family license, which costs $ 9,99 USD and extends the backup license to a total of 6 Windows computers.

# 8. Veritas System Recovery
Veritas System Recovery It is an enterprise-grade disaster recovery tool, but the price is quite competitive with other home-focused backup programs. If you want the complete backup package in an easy-to-use program, Veristas System Recovery is an excellent choice.
Common features such as AES encryption and offsite backup are supported; there are also more advanced features, such as restoring to dissimilar hardware and creating a backup image of an entire computer. Symantec System Recovery is available for Windows and Linux
Best Programs to Backup Windows PCs -