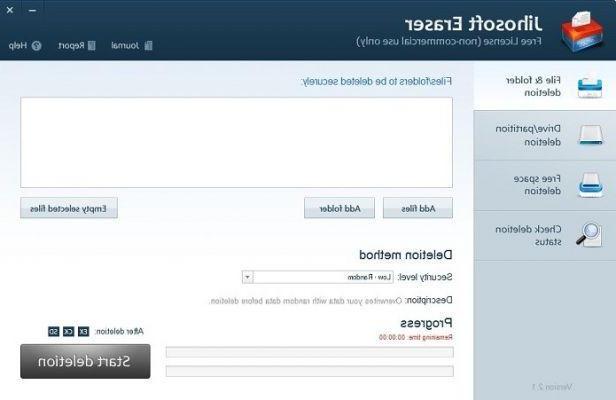 Are you looking to sell your Windows PC or give it away to someone else? Whether it's wanting to give a gift or making some money to buy a new device, you would still do well to permanently delete all data from the PC. This will protect your privacy and prevent misuse of data.
While there is no need to sell or give away your computer, it may be wise to erase the data in order to keep your computer running fast and running at peak performance. When a virus or other software problem occurs on your computer, deleting the data may be the best solution. In this article we see how to erase all data from PC (Windows) both permanently (for privacy reasons) and non-permanently (for PC performance reasons).
Advantages of deleting data from the PC permanently and not:
Cancel DEFINITELY data from the PC allows you not to make recoverable data (photos, videos, documents, etc. ..) saved and removed from your computer over the years. There are many programs on the net data recovery for Windows able to restore deleted and even formatted data from PC. If you want to avoid this read the solution 2 proposed at the bottom of this article!
If too much data accumulates on the computer, it becomes slow and performance degrades significantly. Wiping or erasing all data (even indefinitely) can make your computer run faster.
If a virus infects your computer, the only effective solution is to erase the data from the computer. This will make the hard drive as good as new.
Cleaning and erasing the disk from time to time solves fragmentation problems
If you are looking to merge or create a new partition you may need to delete data from a certain partition on your computer.
In case you are installing a new operating system on your computer, you will have to delete the old operating system and install the new one. Then you will have to erase the old data from the hard drive to make way for a fresh installation.
There are many third-party software that allows you to erase data, but below we see a solution that uses the Windows recovery CD and a second solution useful for those who do not have such a recovery CD.
Solution 1. How to erase all data from Windows PC using Windows CD (does not erase data permanently)
Windows gives good solutions when it comes to wiping data from your computer. However, it is always necessary make a data backup before deleting them from your computer. You can use an old installation disc or the new operating system installation disc to erase data from your computer. If you don't have such a CD then read the alternative solution in point 2.
You can use the following operations to erase all data from Windows hard drive. You will need to use Recovery CD or Windows CD to do such cleaning.
Insert the CD into your computer and restart your computer. At startup you will be prompted to press any key to boot your PC from the CD.
The PC will boot up reading the data from the CDRom. On the next screen you will be able to see different set up options. You will also see the list of your computer's disks. Select the disk you want to wipe and then choose the option to delete the selected partition. In case there are more than one partition, you can choose the other one as well to delete it.
Now choose the option NTFS and choose the quick or normal format option.
The system will automatically format the drive and erase all data from it. That's all! This method is quick and easy to do. But it has the disadvantage that even if you format a disk, the data on it can be recovered and restored at any time (via for example Data Recovery for Windows). If you want to permanently remove data from your PC read the solution below.
Solution 2. How to DEFINITELY erase all data from Windows PC without recovery CD
If you want to permanently delete the data and / or do not have the Windows installation CD, here is the solution: Windows Boot Genius. Thanks to this program you will be able to create a Windows Rescue CD in seconds. Download, install and activate the program on your PC. After inserting a CD / DVD or USB stick into the computer click on "BURN"To create the recovery disk.
Once the recovery disk has been created, insert it into the computer, restart the computer and at startup press the key (F2, F10, F12 ...) which enters mode BIOS. From this BIOS screen, you can choose to boot your computer from the inserted recovery disk. Once this is done, restart the program again and at that point the Windows Boot Genius program window will open thanks to which you can permanently delete all data from the PC (from a partition, from a folder or disk) in a very simple way:
Step 1: From the left sidebar click on "Data Wipe".
Step 2: You will see 3 options: Wipe Partition, Wipe Specific Folders e Wipe Files. Select if you want to permanently delete the data from a partition, from a specific folder or if you want to remove only some files in particular.

In our case, suppose we want to delete data from a specific folder.
Step 3: Click on "Add"To add the folders you want to remove data from. Finally click on "remove"To proceed with the data removal procedure.
NB: Data deleted with this method cannot be restored with ANY data recovery software.
Step 4: Select the folders in question and click on "Next"To confirm that you want to delete the data in them.
Solution 3. Permanently delete data from the PC with Partition Assistant
With the program Partition Assistant it is possible to "destroy" the data on the hard disk in a simple and fast way. For more information, please read this guide: How to permanently delete data from a partition
good luck,
I understand a little bit of computer science but that software costs 60 euros, I'm trying to make the recovery cd with windows which is free but then how do I delete all the files from C: considering that the operating system is on.
the problem is that this asus mini pc has a ridiculous 30 gb hard disk despite having installed windows 10 and scanned ccccleaner and antivirus, in short, I did some work but I want to use it as a pc on which to learn how to change the hard disk by mounting it a ssd of at least 500 gb, has some very good audio speakers to be.
I have a 30 gb usb stick that can be used on this pc as additional memory.
it only has one usb port to be
I would like to dispose of the windows 7 license that I have on the old destroyed hard disk, because I am afraid that qc by recovering the data, can have access to my payslips
I WOULD LIKE TO CANCEL MY ADMINISTRATOR AND REMOVE FROM THE COMPUTER EVERYTHING ABOUT ME ACCOUNT EMAIL AND THE REST
I recommend that you reset your pc
I WOULD LIKE TO CANCEL MY ADMINISTRATOR AND REMOVE FROM THE COMPUTER EVERYTHING ABOUT ME ACCOUNT EMAIL AND THE REST
I want to delete everything from the pc as new
Permanently Delete All Data from PC (Windows) -