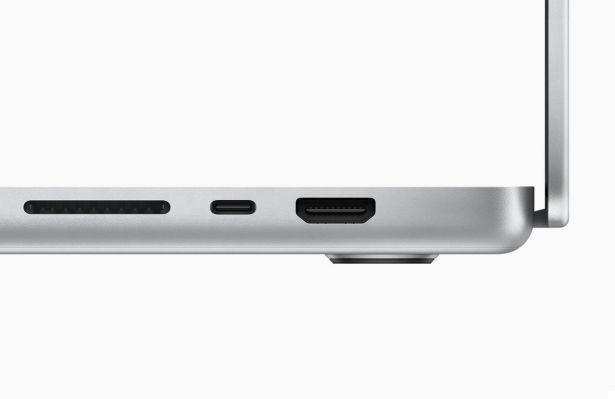 © Apple
Already prized by professionals as well as Apple lovers, the new Macbook Pro seem to have forgotten a compatibility.
Despite the return of several native ports on the new MacBook Pros, the one dedicated to SD cards seems to be slightly behind its time.
No UHS-III by SD Express
It's rather a shame. The new MacBook Pro, equipped with the M1 Pro and M1 Max chips, are powerhouses dedicated above all to greedy professional use, perfect for those working with photos and videos. With this in mind, the return of the sacrosanct SD port is a godsend for these people: no need to get an adapter that will block a USB Type-C port.
But Apple seems not to have done it entirely. At first glance, the Cupertino company had not communicated on the specifics of this port, posting a simple "SDXC card slot" on the data sheet of the new MacBook Pro. But The Verge editor-in-chief confirmed on Twitter that Apple says the port only supports UHS-II.
Twitter tweet
If you are wondering why this is a problem, you should know that the UHS-III standard allows a transfer of up to 600 MB / s, against only 312 MB / s for the UHS-II standard. SD Express, which is also not supported, can reach speeds of 4 GB / s. Technologies that make the life of image professionals easier to transfer large files, but that Apple did not want to integrate into its machines.
Source : WCCFtech