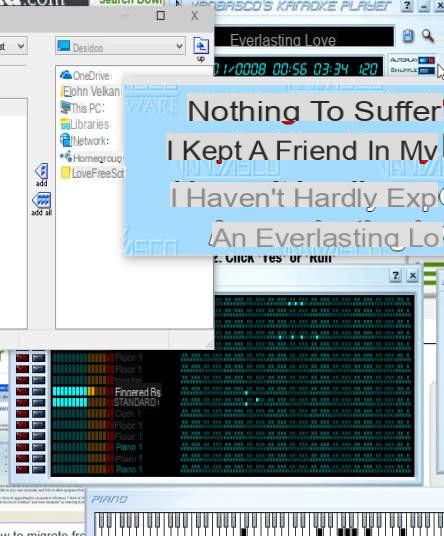 Since Windows 10 was released, various software and applications have presented gods compatibility issues. Among Karaoke enthusiasts, The app that has raised most concern is certainly VANBASCO. VanBasco is a very popular karaoke player, perhaps the most used by those who love to sing while watching the words of the text scroll on their PC screen. The main problem of this player is that it is no longer updated, just think that the last update dates back to 2004, 11 years ago !!
Vanbasco it was designed to work properly on Windows XP, and until now it has managed to remain (miraculously I would say) working even with the higher versions (Windows 7, Windows Vista, Windows 8 and 8.1). For those who have upgraded to Windows 10 and tried to use VanBasco, however, they will have noticed serious problems such as the one reported by a user:
VanBasco plays a first song correctly, but by choosing a second song, it runs while remaining MUTE, and no sound is heard. Closing and reopening VanBasco returns to work but always only for the first song.
Although some users, on the forums, have managed to find a workaround to make VanBasco work on Windows 10, the best solution at this point would be to use an alternative program to VanBasco, such as for example Kanto karaoke
Kanto karaoke is a player also available in a totally free version, which, unlike VanBasco, has a lot of more features. Here are a few:
1. In addition to midi and kar, it allows you to play backing tracks in mp3, cdg + mp3, kfn, video karaoke format (avi, mp4, mkv, mpeg)
2. Allows you to convert midi to mp3 for better sound quality
3. Also works as a "Karaoke Recorder" to record your own voice while singing on the audio base
4. Provides a simple and intuitive way to manage playlists and play songs without gaps
5. Dual screen mode
Kanto Karaoke is also available for both Windows PC (supports Windows 10, 8, 7, Vista, XP) and Mac OS X. Here are the links to download it:
Below is the main screen of the program, running:
The graphical interface and the usability of Kanto Karaoke are certainly the strengths of this player. In a single screen you will have complete control of everything. In the software options there are also other interesting features such as "midi out" (to connect external sound card), tone change, melody removal (for midi and kar files), possibility to change color and size of the karaoke text, etc….
For those who still want to continue using VanBasco also on Windows 10, and has no particular needs in playing backing tracks (especially for those who do karaoke sporatically and for pure personal enjoyment), you can try to go to Settings -> MIDI -> Reset Mode -> General MIDI. Closing and reopening the software should work again.
hi I have windows 10 everything works only some basics plays only some instruments and as if it were incomplete how can I do ????
I bought the computer last year. After the windows configuration, I also installed van Basque's. It worked right away, so far I haven't had any problems.
I don't know how to install at all
I have a particular problem: since I installed Windows 10, Basque Van makes me start without problems the songs in the already existing playlists but does not accept to play any new file neither by clicking it twice nor by dragging it on… .mah… does anyone have an idea?
Thank you!
your name is just what you can do for someone in trouble.
Excellent! thank you so much!
Exceptional really.
Bravo
Thank you
You are a great indeed you saved me from a note from my music teacher, thank you very much

Good boy. thanks, it works. Another solution is to use vanbasco's playlist but it's complicated.



To avoid that Vanbasco's midi player stops working by playing the midi file without sound on windows 10 operating systems Do as described
First of all, if you have Windows 10 on a new pc under warranty Uninstall McAfee and replace it with a third party antivirus otherwise vanbasco will not work under Windows 10 and you will have to redo the setup
and unlike Windows 7 Don't let it run as an administrator
for those who have this vanbasco problem with Windows 10
Procedures Only and exclusively as explained below as described in this guide
1) Access the vanbasco control panel with this musical note key and then settings
2) From the vanbasco settings menu Go to Midi
3) Remove the tick from Windows that appears from the midi reset menu (The triggering cause of the vanbasco incompatibility under Windows 10 which causes the midi track to stop working making midi the execution of the second midi track despite the second midi track being playback after the first midi track has played well playing it is the fault of the midi reset set by default on Microsoft, the only thing you have to do is uncheck Microsoft and bring it to General Midi and access the vanbasco settings menu must be performed WITHOUT playing any midi file on vanbasco)
3b) From the vanbasco menu, LEAVE the advanced functions of the midi setup that they are
A) Enable running status
C) Reset on pause
these settings if enabled False the execution of the midi files on vanbasco and delay the playback time of these midi files
4) Close the setup by clicking on Apply and finally clicking on OK
5) test more than one midi file on vanbasco under Windows 10, you will notice this problem that made midi file playback mute while vanbasco is running and midi files will play smoothly
Hi, it happens to me that the play works correctly, but when I stop and play and mute again the track goes on anyway .........

Hello everyone, I also had the same problem with the following tracks but I solved it by updating the windows. Takes a little while but in the end it worked.
Nb: VANBASCO I downloaded it from vittoriain. A hug
VanBasco not working with Windows 10? -