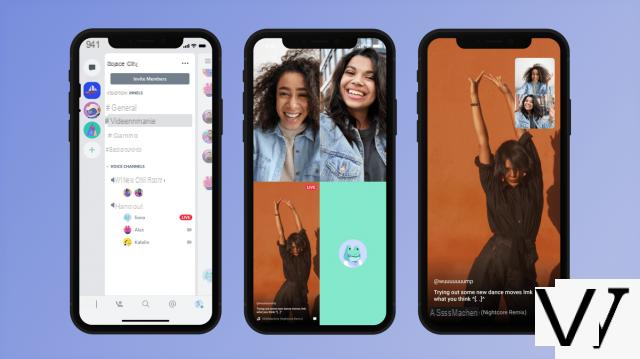 Smartphone screen sharing is now available with Discord's iOS and Android apps // Source: Discord
Discord is enriched with a feature in high demand and which, it is true, was lacking in its mobile application: screen sharing. Available on the Discord desktop app for a few years now, this feature was missing on smartphones - now it's available on Android and iOS.
As with laptops and desktops, mobile screen sharing allows users to simultaneously capture and stream whatever is displayed on their screen. These broadcasts are then accessible to members of the server selected upstream on their iOS or Android application. Note that this feature is common on mobile applications of services such as Zoom or Google Duo… that Discord is increasingly seeking to compete.
The screenshot is (finally) coming to your Discord mobile app
Contacted by TechCrunch, Discord said it has done a lot of work to make the content streamed perfectly readable, even when there are many moving elements on the screen. So, if you want to watch a video on YouTube or TikTok via the service as a group, or simply broadcast your game on Call of Duty Mobile to your friends, it should be done with a good framerate and minimal latency. Please note: once screen sharing is activated, everything displayed on the screen will be visible to other participants. If you want to prevent private messages from appearing during broadcast, it would be better to activate the "Do not disturb" mode on your smartphone.
YouTube linkSubscribe to Idroid
We learn for the rest that mobile screen sharing will be limited to 50 viewers simultaneously on Discord, but without limiting the number of users who can share their screen on the same server.
Discord has already launched the deployment of this new feature by means of an update to its application. The platform expects that all users with a compatible smartphone will have received this update by the end of the day. If you are using Discord on your smartphone, then it is quite possible that you already have access to screen sharing.