If you have upgraded your PC to Windows 10 or you bought a new computer on which Windows 10 is already installed, you may experience the incompatibility or incorrect functioning of several applications. If for example the old program for convertire PDF to Word does not work and / or you are looking for a Windows 10 compatible app that can process and convert PDF documents to Word, in this article you will find several solutions.
Solution 1. PDFelement
PDFelement is a professional PDF Editor software, fully compatible with Windows 10. First download and install this app on your Windows 10 PC and then we will see how to use it to convert PDF to Word in a few simple clicks.
Note: You can also use PDfelement to convert PDFs to other formats such as Excel, PowerPoint, text, images and web pages.
Access the official page of the program and download the version for Windows 10. You can choose between the "Standard" and the "Pro" version. The latter also has the OCR function capable of converting those PDFs obtained by scanning.
Guide: How to Convert PDF to Word on Windows 10 with PDFelement
Step 1: Open the PDF files
Install and start PDFelement on your Windows 10 PC. Once started, the first thing to do is to import the PDF document you want to convert into Word.
Step 2: Conversion Settings
Now go to the "Convert" tab and find the "in Word". After clicking this button, a window will open. In this window you can add all the PDF files you want to convert to Word.
In addition to importing PDFs to convert to Word, you can also set the output folder where Word documents will be saved.
If you import "scanned" PDFs, the program will automatically warn you to activate the OCR function that can "scan" and then be able to convert the PDF into Word.
Of course, you can also decide whether to convert all the pages of the PDF or just some.
Step 3: Convert PDF to Word
When all the settings are in place, you can proceed with the PDF to Word conversion by clicking on "CONVERTED". Wait a few seconds and you can get the .DOC or .DOCX files ready to open and edit on your Windows 10 PC.
Solution 2. PDF Converter for Windows 10
Another good solution to convert PDF to Word on your new Windows 10 PC is to use a PDF converter compatible with that operating system. We suggest you download and try the program PDF Converter per Windows. Once downloaded and installed you will see this screen: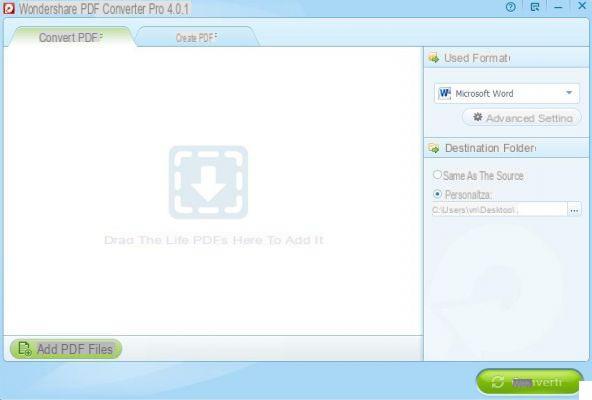 All you need to do is:
1. Import PDFs to convert to Word
2. Select MICROSOFT WORD as the output format
3. Choose whether to convert the whole document or a range of pages
4. Click CONVERT and start the conversion.
Solution 3. Convert PDF to Word Online
In addition to the "software" solutions, there are also online services that allow you to convert PDF to Word directly on your Windows 10 PC.
In this regard, we invite you to read the following very detailed and complete article: how to convert PDF to Word Online and for Free!

Convert PDF to Word on Windows 10 -