In the current era of modern technology, PDF files are increasingly popular. This is due to the fact that many books, both academic and those for reading in leisure time, are made available in PDF format and the prices of this digital format are significantly lower than those in paper versions. In addition, PDF files are easier to manage and carry with them than their hard copies.
However, the statistics show that many users encounter the problem "PDF does not open"Or"Cannot open PDF file". In fact, if a PDF does not open there can be several reasons behind the problem. For example, it could be a problem with the PDF itself or the Acrobat Reader installed and used by the client. Common problems with the PDF file include file corruption, Acrobat Reader not being recognized, or having a PDF created with non-Adobe programs.
Part 1. Why may it be impossible to open PDF?
Cause 1. PDF damaged
It may happen that a PDF file comes damaged during a transfer from one party to another. For example, if it was emailed or downloaded from the web, you can ask the sender to resend it or re-download it again if they can. It is also recommended that you copy the PDF file to your hard drive and not to a network drive.

Problem 2. PDF format not recognized
PDFs created by "non-Adobe" products do not always conform to the specifications of the PDF format, which causes them not to be opened in Adobe Reader or Adobe Acrobat. As for file types that are not recognized, older versions of Reader or Acrobat differ from newer versions in product naming. So, you might be able to access a particular PDF file in an older version of the product, but not in its latest version. In this case, try using an older version of Acrobat or Reader to open the PDF file.

Cause 3. Old version of the PDF viewer
Another possible cause of the problem could be Adobe Reader or Acrobat. If these programs are in an outdated version or there has been an incorrect installation of them, the PDFs may not be viewable.
To solve the problem it is therefore necessary to update the Reader or Acrobat to the latest version. This can be downloaded from the official website of Adobe. You could also try to repair the installation because Acrobat or Reader may be damaged.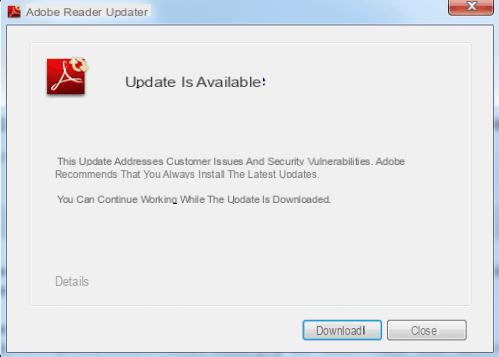 Part 2. How to Open and Edit PDF on PC and Mac
The "unable to open PDF file" problem may also be solved by installing a "PDF Viewer and Editor" program other than Adobe Acrobat or Adobe Reader on your computer. For example, we recommend that you try PDFElement, a professional software that allows you to open PDF files without problems and also make the changes you want to it as if it were a Word document!
The features of PDFElement are so many and all the tools are at your fingertips, such as deleting and adding images, texts and links. It allows you to encrypt PDF files with passwords to ensure the privacy and security of the file. It also has the ability to decrypt any password encrypted PDF file.
PDF Element also offers several tools such as underlining, highlighting, adding notes, strikethrough text, adding text boxes, etc ... As if that weren't enough, it also works as a great PDF converter with powerful OCR technology to digitize scanned PDFs.
PDFElement is available for PC Windows e Mac and supports all their versions.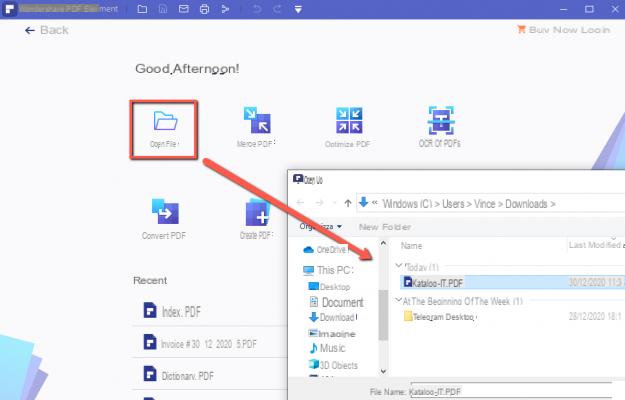 I too can no longer open the PDFs on my desktop and received by email. nice disaster
Once a pdf file is opened the computer is locked. I have to turn it off. I tried uninstalling adoboe and reinstalling it but nothing has changed.
Try using an Adobe alternative program, such as PDFelement. The link can be found in the article above.
I am obliged to use Dolphin for work but when it downloads the pdf it does not open them. If I share it with whatsapp then it opens. How can I do?
It happened to me too after cleaning with cleanup, but besides pdf files I can't open all Office applications.
Even after I cleaned up with Avast Cleanup, the adobe reader no longer opens for me.
i tried uninstalling and reinstalling adobe, but nothing has changed.
files open with all other applications
i ask for your help, i can't open pdf files.
Hi everyone, I just bought a HUAWEI P SMART 2019 and I have a problem with the "pdf" files downloaded from Facebook. I get the message "download completed", but then if I try to open the file through the link of "Download manager", I get the message "Note cannot open". In fact, searching on the system I can't find the file that was downloaded. Note that if I connect to Facebook via browser (instead of the Android application), everything works perfectly. Can anyone give me directions to solve the problem? Thanks.
Same problem how did you solve it ??
the pdf files do not open if not choosing eighth notes, how can I do? Acrobat reader is installed
I deleted something from the virus chest and Avast and the PDFs don't open anymore
It happened to me too, were you able to solve it?
excellent pdfelement ...
I can't download Follonica maps or rather it downloads but can't open files
Unable to open PDF file? Here's how to fix -