Christmas is almost upon us. Are you looking for a simple and original way to wish a Merry Christmas to your loved ones or friends?
In this article we report a very simple way to create Merry Christmas Video Greetings with Photos and Music, a video that you can then easily upload to Youtube or Facebook, or burn it to CD / DVD to watch it on TV or on your PC. The beauty of making wishes through a video is that you can insert the best memories, photos and video clips you want in it, and write on them what you want to communicate.
To create high quality Christmas video, video greetings, we recommend one of the following two programs:
1. Filmora (software per PC/Mac)
FILMORA: it is a software that can create videos with photos, and insert your favorite music as background audio. Download the free demo version for PC or Mac from the following buttons:


Guide: How to Create MERRY CHRISTMAS Video Greetings with FILMORA
First download, install and start Video Editor on your computer. In this guide we assume that you are using the Windows version of the program. The first screen that appears will ask you whether to open the "Simplified" or the "Full" version.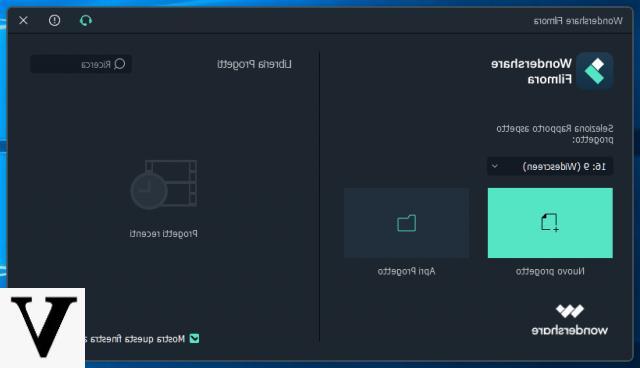 I recommend choosing to open the version "Complete".
At this point you will see a screen like this: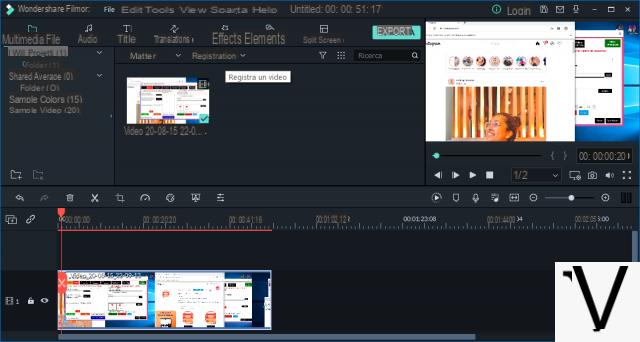 Like all films and videos that are respected, you must first insert an introduction. You can insert an introduction by accessing the card TEXT / CREDIT and choosing the one you like best (then drag it down to the "video" track). There are several introductory videos that refer to Christmas.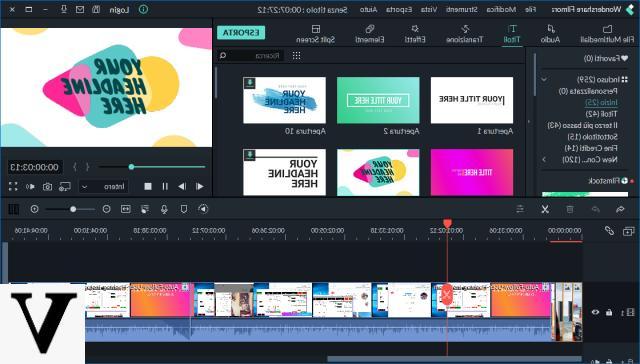 After the introduction you can start inserting the content you want, such as photos or video clips.
Import the photos and videos into the program and then drag them down to the "Video"To start creating the movie. Between the photos you can insert transition effects that will give the project more dynamism.
Video Editor has countless features, all of which are easy to apply. For example by clicking on "Text"You will be able to insert writings on photos and videos. After each modification you will be able to see, from the right of the program, the preview of the video.
If you want to further personalize and beautify your Christmas greeting video, we also recommend that you download this free pack of Christmas effects and elements. Such a package is called WINTER HOLIDAY EFFECT PACK and contains:
11 Title effects
1 new Transition effect
13 Overlay (overlay objects)
30 Christmas elements
You can download this package from THIS LINK (it's FREE, weighs about 224MB)
After downloading and installing the package, you will automatically find all the new elements and effects in the Filmora program (previously downloaded and installed). In the following figure you can see an example of "Christmas" elements that you will find in the program and that you can take advantage of when creating the video: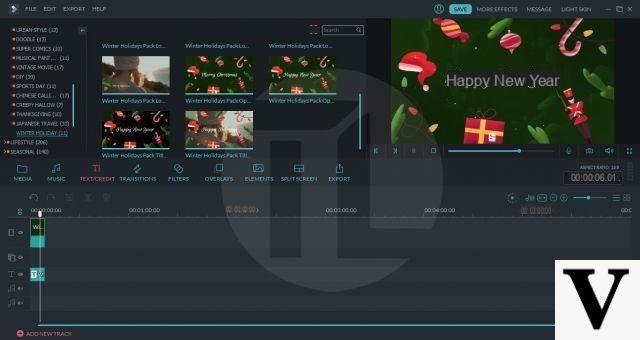 Once your greeting video is ready, click on the "EXPORT"And the output window will open. From here you can decide how to save the video (format) on your PC or whether to burn a DVD or alternatively publish it directly on YOUTUBE o FACEBOOK.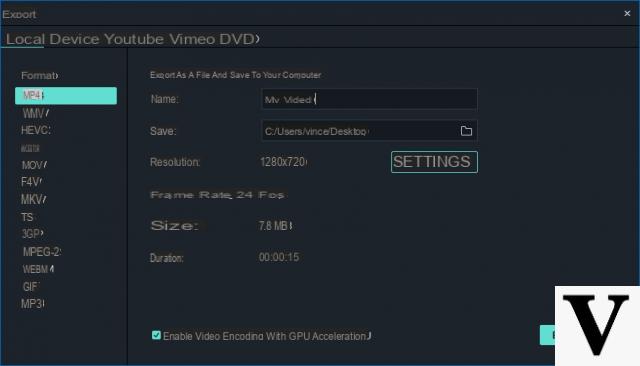 2. SLIDESHOW MAKER: 100% FREE service that allows you to create videos from your photos (directly ONLINE) and customize it according to the event: Christmas, birthday, Valentine's day etc ... Its operation is really trivial and we invite you to read the guide step by step on the official website https://www.freevideotool.net or take a look at the following video tutorial:
Hello, I would like a simple guide in English. where do i find it? Thanks
You can find it here: https://www.filmoravideo.it/manuale/
I did not understand how to do it and I have read everything but it is not clear
Just download and install the Filmora program on your computer and follow the guide in the article
Create Merry Christmas Video Greetings with Photos and Music -