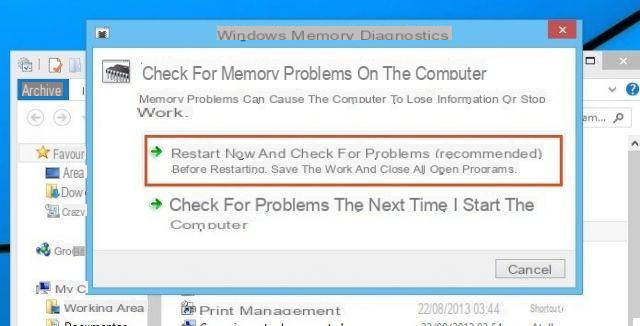 Who owns a Windows 10 PC, but also previous versions, could run into the problem of "insufficient memory"More often than you might think. It doesn't matter if you have a 4, 8 or 16GB RAM memory… this problem can impact anyone because, apparently, it comes from an incorrect management by Windows of the memory itself. Pending updates that definitively solve this problem, below we will try to give indications and possible solutions.
First of all it must be said that not always, when there is a memory problem Insufficient RAM, an error message or warning like the one shown below appears, inviting us to close open programs and files to avoid loss of information.
Unfortunately, the problem often causes the sudden and unexpected closure of all open files and applications on the computer, resulting in the loss of data and information. In even worse cases, a blue Windows screen appears or the computer even restarts itself.
Each situation should be analyzed separately to understand which application is causing this RAM memory "overload" and consequent system crash. In many cases it is noted that it is the browser, eg. Google Chrome, which if it results with many open windows and / or many extensions installed, causes an increase in the RAM committed until it is exhausted. However, it is not the only cause, and therefore it is necessary to look for solutions that are as "general" as possible, such as the ones we describe below.
Possible Solutions to Insufficient RAM Memory Problem Windows 10
SOLUTION 1: Check your browser (ex. Chrome)
If you notice that the low memory problem occurs especially while browsing the Internet through your default browser (eg Google Chrome) it is better to focus on it to find the solution. First of all it must be said that it is normal that Chrome (but also other browsers such as EDGE) consume a lot of RAM, in fact just do CTRL + ALT + DEL and log in ACTIVITY MANAGEMENT'to see that there are multiple browser-related processes that consume several MB of memory:
The presence of multiple entries for Chrome (or for another browser) arises from the presence of multiple open browser tabs and / or from the presence of multiple extensions (plugins) active on that browser. If you notice insufficient memory problems due to the browser, we recommend that you start doing two things:
Access your browser settings e clear all cache (and also chronology) which may have reached very high values
Disable and / or uninstall all extensions that you do not use because these can sometimes require a lot of RAM resources
In the case of Chrome, go to the address bar chrome: // chrome and check if you are using the latest version of Chrome and more importantly the 64-bit version if your PC is running 64-bit.
Once these three checks have been made, try again to use the computer and navigate, if the problem reoccurs try to follow the alternative solutions described below.
SOLUTION # 2: Uninstall suspicious apps
Sometimes the low memory problem could also be caused by a program or application that, without you noticing, continues to work in the background and consume system resources. To avoid this it is very simple: just do CTRL + ALT + DEL and log in ACTIVITY MANAGEMENT'to see if there are any applications that are running and consuming memory. Sort all applications based on memory consumption and check the various items. If you find any suspicious app or service that consumes a lot of ram, select it and click on ENDS to make it stop working.
SOLUTION # 3: Increase virtual memory
Another way to solve the low memory problem is to increase the virtual memory on the computer. This is the memory that is used by the ram to do all the operations in real time. By increasing this memory, your Windows 10 PC will have more space to store the allocated files. Here's how to do it.
1) On the keyboard, press the key Windows logo and X simultaneously to open a menu
2) Click on Settings.
3) Research Advanced System Settings and then hit on View advanced system settings
In the window that opens go to the tab ADVANCED and then click on SETTINGS as you can see from the figure below:

4) In the new window go to the ADVANCED tab and then click on at the bottom CHANGE
5) Uncheck the box at the top Automatically manage paging file size for all disks. Select the disk (preferably not C: and not even an SSD type disk) and then at the bottom click on Custom Size to set a minimum and maximum value.
Click TAX and then OK.
SOLUTION # 4: Do a Memory Cleanup
Another possible solution to the problem is to use a software that does a nice cleaning in the memory of our Windows PC. You can for example use the program Wise Cleaner which has inside all the useful tools to go and scan the computer memory, even the RAM, and delete all that is superfluous. Many users, after using this program, have experienced noticeable performance improvements of the computer and Windows 10 operating system.
In this regard, we recommend that you read the following guide: how to free up memory on windows pc with Wise Cleaner
hi, I've been fighting for a few days with windows viewer on my toshiba satellite i54200M 2.5 GHz laptop, Nvidia Gforce GT740 graphics card, windows 8.1 64Bit OS, 4 Gb Ram. Sermba that does not open images that have a value greater than 3.0Mb or better opens them for a moment or then the message of insufficient memory appears but this is not true, while the images with lower values, tried with 2,100Kb opens them without problems .
The PC memory used is about 35%, when I open W. Viewer it reaches 40%, I did all the possible cleaning as suggested in this post and in other posts, increased the VM min to 4000 max 8000Mb, cleaned the updated PC W. used wise care 365, CC, various antivirus, everything is in order, the pc starts up in 61sec before it took me 57 minutes to start. The problem persists I'm damn windows Viewer does not want to see photos with high MB values. welcome reply by email.
I've done every step, but the problem persists. I don't know if it's a problem with the computer or not, but usually when it says "insufficient memory", Chrome closes and I have to restart the PC, because even when I open it again, it works for a few seconds and then freezes, many times the screen goes black, so I find myself obliged to turn it off via the button.
I repeat, I have no idea if the problem is similar to what the article says and to the users above, or if it is only the PC, the fact is that it has been working like this since I got it.
It is definitely a RAM problem that quickly saturates and causes freezing and black screen.
Try replacing Chrome with Edge ... also try to avoid using heavy programs like Skype ...

The fact is that it also happens with Edge, but with a laptop I had three years ago it didn't happen, and I also had Win10 them. I don't have heavy programs, just Chrome, an antivirus, and one for PDFs.
I solved it too by following the suggestion. But in Windows 10 Home updated to version 1903 you have to start from the control panel:
• File Explorer + Left Click on "This PC" + Properties + Advanced System Settings
Or:
• Cortana: Type "Panel" + Control Panel + System and Security + System + Advanced System Settings.
Final note: coincidentally the insufficient memory problem occurred with the aforementioned update.
I am having this exact Ram related issue. Let me try the steps and come back to you if I can work them out.
[Solved] Windows 10 Insufficient Memory (RAM) Problem -