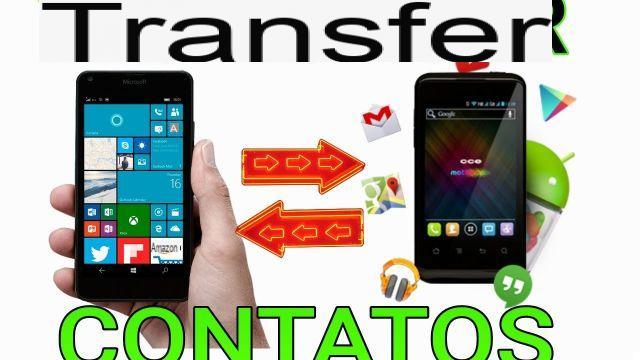 You're switching from a Windows Phone, such as the NOKIA LUMIA, to a new mobile phone based on the Android operating system such as Samsung Galaxy S6 / S7 / S8 / S9 / S10 / S20 / S21, Galaxy Note, HTC One, Huawei, LG G4 / G5 / G6 / G7 or other models? When you switch from an old mobile to a new one, your first thought is definitely on contacts in the address book. Contacts are the soul of the phone as they allow you to keep in touch with friends, relatives, colleagues and acquaintances.
If you are switching (or have already switched) from a Windows Phone to an Android phone, below we show the steps to follow for transfer contacts from Windows Phone to Android.
METHOD 1. Transfer Contacts from Windows Phone to Android in One Click
Thanks to the program MobileTrans you can transfer contacts, photos, music and videos from Windows Phone device to Android in one click. Mobiletrans supports Nokia Lumia 640, Lumia 735, Lumia 535, Lumia 435, Lumia 830, Lumia 1520, etc ...
First download and install MobileTrans on your PC or Mac OS X computer from the buttons below.
After the download you will see this screen
Click on the Blue area on the left to open the transfer window. At this point, first connect your WIndows Phone and then your Android phone. The two devices will appear one on the left and the other on the right:
From the center of the program choose the data to be transferred, for example CONTACTS and finally click on START COPY to start the transfer!
If by chance the contacts are not selectable, it means that you have not yet synchronized your Lumia contacts on OneDrive. In that case you will need to do the first contact synchronization of the Lumia on OneDrive by following these steps:
1) Create an account at https://signup.live.com.
2) From the Lumia phone, open the People application and click on "..." and then choose "Settings".
3) In "settings" click at the bottom on "account" and click on "add an account". Then in the new screen you have to select "Microsoft account" and log in with your account and password.
4) After a few seconds the contacts will be synchronized on OneDrive.
Once this procedure is done, reopen Mobiletrans and from the home screen click on RESTORE at the top right and choose ONEDRIVE. At that point you will have to access OneDrive from Mobiletrans and you can proceed with the transfer of contacts:
Alternative Solution: dr Fone Switch
If you are having trouble transferring data from WINDOWS PHONE on ANDROID through Mobiletrans we recommend that you also try the program dr.Fone Switch. You can download the free demo version from the links below:
Operation is very simple. Here is a short video tutorial:
METHOD 2. Manual Transfer of Contacts
Suppose you want to copy contacts from a Nokia Lumia to a Samsung Galaxy smartphone.
Step 1: Copy contacts from Lumia to an Outlook account
First make sure you have an account on Outlook.com or one on HOTMAIL (which has now merged with Outlook). If you don't have it, register from the site.
Step 1. From your Windows Phone (eg Nokia Lumia) go to the application list click on SETTINGS.

Step 2. Then click on EMAIL + ACCOUNT

Step 3. Click on "Add New Account"

Step 4. Select the item OUTLOOK (or Hotmail if you have an account already registered on it in the past).

Step 5. Write your Outlook credentials: email address and password of your Outlook account.
Step 2: Transfer contacts from Outlook to Android device (eg Samsung)
After synchronizing your Nokia Lumia (Windows Phone) contacts with Outlook, you can easily access your contacts via Outlook itself. Below we see how to import these contacts on the Android device. The program to use for this operation is called MobileGo.
How to use MobileGo to transfer contacts from Outlook to Android
Thanks to MobileGo you can manage all multimedia files on Android devices, directly from the PC and with extreme ease. The program allows both the export and import of multimedia files such as photos, music, videos, etc… in just one click. It also has other interesting features such as removing duplicate files, creating a backup or restoring it to the device, etc ...
But below we want to focus on the functionality it allows import contacts from Outlook to Android device.
Download the free demo version of MobileGO for Windows, from the link below:
Step 1: After downloading and installing the program, start it by double clicking on the icon on the desktop. Then connect your Android mobile to the computer via USB cable. MobileGo will immediately detect the device and display all its information in the initial window as shown in fig. below:
Step 2: From the left side panel click Contacts. Then click on the IMPORT / EXPORT button at the top and another menu will open. From this menu choose the option "from Outlook Express or from Outlook / 2003/2007/2010/2013".

Step 3: Select the Outlook account contacts to copy them to your Android device.
For this method to work properly it is necessary to use the same computer on which the contacts synchronization between the WIndows Phone and Outlook was made!
Very useful! Exposed everything very clearly. A thousand thanks!
Transfer Contacts from Windows Phone to Android -