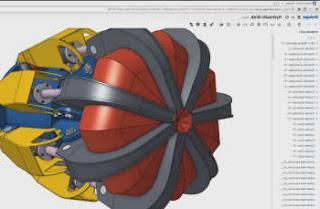 The writer is a big fan of Chromebooks, that is, those laptops that don't have Windows or Apple's OSX as their operating system, but Chrome OS, a system based entirely on the Chrome browser, where programs are web applications. A few years ago I had already described the reasons for buying a Chromebook as a portable PC, cheap, fast, safe and complete in everything.
Just with the eye to the Chromebooks some have recently been born
web applications that also allow you to work with CAD files, for 3D design
.
Programs like AutoCad, indispensable especially for engineers and architects, require powerful computers and high costs because three-dimensional objects use a lot of video processing power.
However, if all the processing work is done on an external server, via a "Cloud" app, then it is also possible to use a website to view and even create CAD projects. Today it is possible
design 3D objects entirely in a browser, on any computer
, even not of the latest generation, as you would do with a Word document.
In this article we see then
some web applications
that you can try for free,
for 3D drawing and CAD design
which should meet the needs of students and professionals in the sector.
1)
OnShape
is a site very similar to Google Docs, except that instead of writing documents or tables, you draw 3D objects. According to the OnShape website it can work as an alternative to programs like Autocad, Inventor and Solidworks. Onshape can be used for free in a version without support, with all the standard functions of 3D drawing, with the possibility of working on a project in several people online and with the support of the most popular 3D CAD files. The site also has apps for Android devices and for iPhones and iPads, perfect for keeping CAD files and showing them to anyone when needed without having to carry around the computer.
2)
Simile a OnShape
, even the site
Clara.io
, web application for 3D design.
3)
rollApp
e
Frame
they are instead two web apps that allow you to
use some famous programs for Windows and Linux PCs in the Cloud version
. In other words, the program is not installed on the computer, but resides on the company's remote server. From our computer, just connect to their site to be able to use that program via the web, without limitations.
While Frame allows you to bring our programs online, with rollApp, for free, you can run some of them directly in your web browser
free CAD programs for 2D technical drawing and 3D modeling
come FreeCad e openSCAD.
4) Other web apps are good for those who want to
learn and specialize in 3D printing
.
Autodesk Tinkercad
is a simpler, unprofessional but very powerful web app for designing 3D drawings.
5) Finally, it is worth mentioning a brand new web app, released a few days ago, which promises to provide an open source platform for collaborative 3D design. The site is
Model.io
which promises to also show via video how to design a 3D drawing from start to finish.
In the end, however, with a Chromebook or any normal PC, even professionals and students of architectural and 3D design will be able to stop installing very heavy and very expensive programs and will be able to enjoy web applications, taking advantage of their collaborative feature which is the true value. added of these cloud tools.