Whatsapp it represents a container of hundreds or even thousands of messages and conversations undertaken with friends, relatives or colleagues. These "chats" can contain important information, addresses, passwords, etc ... this is why the need to recover often arises old whatsapp conversations, probably deleted with too much haste and superficiality. Obviously, in addition to conversations and text messages, it often becomes important to recover any attachments such as photos and videos!
Fortunately, there is still a chance today to recover these removed conversations from Whatsapp. Let's see everything in detail below.
>> If you have a mobile Android, (Samsung, Huawei, Xiaomi, LG, Motorola, SonyXperia, Pixel, Nokia, Honor, HTC, and many other models) go to Whatsapp Recovery per Android
>> If you have a iPhone, you can download and try to scan the device memory using one of the two software listed below:
iOS Whatsapp Recovery (FoneLab)
Dr.Fone per iOS
Let's see below how both programs work and what their strengths are.
Recover Whatsapp Messages with Whatsapp Recovery
The FoneLab program is the one that we definitely recommend using if you really want to try to recover Whatsapp messages that you have deleted and that you would like to restore. Unlike other software, FoneLab is constantly updated and still manages to access the memory of the iOS device (even the latest iOS versions) in order to search for conversations to recover. Let's see in detail how it works.
First download the free demo version of Fonelab Whatsapp Recovery, on your Windows PC or Mac from the following links:


The free demo version allows you to view the messages that are still recoverable. In addition to Whatsapp messages, you can retrieve any attachments from chats: photos, videos, audio, etc ...
From the initial screen of the program, click on iPhone Data Recovery to access the data recovery function from iOS devices.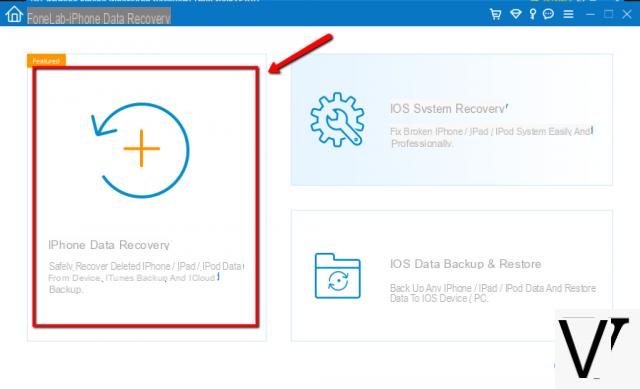 You will then access the screen where you can choose 3 recovery modes: "direct" from the iPhone / iPad memory or via the iTunes or iCloud backup (if present). If you do not have any backups you will have to proceed with the first method, connect the iPhone to the computer via USB and finally click on START SCAN to begin scanning the device memory.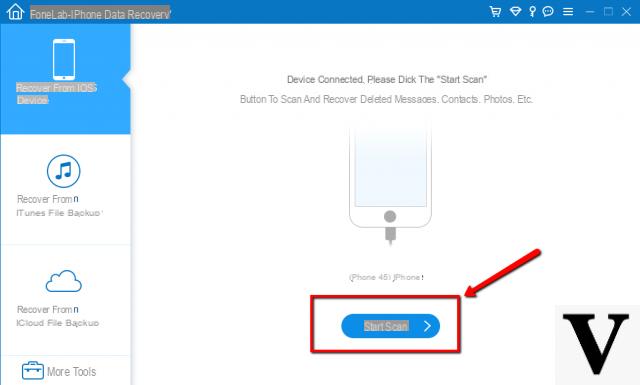 At the end of the scan, all Whatsapp files and messages found in the memory will be displayed in the program window (in the Whatsapp or Whatsapp Attachment folder):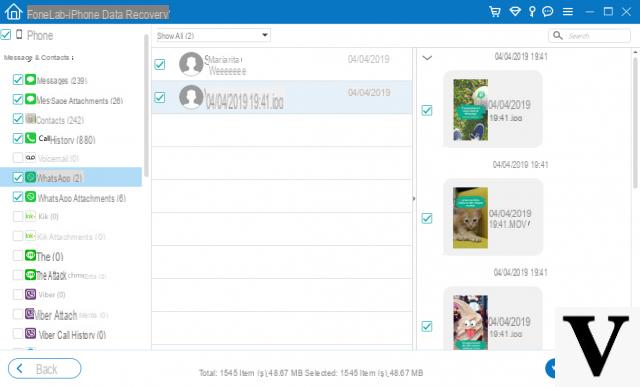 To save all messages on your computer just click on the "RECOVER ". Saving is only possible after purchasing the full program license.
Note: Using this program you may ask yourself: "How long can I recover deleted Whatsapp messages? Is it possible to retrieve messages from years ago? ". The answer to this question cannot be univocal and certain. In fact, it must be said that data recovery depends on many factors and takes place only if those data have not been overwritten over time. Unfortunately there is no precise logic on the "overwriting" of data, so it can also happen that you can recover a chat from years ago, and not one from a few days ago.
Recover Whatsapp Messages with dr.fone for iOS
This program is one of the most famous "iPhone data recovery" and allows you to recover all data deleted from the device, including old whatsapp messages. Obviously it cannot go too far back in the recovery as, over time, the old whatsapp messages may have been overwritten by new ones, and when there is such "overwriting", recovery becomes practically impossible.
Let's see below how dr.fone for iOS works to recover old whatsapp conversations removed from your iPhone.
Step 1. Download and install dr.fone for iOS on your PC or Mac
Here are the links to download the trial version of the program on your computer:


Dr.Fone home screen: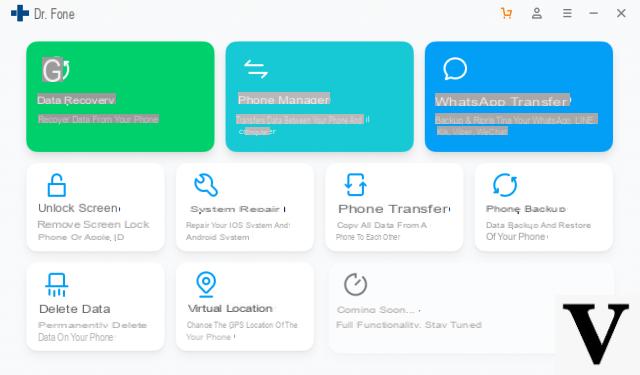 Step 2. Connect iPhone to computer and start scanning
Once you start dr.fone for iOS you will see a screen like the one in fig. on. Click on the function RECOVERY (on the left of the program interface) to proceed with the data recovery process from the device's internal memory or from the itunes backup file or from iCloud backup (if agolable).
Suppose you don't have a backup and choose direct recovery from iOS device. In this case we will have to connect the iPhone to the computer via USB cable.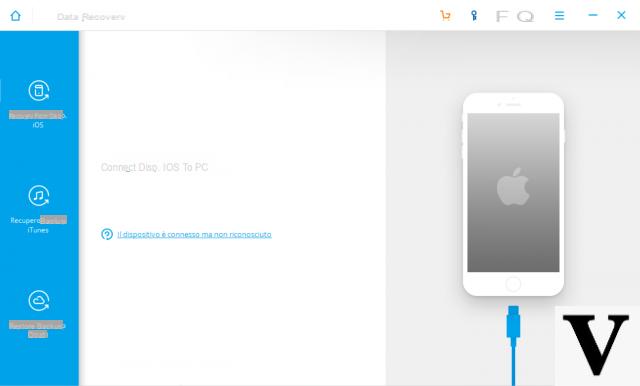 Step 3. Start scanning and retrieving whatsapp conversations
Click on "START"To begin scanning your iPhone memory. Before scanning you can decide the type of files to search (in our case Whatsapp & Whatsapp Attachments):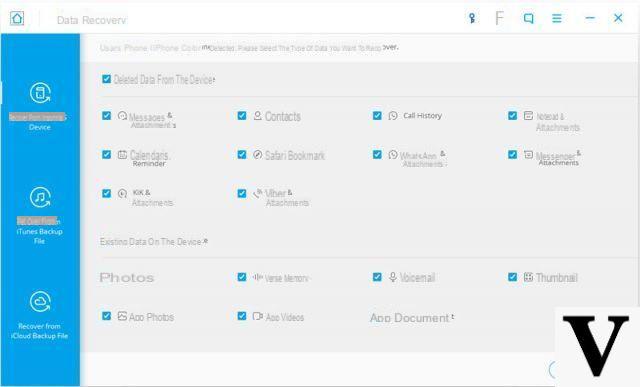 Click on START SCAN and DrFone will search all the files in memory, not only the old whatsapp conversations, but also photos, videos, notes, sms, contacts, calendar, reminders, voice memos, etc ...
At the end of the scan you will see a screen like this below, with all the files found: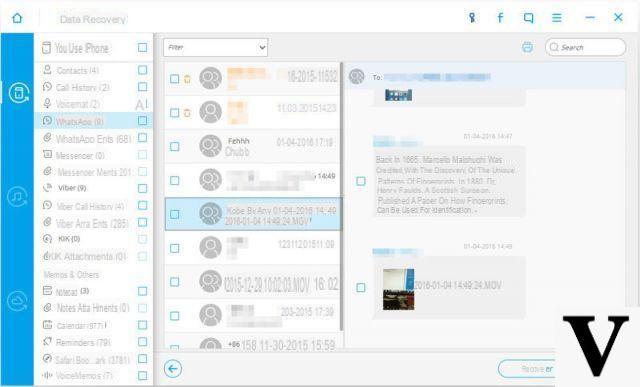 Access the folder "Whatsapp"And from here you can select the conversations to retrieve. Click on "Recover"To decide whether to save these messages on your computer or to bring them back to your iOS device. In addition to text messages, any attachments present in the conversation will also be recovered (photos, videos, audio ...)
That's all! Try the program now and check which and how many old conversations are still recoverable from your iPhone!
NB: If you want to recover Whatsapp Messages from iCloud backup, read this article: https://www.softstore.it/scaricare-backup-icloud-sul-computer/
If among the recoverable Whatsapp messages you see some that you would like to be permanently removed then we recommend that you use the program Whatsapp Eraser which is able to permanently delete Whatsapp chats from iPhone and iPad.
Good morning,
in August I changed my phone, from iphone 6 to iphone Xr, I backed up and recovered all the chats but the media, photos, do not load, they are all white and I cannot open them, how can I recover?
Unfortunately when the media does not load it means that the backup has not been done completely… and therefore only the chats have been restored.
Good evening,
I made the bu of the whatsapp chat on 31/12 at 00:46. I received a new iphone (Xr) on which I first transferred the app, and then I ran the history bu, but the conversations are still on 04/01/2019, for all contacts.
For example, on the new terminal, I have no trace of any conversation that took place in the last year.
What can I do? Thanks and good job.
Greetings! I changed my mobile without having backed up WhatsApp in the last month and a half and I no longer see the latest messages, if I log WhatsApp again on the other mobile, can I recover them? I went from VDF600 to redmi note 8 pro
Unfortunately they cannot be recovered by activating whatsapp on the other mobile phone if you have not made a backup ...
Hi but the words written with the t9 on Whatsapp are words that we find or memorize that we used. And if you can delete them
can i recover deleted messages on whatsapp even if i changed iPhone in the meantime? And how far back can I go?
Without the device it is impossible to retrieve messages.
Hello
by mistake I moved a SIM card from an Iphone 8 to a 10Xs without bup di in WUp but only in Claud
On the 10Xs I had backed up with Claud but I lost the conversations
if I put the card back in the old phone, will I reload the conversations so that at that moment I can back up on Wup and not on the claud?
thank you so much
Alessandro
Yes, the chats should all be on the old phone again.

Someone help me i deactivated whatsapp by mistake now i activated it and all chats are lost, there is no way to recover them
Good evening. After having deleted the phone number with which you made a phone call, it is possible to retrieve the number that I deleted again. Thanks.
Yes, you can recover it ... after scanning with the dr.Fone program, just click on the "Call History" folder
Hi .. you can recover wa conversations even from a CELL without sim ??? It's urgent thank you very much
Yes it is possible because the data is saved in the phone
To recover a deleted whatsapp chat of almost a year from Android
It's possible?
You can try to recover the chats.
In the case of iPhone: https://www.softstore.it/recupero-conversazioni-whatsapp-iphone-senza-backup/
In the case of Android: https://www.softstore.it/android/whatsapp-recovery/
I had to restore my s7 edge to the factory data because it was repaired under warranty but I found myself downloaded the conversations made on whatsapp from the moment I collected the repaired cell and not all the previous ones ... ... why?
Hi I wanted to know if there is a possibility to recover deleted whatsapp chats from Samsung with broken screen? The phone turns on but nothing is visible, the screen is all black. Thanks
Check out this guide for your case:
http://www.mobilerecovery.it/recupero-dati-samsung-galaxy-display-rotto/

Hi I have an iPhone I have to retrieve a conversation from 2018 they told me that it is not possible they tried but I do not know if because they did not live up to it is really like this for me it is really important to retrieve this conversation

You can try yourself to see if it is recoverable using the program described in the guide above ...

I would like to find deleted conversations from my Samsung android cell
Hi, about two years ago I canceled a conversation that is now of vital importance to me. I have an iphone 6s and I have never made a backup because it was too big for the agolable space. I've been trying a lot of apps but I just can't find anything I'm looking for. Please help me.
If no application finds it, it means that it has been overwritten and therefore permanently removed from memory ...
Hello,
I need some help.
I changed cel and in the new one I lost all whatsapp conversations, because, involuntarily, I did not "reset" when he asked me to do it on the new cel.
I can still view conversations on old phone (huawei p8lite), is it possible to retrieve and store them?
Thank you all
Yes, those conversations are always present on the old one ... so you can safely transfer them to your new mobile phone using a program like Whatsapp Transfer: http://www.whatsapprecovery.it/whatsapp-tranfer-backup/
Hi, you can recover whatsapp messages deleted in the last 3 months from a huawei p9 lite….
I await a kind reply, thank you ...
Hi, yesterday a friend of mine sent me by message that famous Japanese sign that blocks whattsapp on iPhones, and, having no other choice because it didn't even let me open the app anymore to make the backup, I had to uninstall it and then reinstall it ... having lost all the chats I installed whattsapp recovery and I'm doing the recovery which, in a first attempt, did not give me any results I have checked the current chats after the reinstall ... can you help me?
Hi, I wanted to know if it is possible to recover whatsapp conversations on a samsung phone that I have not used for about 7 months, conversations deleted immediately after receiving and reading them, therefore without a backup. Also I would like to know if you can recover conversations with backup even after months or years, from the samsung J7. Thanks
Yes, it is possible. Scan with the program to see what is still recoverable
Thanks so much for the support
hi at the moment drfone resets the icloud password when the problem is restored?
No, it does not reset the password
Hi, I can retrieve a phone number that I don't have in my memory and that I just unlocked from wathzapp (but of course I can't find it anymore)
Can you at least recover whatsapp photos from a cellphone that I no longer have? it was stolen from me and I lost all my photos. many I have shared on whatsapp can they be recovered?
No, it is unfortunately not possible
Is it possible to review a video chat made a few days ago?
sorry again, but can I scan the phone only if I connect it to the pc or can I do it directly on the phone? in the sense I connect from the phone on the site to download the software and I do the scan.
hello thanks for the forthcoming reply, the program works, but whatsapp does not recover any deleted chats.
Then there is little to do unfortunately .. it means that on that cell phone the program is unable to access the internal memory for data recovery ... difficult to understand the cause though.
hi, I have installed the software on the computer, I unlock the phone and connect it, the phone is recognized and starts the scan, unfortunately it reaches a certain percentage and freezes or sometimes trying the same process again closes inadvertently without leaving any error message , I tried to uninstall and re-install it but it doesn't change anything. i have a sony z2 and have tried it on mine, i should do it on another person's who has a huawey and wanted to test on mine first. You can help me?
I recommend that you also try this alternative program to understand if the same thing happens or not:
http://www.mobilerecovery.it/recupero-dati-whatsapp-su-android/
I can retrieve messages from two years ago even if I changed my phone
How to Recover Old Whatsapp Conversations -