Are you looking for a quick and easy way to automatically reply to the Whatsapp messages you receive on your Whatsapp company account in order to offer timely support to your customers? Or are you looking for a solution that helps you manage the many support requests that come to you via whatsapp? Below you will find interesting solutions that will fully answer all these questions. In particular we will see how to activate the automatic reply on Whatsapp, in the same way as you can do for example for messages received via e-mail. Here are the three possible solutions:
> Activate automatic replies on Whatsapp Business (Android & iOS app)
> Activate automatic replies with WhatBot (PC software)
> Activate automatic replies with AutoResponder (app for Android)
Activate automatic replies on Whatsapp Business (Android & iOS app)
If you have an account Whatsapp Business (and not standard whatsapp), inside there is a function that allows you to send automatic replies. It is in particular about absence messages, that is the classic "out of office" that is sent via email, or del welcome messages that you send to customers who write to you for the first time. If by "automatic replies" you mean something like this then here are the simple steps to follow to set up these absence or welcome messages.
Open the whatsapp app on your phone and click on the menu symbol at the top right and access Settings > Activity settings > Absence message or Welcome message.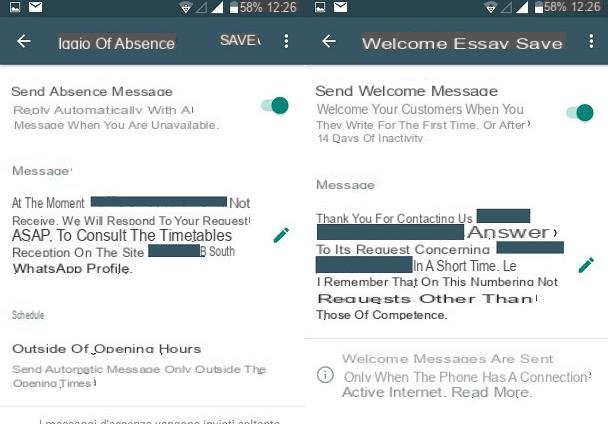 Activate the function Send away / welcome message and then tap the message to edit it.
Once the message is set, under Schedule choose between:
Always send to always send the automatic message
Custom timetable to send the automatic message only during predefined times
Outside the opening hours to send the automatic message only when the activity is closed.
You can also set the message so that it is received by everyone, only by those who are not in the address book or only by those in the address book.
Activate automatic replies with WhatBot (PC software)
A professional solution to be able to set up automatic replies is the one offered by WhatBot. With this program (to be installed and used on a Windows PC) it is possible to transform your Whatsapp account into a real "Robot" that responds and interacts with the people who contact you via Whatsapp.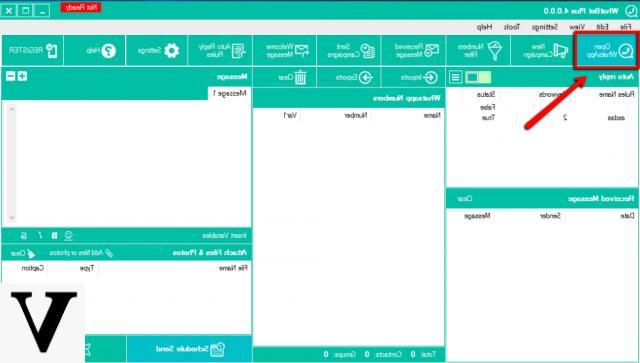 It is ideal if, for example, you want to keep track of all the customers who send you a message via Whatsapp and ask them (automatically) for their name in order to save it in your customer database. In addition to the welcome message to be sent automatically, with WhatBot it is also possible to create a "menu"Of commands thanks to which the customer can ask for various information (and always receive them automatically via messages on Whatsapp). For example, when the customer sends a message to your Whatsapp account for the first time, the system responds with a welcome message and then brings up a menu with the possible info that can be received (for example by sending command n. 1 the user will be able to receive offers in progress, by sending command n.2 he will be able to receive info about your company, and so on).
You can find a detailed program guide at the following link: https://whatbot.net/it/come-it-funziona/
Activate automatic replies with IM Auto Reply (app for Android)
IM Auto Reply is an app agolable on the Play Store and compatible with all Android devices that allows you to configure replies for most instant messaging services. It therefore supports WhatsApp, Facebook Messenger, Telegram and other instant messaging apps. IM Auto Reply is able to automatically reply to messages by reading incoming notifications and using the quick reply function.
You can activate this app for all or only the ones you want to use, for example Whatsapp. If you prefer, you can also enable it only for specific contacts so that you don't reply to everyone.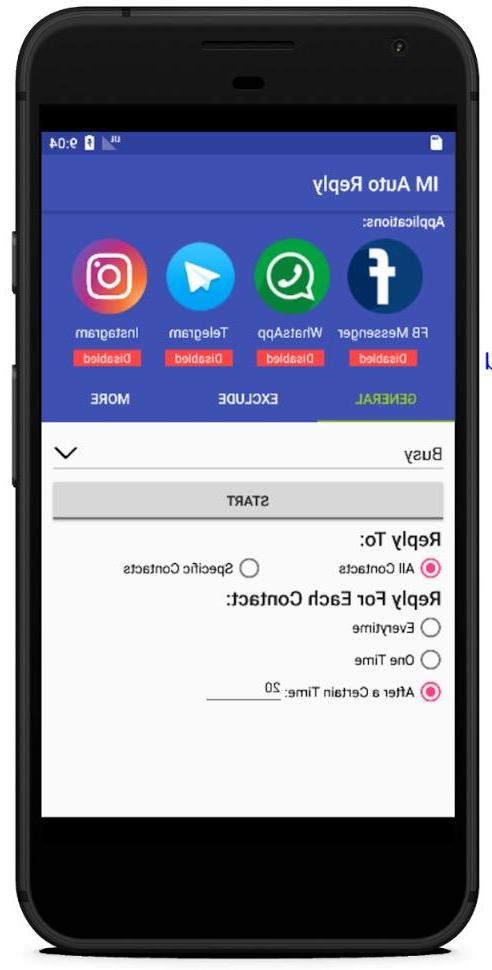 In addition to allowing you to send a personalized reply, IM Auto Reply also has the ability to reply with different messages based on the contact or group of contacts. You can also specify whether you want to reply to a person once or as often as they text you. Additionally, there is an option for the trigger. These allow you to set up personalized replies based on what the other person has sent and written in the message.
How to activate automatic reply on Whatsapp? -