I was able to test "Guaranteed Internet", one of the commercial arguments put forward by Bouygues Telecom to convince new customers. Feedback from experience.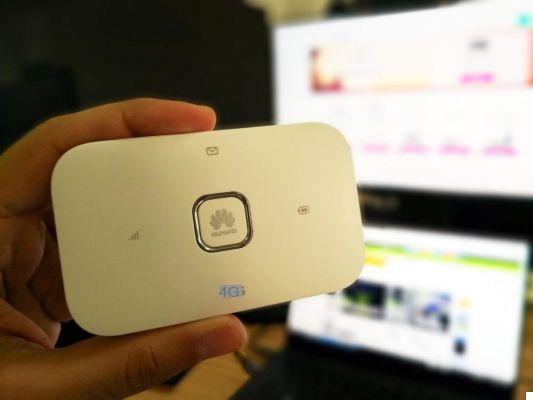 Update on July 31: after an installation that took 3 hours, Bouygues Telecom was finally able to finish creating and activating the BBox fiber line on July 30. So this is the end of my experience with "Guaranteed Internet". The article has been updated with the end of the test, including in particular the activation of the fixed line and the return of the 4G box.
I recently moved to an apartment eligible for FTTH fiber offers (optical fiber to the apartment) from Bouygues Telecom, and therefore took out a subscription with the operator, taking advantage of a promotional offer. As this is a move in, I did not have a previous Internet access, and therefore used the guaranteed free Internet option, which provides precisely to offer Internet access while waiting for the installation of the BBox from Bouygues.
This article is a return of my personal experience with Bouygues Telecom, and not an investigation. The operator did not lend any material and did not participate at any time in the preparation of this paper, as usual with the drafting of Idroid.
What is the Internet guaranteed?
Since April 2018, Bouygues Telecom has been offering a free option called "Guaranteed Internet" with its fiber and ADSL offers. It allows new fixed subscribers to have Internet access as soon as possible thanks to the loan of a 4G modem and a Bouygues Telecom mobile plan. A very good idea from the operator to improve the customer experience from the moment of ordering. This option is also valid for old subscribers in the event of a problem with their landline.
By scratching a little in the Bouygues Telecom assistance pages, we can find a clearer definition of the offer:
You have 60GB Internet recharge on your Bouygues Telecom mobile plan or the loan of a 4G Key to connect your equipment (smartphone, computer, tablet) to the Internet. Thus, if you change operator or if you subscribe to a Bbox offer, you will still have Internet access.
In the event of an Internet cut, when you move your line or in the event of an incident on your line, you benefit from:
Continuity of Internet service: an additional 60GB Internet recharge on your Bouygues Telecom mobile plan or the loan of a 4G key.
Continuity of TV service: thanks to the B.tv application, you can access 80 channels from your smartphone, tablet or computer.
Continuity of telephone service: thanks to call transfer, receive your calls from your Bbox line directly to your mobile, at no additional cost.
Now let's see how it all unfolds in practice.
Order and delivery within 72 hours
I subscribed to the BBox online offer from the Bouygues Telecom site on Tuesday, June 26. In a few clicks, my order was registered, not forgetting to check the famous Internet guaranteed box, and my appointment with a technician scheduled for Thursday, July 5, a little over a week later.
Here is the timeline of events:
Wednesday June 27: confirmation of the BBox order
Thursday June 28: confirmation of the order for a 4G key
Friday, June 29: shipping of the 4G key
Saturday June 30: delivery of the key in relay
Wednesday July 4: I collect the key at the parcel relay
It can therefore be noted that Bouygues was very responsive from the time of subscription: from ordering to delivery of the 4G key to the parcel relay, only 4 days have elapsed.
Le galet Huawei Mobile WiFi 4G LTE
The modem is the E5573B model from the Huawei brand. Fortunately, it is therefore not a simple 4G USB stick, but a much more practical tool. This small box is equipped with a 4G LTE category 4 modem, with a classic SIM port that we are more used to seeing in 2018, and will create an 802.11n Wi-Fi network. Up to 10 devices can be connected to it simultaneously. Only desktops are left on the sidelines, usually lacking a Wi-Fi connection.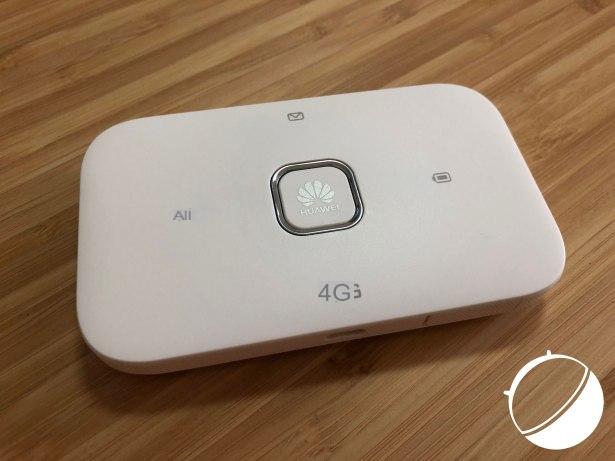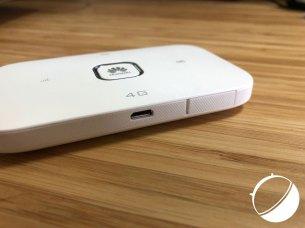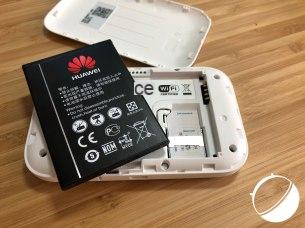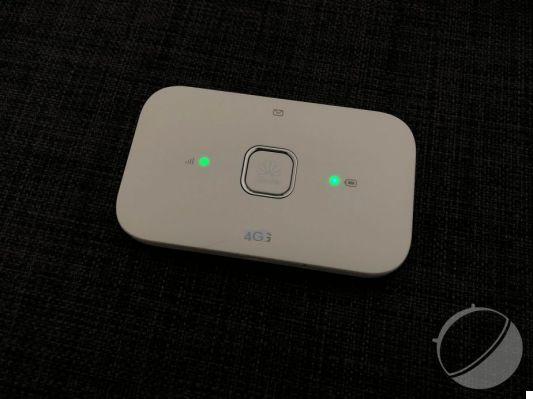 The configuration is very simple: just put the Bouygues SIM card in the device and connect to the Wi-Fi network indicated behind the battery cover. The SIM card was activated automatically, so there were no extra steps to enjoy internet access.
While we are still going around the 4G modem, it should be noted that it works on battery, since it is originally a product planned by Huawei as being mobile. I imagine that this is a simpler solution to implement for Bouygues, and less expensive in transport costs than sending a 4G Box for example. Note that the autonomy of this type of device is only a few hours, especially when you consume bandwidth. You must therefore leave the box plugged in at all times; luckily a simple micro USB charger is enough.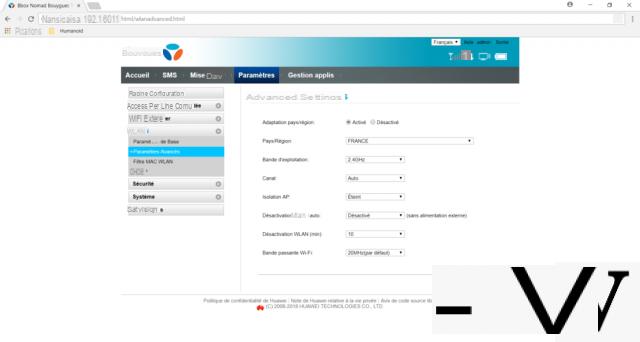 The modem management interface
60 GB is quickly consumed on a home connection
As Bouygues Telecom specifies in the small lines of its offer, the guaranteed Internet is in reality a mobile plan limited to 60 GB of consumption. What represents a substantial envelope for the connection of a smartphone is in fact very little for an access used at home by several devices.
I recovered and activated the guaranteed internet connection on July 4th. I then consumed my connection in a fairly classic way, without really limiting myself, but taking into account that some devices (still in the boxes) were not connected. Unfortunately, the meeting with the technician went badly, and without going into details, the connection could not be installed. This problem comes from housing, and no technician from a competing operator could have solved it. So I remained dependent on the 4G connection longer than expected.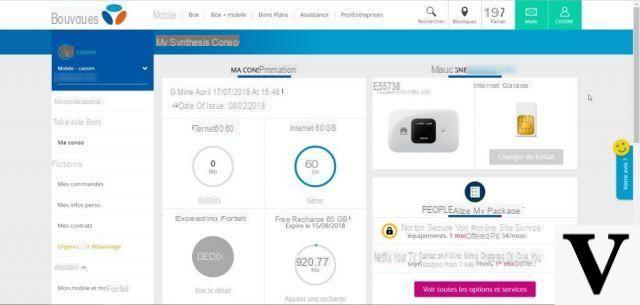 The 60 GB of quota was spent in a few days.
In a little over a week, on Friday July 13, I managed to empty the 60 GB quota. Impossible to know in detail who were responsible for this consumption. Overall, my connection usage boiled down to a lot of surfing, live TV on Molotov, a bit of binge-watching on Netflix, and arguably a few downloads of updates (Firefox, Windows, Shield TV, etc.) in the background. When the package reaches its quota, the connection is severely restricted to the point of becoming unusable, a fairly simple page like Qwant.com then takes several minutes to load.
Good to know: free top-ups on demand
Fortunately, Bouygues Telecom seems to have anticipated this kind of inconvenience, and allows the bundle to be recharged for free with a new quota of 60 GB on request. However, the operator does not really highlight this possibility. When I reached the quota the first time, no message alerted me to this fact, and I was never invited to request a top-up.
A quick exchange on Twitter and voila, I was entitled to my new quota. I took the opportunity to ask what exactly were the limits of this service, the answer is clear: 5 refills maximum can be performed by the operator's customer service. I requested a new top up on July 27. In the end, from July 2 to July 30, I consumed 162 GB for free thanks to the option.
maximum 5, hoping that your services will be restored before the next recharge
Melaine
— Bouygues Telecom (@bouyguestelecom) July 16, 2018
End of the experience and return of the equipment
After a long installation of 3 hours, Monday July 30, the BBox is finally configured and functional. This is therefore the logical end of my "guaranteed Internet" offer, which Bouygues did not fail to remind me of the next day. As soon as the fixed line is activated, the operator launches an automatic termination procedure for the 4G mobile line that he had created especially for the occasion.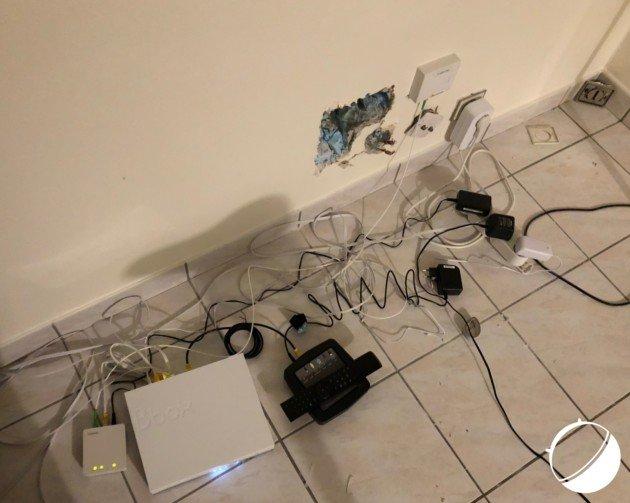 All I have to do is return the 4G box. To do this, the operator offers to drop it off free of charge in one of its shops or in a parcel relay. The customer can also go by post, but this will be at his expense, and not at those of the operator.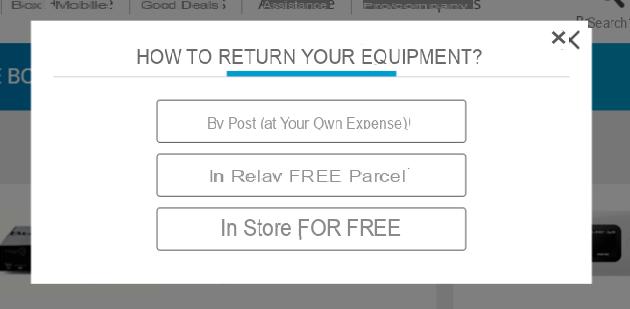 A well-fulfilled contract
While waiting to be able to activate an unlimited fixed connection, we can say that Bouygues guaranteed Internet has fulfilled its part of the contract. Of course, I would have liked to have been warned of the end of the quota and of the possibility of recharging the package for free, this could also be done automatically or more easily from the operator's customer area. However, with this proposal, the operator has the good idea to use one of its strengths, its mobile network, wisely.
Bouygues Telecom's 4G key package with 60 GB of quota, therefore equivalent to what the guaranteed Internet option offers, is billed at 42,99 euros per month by the operator on its store, a price quite overvalued when compared. to the smartphone package market. Over the phone, Bouygues customer service told me that I would not be billed by the operator until my BBox line was activated. In fact, as long as my line is not activated, the operator therefore offers me a package worth 42,99 euros per month, which I have already been able to top up with a new quota of 60 GB.
I come out of this experience by being quite satisfied with the guaranteed Internet from Bouygues Telecom. This option allows you to obtain Internet access while waiting for the resolution of a fault or the installation of a new landline. Only the small downside remains concerning the 60 GB quota and the lack of automatic recharging in my case. This remains little compared to the service provided free of charge.