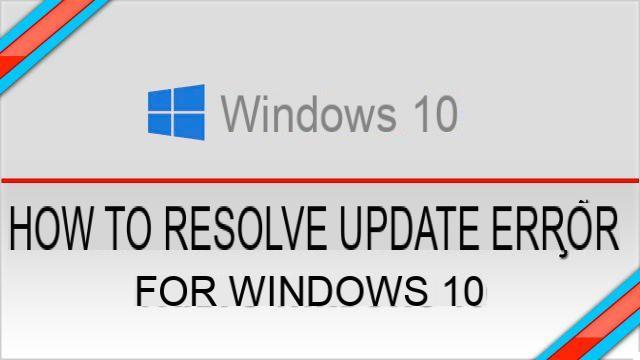 Microsoft often creates updates for the Windows operating system and all PCs (or almost all), once they recognize the presence of an update, they install it automatically. Unfortunately with each update, there are some users who encounter problems, especially during the installation of the update itself. We have already analyzed some problems during Windows update, and below we will deepen the discussion by making a list of possible error codes and understanding which are the best methods to bypass them and / or solve them easily.
Here is a list of errors you may have seen while updating (failed) Windows and a brief description.
Update Error 0x8007371b: it's an old error that also occurred on Windows 7 and Vista. However, users reported the 0x8007371b error even with Windows 10. The 0x8007371b error message is also associated with this ERROR_SXS_TRANSACTION_CLOSURE_INCOMPLETE code. This problem occurs when users try to update Windows 10 but encounter a problem during installation
Update error 0x80246008: This error occurs when users try to install a new update via Windows Update, but for some reason it fails.
Update Error 0x80070026: error that appears in Windows 10 when trying to install the latest updates. One possible reason for this error code is that the C: Users folder has been changed to another directory, such as F: Users, resulting in an error during the upgrade.
Error 2149842967- Occurs for some users when they try to update Windows 10 (manually or via the Windows Update feature). The event log message for error 2149842967 indicates that the Windows update cannot be installed due to an unexpected error.
THEerror 0x80245006 during Windows update it can appear in various circumstances and is quite frequent among users.
Error 0x80072EE2: This error can be caused by a poor internet connection, Windows 10 firewall blocking access to the update server, or some antivirus interrupting communication with the update server.
THEerror 0x800F0923 is one of the most frequent Windows 10 update errors. Occurs when a driver or app is incompatible with updates that users are trying to install.
Il error code 0x80080005 appears from Windows Update when it has failed to download and install one or more updates for your computer. Using the troubleshooter and resetting some components or the cache could fix this problem.
The list of possible error codes that appear while installing Windows updates could go on and on. But how to solve these types of errors? Below we will show the most effective (and very simple to apply) solutions.
How to Fix Windows Update Error
7. Disable Windows Update Service
It is possible to fix the Windows update error simply by disabling the Windows Update service. You can do this by following these steps:
Press keys Windows + R and write services.msc. Hit enter.

Log in to the service Windows Update and double click
Now set the startup type to disabled and click Apply and OK to save the changes.
Reboot the PC
When your PC restarts, go back to the window Services, open the properties of the Windows Update service, set Startup Type to Automatic and start the service.
Windows Update Error. How to solve? -