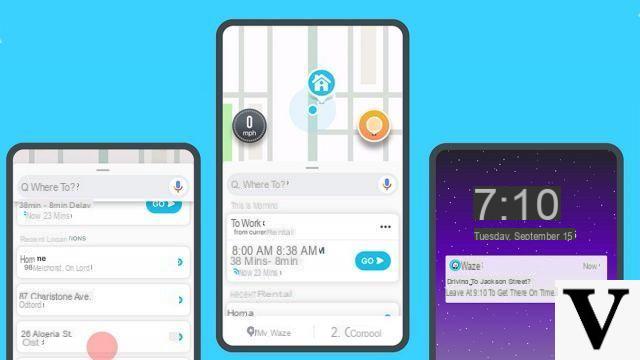 © Waze
During its new virtual conference, Waze On, the navigation application Waze announced a series of novelties. These include suggested routes based on the user's history, recommendations as to which lanes to take or the possibility of using Google Assistant in Spanish.
This week, the Waze app launched its new virtual event: Waze On. On the occasion of this major conference, the Israeli company unveiled the new contours of its service. With, on the program, some innovations planned to further simplify the use of the navigation solution, to the delight of the 140 million users claimed by the Google subsidiary.
Read also:
Waze Updates Maps With COVID-19 Related Information
No more excuses for arriving late
The first occurs as soon as the application is opened. Waze will immediately suggest a few routes, based on the user's habits. The latter can then start navigation without delay. Likewise, a notification will warn them in the event of a traffic jam on one of their usual routes. These features, supposed to limit the risk of delay for the motorist, should intervene from next month.
And Waze will provide more information to the user to promote punctuality. The application claims to have reworked its system for estimating the time of arrival. The purpose of this update: to take into account the impact of the Covid-19 pandemic, which has resulted in reduced traffic in some parts of the world, making forecasting more difficult.
Read also:
Google Maps updates and brings more details (and colors) to its maps
Greater openness to third-party solutions
Another improvement will be particularly useful to drivers who are sometimes taken aback by the lack of precision in the instructions. If you have ever railed against a wave "Keep left", you will undoubtedly welcome this novelty. Because the application will now be able to tell you in which lane to position, in particular when entering and exiting the motorway.
In addition, Waze has enriched its compatibility with other tools. This includes new features for its carpooling service, but which is currently only available in Israel, the United States, Brazil and Mexico. The navigation app also improves the integration of Google Assistant, with support for three new languages: Spanish, Spanish and Portuguese. Finally, after partnerships concluded with audio streaming services such as Deezer, Spotify or YouTube Music, Waze welcomes a new major player: Amazon Music.
Source : TechCrunch