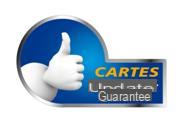 The Spanish Viamichelin, which recently entered the world of GPS navigation with four PNDs (Personal Navigation Devices) currently on sale, corrects one of its major flaws, namely its rather strange policy of updating digital maps.

Since Viamichelin is a partner of the database supplier, the company has therefore joined forces with the latter to set up a free, or almost free, offer of guaranteed updates of digital maps for autonomous GPS navigation ViaMichelin Navigation X-950, X -950T and X980T. To take advantage of this offer, valid for 90 days from the date of purchase, the holder of a ViaMichelin PND must register on the brand's website and send his purchase ticket together with a contribution to the cost of treatment of 9,00 euros. A DVD updating his cartography will then be sent to him within 30 days.

Finally, note that this offer is only valid for PND X-950 or X-950T acquired between January 22 and September 30, 2007 or PND X-980T acquired between January 22, 2007 and September 30, 2008. For owners of the brand's first PND, the X930, no such offer is available, despite the fact that he has the oldest digital cards available to date and despite the fact that he already had at his exit from card implementation problems ...