You have a document PDF and you can't select the text in it with the mouse, and then consequently you can't copy it? If this happens it means that you are in the presence of a PDF obtained via scanning or a copy-protected PDF. In fact, if you try to select the text you can actually select a whole page, as if it were a whole image.
How to overcome this obstacle? So what is the solution to be able to copy the text with the mouse, thus avoiding having to do a huge job of dictation and handwriting? Below we will analyze various solutions. Read on to find out right away!
Copy PDF Text with PDFelement
Here is the first solution solution. It is about PDFElement and it is a program that allows you to convert your PDF into another "editable" PDF or with "selectable" text. This program is especially useful if you have a scanned PDF from which it is impossible to copy the text.
Download PDF Editor for Windows Download PDF Editor for Mac
When the program opens you will have to import your PDF by clicking on OPEN FILE ...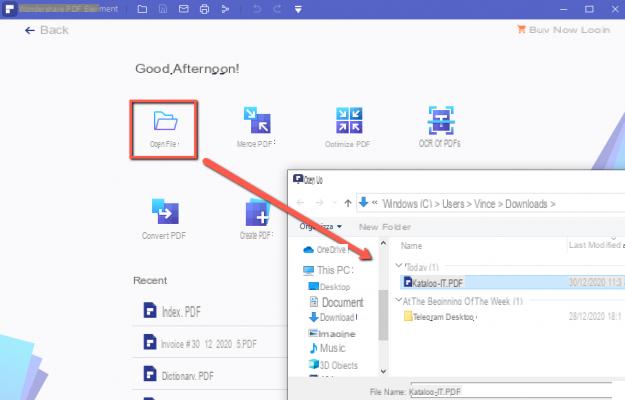 Once the document has been imported, go to the section MODIFICATION and click on the icon Run OCR up: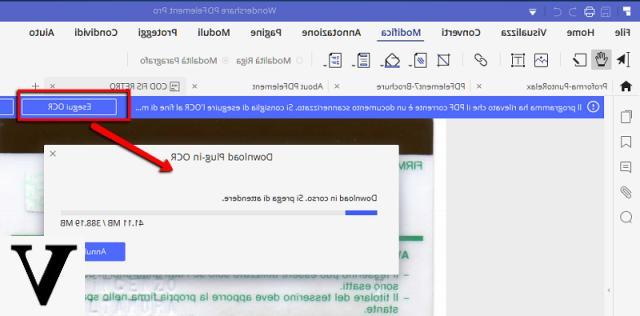 Choose the language of the document and then click on OK. The program will start analyzing the PDF file to recognize (optically) all the characters and "reconstruct" the document so that it can be edited and selected!
At the end of the OCR scan you can edit the text of the PDF, insert or remove images, etc ... and finally save the same document with a new name. You will immediately realize that the document will be easily editable and you can select the text, modify it, copy it and do whatever you want! 🙂
For more information, please also read the following articles:
a) Best OCR program for Windows
b) Best OCR program for Mac
Copy Text from PDF (not scanned)
If you want to copy text from a PDF file to add it to a Word document, paste a formula to an Excel spreadsheet, or insert it into PowerPoint slides for a presentation, you can use the Copy and Paste function.
However, this may not necessarily work for all PDF files due to security and other permissions, but there are other ways to accomplish the same task.
Before you can copy text from the PDF to another application, you need to verify that it doesn't have security settings which prevent it from being copied, otherwise you won't be able to copy anything. This can be indicated by a disabled or disabled copy function in the PDF Reader.
If the received PDF is eg protected by a password, you can use the designated password combination to open it, and then check the security settings to confirm that copying of the content is allowed. To do this, right-click on the document and select Property documento (in Adobe Reader).
Click on the tab Protection and see the Summary of restrictions of the document to see if copying of the content is allowed or not.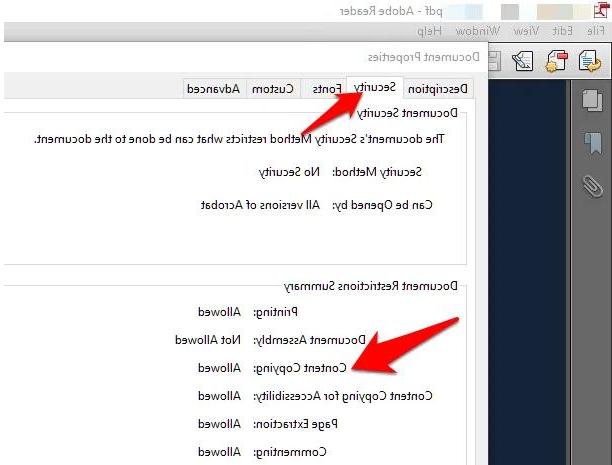 If copying is allowed, open the PDF in any reader and then copy the text you want using one of the following methods:
Copy and paste function
This is the most used method for copying text from most documents or files, not just PDFs. You can use the keyboard shortcut CTRL + C to copy the desired text and then use CTRL + V to paste it into the other document. If you are using a Mac, press Command-C to copy the text e Command-V to paste the contents of the clipboard into the current document or app.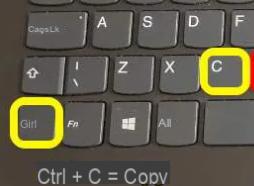 Alternatively, you can use the right mouse or touchpad button and click the Select tool. Select the text you want to copy on the PDF document by dragging the mouse to highlight the part you want to copy, right click on the selected text and select Copy.
You can also go to the menu tab and click Edit> Copy. Once copied, go to the document where you want to paste the copied text, right-click the space where you want to insert it and select Paste or click Edit> Paste.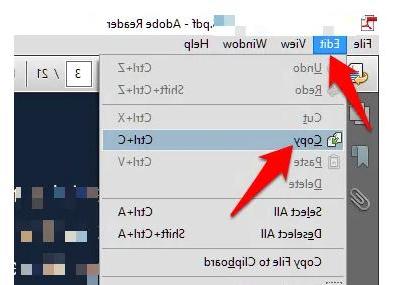 Snapshot or Screenshot tool
The Snapshot tool in your PDF reader helps you select the text you want as a screenshot or image, then you can paste it onto another document without affecting the formatting. If you choose this method, you'll get exactly the amount of text you want, but it won't be editable.
To do this, open the PDF document, click Edit> Take a Snapshot (in Adobe Reader). Alternatively, you can use a program that can take screenshots on a PC and that also allows you to select the precise area to capture.
Online PDF Reader
You can copy text from a PDF document in your browser or an online editor. To do this, open the PDF in your browser by right-clicking on the file and selecting Open with> (choose browser) or drag and drop it into an open browser window.
Select the text you want. Awards CTRL + C to copy the text and paste it to another document using CTRL + V. You can also right-click on the mouse or touchpad and select Copy, then right-click the other document again and select Paste.
PDF Converter
A PDF converter allows you to convert a PDF document into an editable document, after which you can copy your text and use it in another application.
One of the most popular PDF converters is Wondershare PDF Converter, because it is a very powerful tool and it is easy to use. To use it, install and run it. Then import the PDF, select the output format, for example PDF to Word, and start the conversion.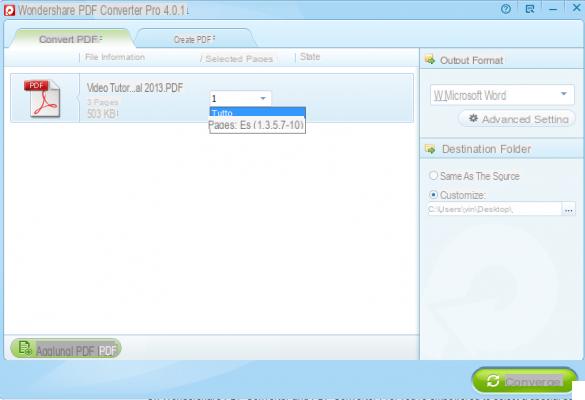 overtime 0
yes but then to save it you have to buy the complete program or am I wrong?
For this type of software it is impossible to find free things ... they are professional programs that require the purchase of a regular license.

Hi GINO, can you help me understand how I can COPY AND TRANSLATE A MANUAL OF 196 PAGES? IT'S NOT COPYABLE… I'M GOING MAD. IF YOU CAN HELP ME THANKS IF YOU MAKE A RING I WILL CALL YOU ON YOUR PHONE MY IS —328 18 05 533.
Here because! I didn't know about the PDF difference ...
Unable to Select and Copy Text from PDF? -