If you find yourself in this article, you have most likely discovered that by the time you were ready to print a PDF file you discovered that it is a Secure PDF. You should know that on a PDF file the author has the possibility to insert restrictions and among these also the one that does not allow the printing of the document.
However don't worry. If you find yourself in this situation you must know that there is a solution and that is to remove the PDF restrictions. Below we point out a program that will allow you to print secure PDF, following the removal of the restrictions.
To turn a secured PDF into a printable PDF you need to remove the security. And to remove the security set in it, we need a professional tool. Among the many software on the net we recommend trying PDF Password Remover. It is able to remove the protections and restrictions on a PDF so that you can then view, print and even edit it to your liking. Here are the steps to follow.
Step 1. Remove print protection from PDF file
To unlock the PDF and remove the PRINT restriction from the PDF, download and install the program PDF Password Remover on your Windows PC or Mac. Once installed you will see this initial window: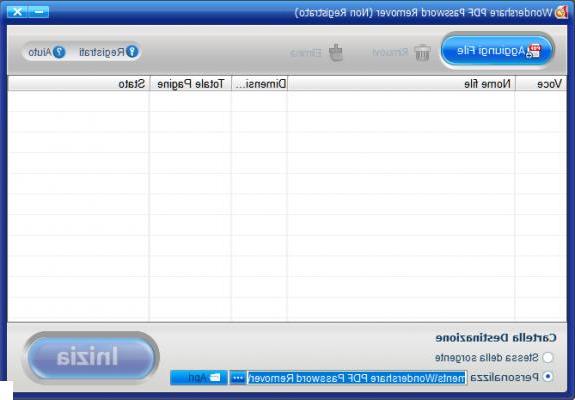 Click on the ADD FILE button at the top and import the print-protected PDF into the program. Finally click on "IT BEGINS"To remove the restriction and unlock the PDF.
Step 2. Print the secured PDF
Now that the restriction has finally been lifted you can proceed to print your PDF file. Open your PDF using the "PDF Reader" program you want and then proceed to print by clicking on the printer icon.
If you are looking for a free PDF Reader for your PC or Mac we recommend taking a look in the following article: The best PDF readers for Windows and Mac.
If you want to make minor changes or corrections to the PDF document before printing, you can use the program PDFElement which is a PDF Editor that allows you to edit a PDF as if it were a Word file!
I downloaded the trial program, I chose the file to print, but I am prompted to insert the psw of the file.
How to Print Secure PDF -