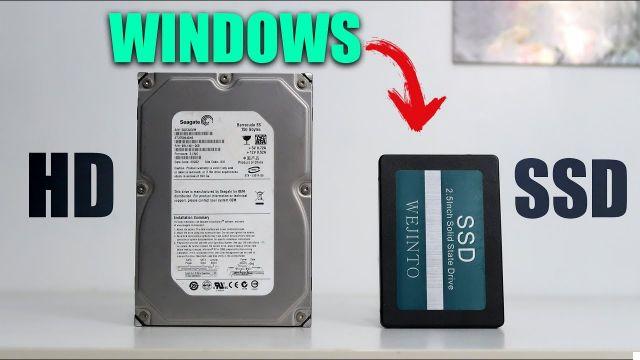 If you are on this page you are most likely looking for a simple, fast and safe way to migrate your Windows OS to a new SSD. But before seeing how to do this delicate operation, let's try to clarify the various concepts better, and to understand why it is convenient transfer Windows to SSD.
Differences between SSD disk and HDD
SSD - Solid State Drive: A kind of hard disk consisting of solid-state electronic memory chips and consisting of control unit (flash chip) and storage unit (DRAM - remote access dynamic memory chip). It is similar to the hard disk in many respects, in the definition and stipulation of the interface, in functionality and use, in appearance and size. It is widely used in military, IT, aviation and many other fields.
Faster both in reading and writing, compared to the traditional hard disk.
It reduces the possibility of data loss
There is no noise during operation
Can operate under a wide range of temperatures (10 to 70 ℃) compared to the traditional disc (5 to 55 ℃)
It is light and easy to carry
It has lower power consumption than traditional hard drive.
Since SSD provides faster processing speed, it makes sense to set SSD as the system disk to get better performance and reduce Windows startup time.
How to transfer Windows to SSD?
AOMEI Partition Assistant is a disk partition management program that has a new function inside it called "Migration Wizard of the operating system to SSD", specially designed for users who want to clone operating system from old HDD hard drive to a new SSD without reinstalling Windows nor are the applications. It supports both MBR and GPT disks. With this software, you don't need to worry about anything and it will do everything in a simple and automatic way.
Transfer Windows to SSD -