WhatsApp is the ideal instant messaging service for communicating with other users regardless of the type of smartphone they own. The service includes group messaging, voice messaging, video messaging, geolocation and the ability to send photos and multimedia files. All for free!
The number of active WhatsApp users is growing day by day and its popularity is worldwide. With this app users can keep in touch with people from all over the world in a really useful way and for free. Within this app there is also the possibility to backup conversations, a backup that becomes indispensable when you change phones. In this guide we will see just how transfer WhatsApp conversations when you buy a new Samsung Galaxy and you want to avoid leaving all the chats on the old smartphone.
Here are the 3 methods we recommend trying to transfer whatsapp chats from your old mobile to new Samsung Galaxy (S21 / S20 / S10 / S9 / S8 / S7 / S6)
Way 1. Transfer Whatsapp Chat to Samsung with Local Backup
Il local backup it is an automatic backup that is done in the phone and all chats are saved in it. The folder is located in the internal memory of the device or on the external SD card. This backup can be used when changing phones and switching from one device to another with the same operating system (e.g. from Android to Android, or from iPhone to iPhone). Here's how to use that backup feature to transfer all messages to the new Samsung Galaxy
Step 1: If you have installed and saved WhatsApp on a SD card external, simply take out the SD card from your old phone and insert it into your new Galaxy. Search for the WhatsApp folder from internal storage after connecting it to a computer. Find the latest backup file with extension .db.crypt and copy it to your computer.
Step 2: If the data has been saved in the internal memory, you need to search for the WhatsApp folder inside the internal memory after connecting it to a computer. All backup files are saved with a date. Scroll down and find the latest backup file with extension .db.crypt and copy it to your computer.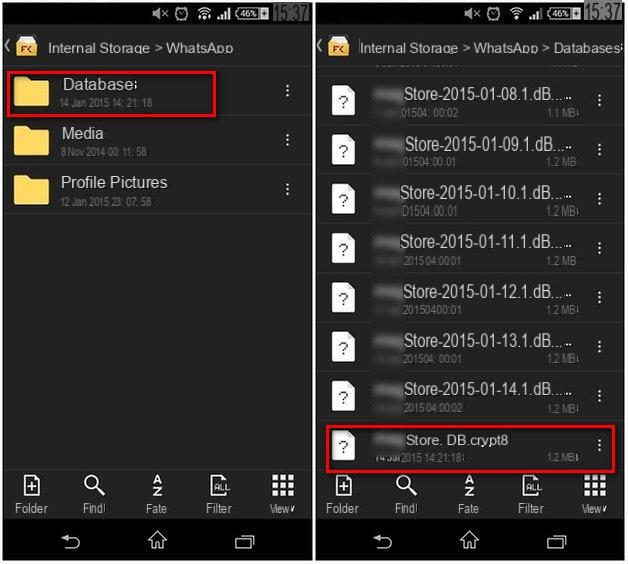 Step 3 : Get your new Samsung Galaxy now and install WhatsApp from Google Play Store. Don't open WhatsApp on it though. If you have already installed WhatsApp on your new Samsung Galaxy you need to uninstall WhatsApp and reinstall it. Then connect the Samsung Galaxy to the PC via USB. Since you have already downloaded WhatsApp to your new phone, the WhatsApp / Databases folder should now exist. If not, you can manually create a new database folder in the WhatsApp folder.
Step 4 : Now copy the file .db.crypt in the folder WhatsApp / Databases of the new Samsung Galaxy. Verify your phone number and you will be notified that a backup of the message has been found. Click on Reset and that's it. After a few seconds, all your messages should appear on your new device.
Way 2. Transfer Whatsapp Chat to Samsung with Google Drive
WhatsApp data on Android devices can be backed up to Google Drive, and then you can transfer WhatsApp data from Android to Samsung Galaxy via Google Drive without any hassle. Here are the steps to follow:
1 Phase. Open WhatsApp on your old Android phone. From the main screen go to Menu> Settings> Chat> Chat backup to view the backup options in the Google Drive settings.
Phase 2. Click Back up to Google Drive and choose a backup frequency (daily, weekly or monthly). If you need to back up right now, click Back up. All WhatsApp chats will be copied to the Google cloud.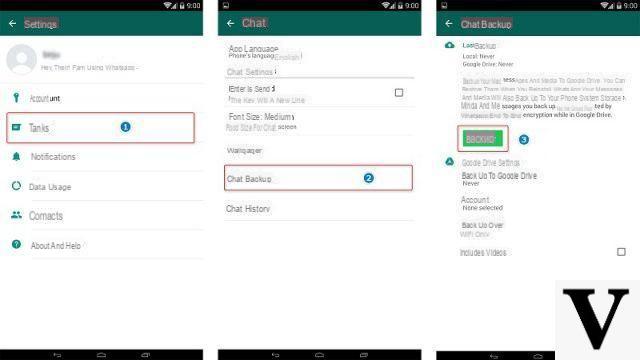 3 Phase. After backing up your WhatsApp chats to the cloud server, install WhatsApp on your new Samsung Galaxy. If WhatsApp has already been installed on your Samsung, uninstall and reinstall it.
4 Phase. Start WhatsApp on your Samsung, and verify your phone number. You will be prompted to restore chats and media from Google Drive. Follow the instructions. Once the reset process is complete, tap NEXT and your chats will be displayed. After restoring the chats, WhatsApp will start restoring the media files. Just wait patiently and keep the internet connection stable.
Please note: If you change your Google account, you will not be able to access the backups linked to the other Google account!
Way 3. Transfer Whatsapp Chat to Samsung with Whatsapp Transfer
This is the most direct way to transfer WhatsApp conversations to a new Samsung Galaxy. The program to download to your PC or Mac is called WhatsApp Transfer. Here are the steps to follow to make the transfer.
Step 1. Before using the Whatsapp Transfer program for WhatsApp data transfer, you need to activate the USB debugging on the Samsung Galaxy. Then download and install WhatsApp Transfer on your computer and launch it.


Step 2. Connect your old mobile (iOS or Android) to your computer with a USB cable. When a pop-up appears on your phone, tap on "Back up my data". Then click OK on your computer. The backup phase of the old device chats on the computer will begin.
Step 3. Then take your Samsung Galaxy and connect it to the computer. On the main screen of the program, click on the phone from the "Devices" list from which you want to transfer WhatsApp messages. Then choose "Transfer messages from Android to Android" or "Transfer messages from iPhone to Android". Select the target Android device (Samsung Galaxy in our case) and click Confirm to finish the process.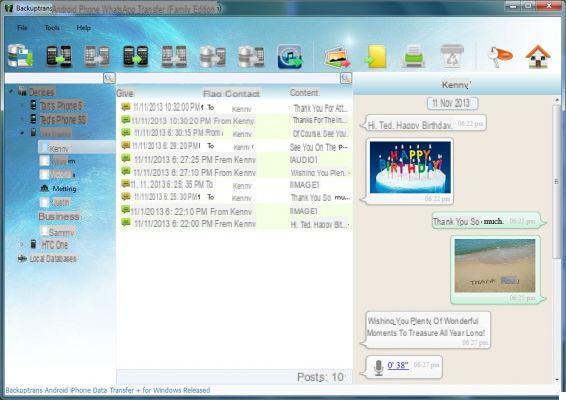 Transfer Whatsapp Chat to New Samsung Galaxy -