In an article a few months ago we described the guide to transfer contacts from Nokia (Symbian) to iPhone using the app Mobiletrans. Now this app can finally be used even in case you have a Nokia Lumia, device that is not based on the Symbian operating system, but on that Windows Phone.
If you want to transfer contacts from Nokia Lumia to iPhone there are two possibilities. The first is to use Mobiletrans, the second instead is to follow a somewhat long and manual procedure. Below we describe the two solutions step by step.
METHOD 1. Transfer Contacts from LUMIA to iPhone in one Click
Thanks to the program MobileTrans now you can transfer contacts, photos, videos, music from your Nokia Lumia phone to your new iPhone, in just one click. Mobiletrans supports several Lumia devices: Nokia Lumia 640, Lumia 735, Lumia 535, Lumia 435, Lumia 830, Lumia 1520, etc ...
You can download the free demo version of MobileTrans on your Windows PC or Mac OS X from the links below:


After installation you will see the following main window: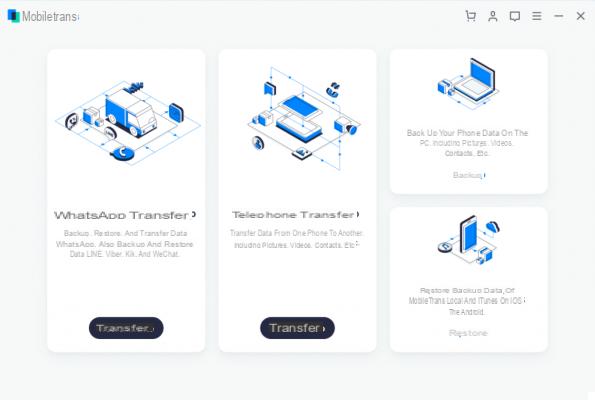 Click on the Blue area on the left to open the transfer window. Using a USB cable, connect your Lumia mobile phone first and then your iPhone. The two devices will be immediately recognized by Mobiletrans: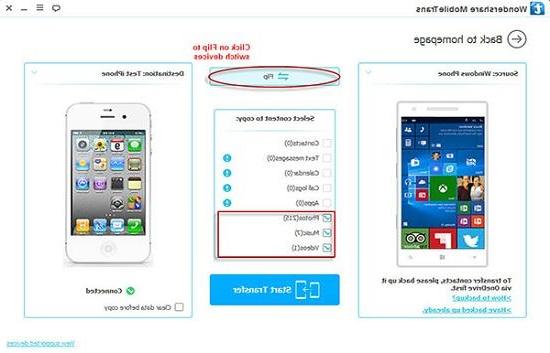 To be able to transfer your contacts, you will first need to sync them between your Nokia Lumia and OneDrive.
If by chance the contacts are not selectable, it means that you have not yet synchronized your Lumia contacts on OneDrive. In that case you will need to do the first contact synchronization of the Lumia on OneDrive by following these steps:
1) Create an account at https://signup.live.com (if you don't already have one such as Outlook.com, Hotmail.com or Live.com)
2) From the Lumia phone, open the People application and click on "..." and then choose "Settings".
3) In "Settings" click on "account" at the bottom and click on "add an account". Then in the new screen you have to select "Microsoft account" and log in with your account and password.
4) After a few seconds the contacts will be automatically synchronized on OneDrive.
Once this is done from the Mobiletrans click under the image of your Nokia Lumia on "I made the backup" and the program will immediately show the number of contacts that can be transferred.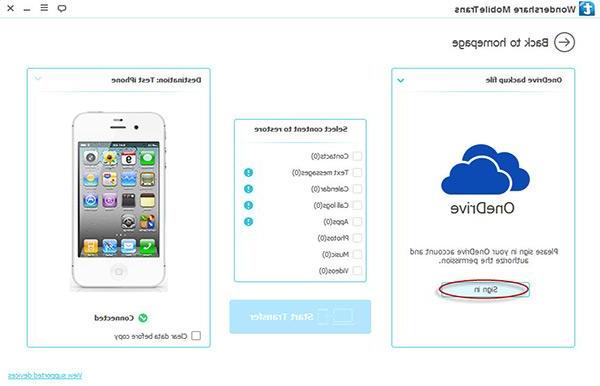 Click on "START COPY" and in a few seconds the contacts will be copied from your Lumia to your new iPhone.
Alternative Solution: dr Fone Switch
If you are having trouble transferring data from LUMIA to iPhone via Mobiletrans we recommend that you also try the program dr.Fone Switch. You can download the free demo version from the links below:


Operation is very simple. Here is a short video tutorial:
METHOD 2. Manual Transfer of Contacts from LUMIA to iPhone
First, log into http // www.outlook.com and create an Outlook account (if you don't have one). You will need this account to sync your Nokia Lumia phone contacts to it.
Step 1: Sync Nokia Lumia phonebook to your Outlook account
1. Turn on your Nokia Lumia and go to Applications from the home screen. Then click on the "CONTACTS" app.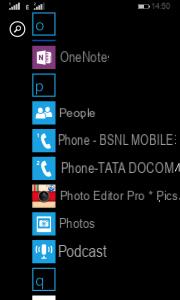 2. You will see all the contacts saved in the phone Nokia Lumia. Go to the lower right corner of the screen and click on the "Settings" icon, which is represented by three dots aligned horizontally.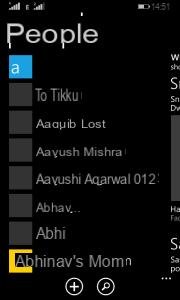 3. A window will open in which you will have to click on "Add an Account"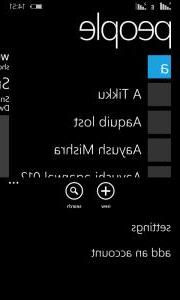 4. From the "Add Contacts" window that opens, click again on "Add an Account"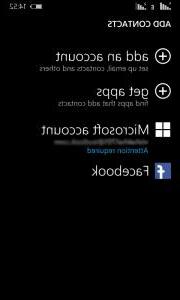 5. You will now see several items. Click on "Outlook.com" to proceed.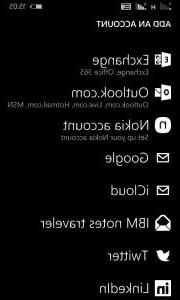 6. In the "OUTLOOK.COM" window, click on "CONNECT"To continue.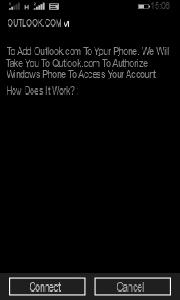 7. You will be redirected to the official Microsoft website and here you will need to enter your credentials. Finally click on "Register".
8. Wait a few seconds and all the contacts in the Nokia Lumia will be automatically copied to your Outllok account.
Step 2: Associate Outlook ID with MS Office Outlook on PC
1. From your PC go to START -> All programs and look for the program "Microsoft Office".
2. Open the program Outlook.
3. When opening Outlook, confirm that you want to add an MS Outlook email account and click on "Add an account". Enter your Outlook.com account credentials.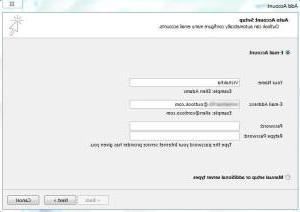 4. Wait a few seconds and MS Office will start to associate Outlook.com with your account.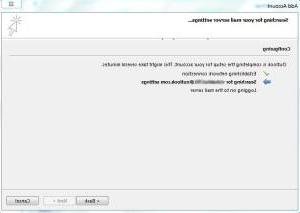 5. Click on "Confirm Account Addition" and then click on the button in the lower right corner.
6. Once your account is associated with Outlook, you can start synchronizing with MS Office Outlook.
After completing the operations described above you will have associated your account with Outlook. Now it's time to import contacts to your new iPhone.
Part 2. Import contacts from Outlook to iPhone
There are many methods that allow you to import contacts from Outlook on iPhone. The simplest and fastest method is to use a program called TUNISIA. Let's see how it works in detail.
1. Download and install TunesGO on your PC or Mac. Here are the download links:


2. Connect the iPhone to the PC via a USB cable. The program will recognize your iPhone and display it in the main window
3. Click on the item "Information"To see the contacts on your device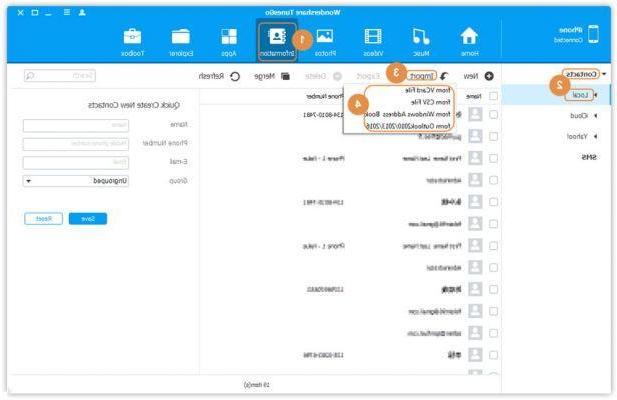 4. From the contact window, at the top click on "MATTERS"And then from the menu that appears select" Outlook 2003/2007/2007/2013 "
5. A window will open from which you will have to type the name of the profile and immediately after the program will start the process of importing the contacts from the MS Office Outlook profile on your iPhone.
6. To confirm click on "Import".
Well done! You will have it in minutes imported contacts from Outlook to iPhone with the help of TunesGO.
Follow all the steps above for transfer contacts from Lumia to iPhone 12/11 / X / 8/7/6 Plus / 6 / 5s / 5 / 4s in total safety.
It all seems easy, but then it all gets complicated and I didn't succeed. Then I ask from Lumia to Samsung and Iphone appears.
The iPhone appears because you are in the guide on how to transfer contacts from Lumia to iPhone and not from Lumia to Samsung.
OK thanks for the tip!