If you bought a used iPhone or received it as a gift, the first thing you need to do is set it up as a new mobile phone, in order to erase all the data of the previous owner. If you want configure the iPhone as "new" device for resale, it is equally important to erase all personal data that is stored in the device and which may be recoverable and visible to anyone. There are two methods to set up iPhone as new.
Method 1: Set iPhone as new with dr.Fone
dr.fone is software designed for iPhone users. With this program, you can manage iOS device data, recover or erase data, and even repair iPhone in different scenarios. If you want to set the iPhone as new with dr.Fone (without using the restore function) take a look at the following article which explains well the steps to follow to remove (permanently) from your iPhone and make them unrecoverable.
Delete iPhone / iPad Data with dr.Fone Erase
Method 2: Set iPhone as new via SafeEraser
If you are planning to resell or give away your old iPhone and want to set it up as a new mobile phone, this method is definitely the one we recommend. All data and settings on your iPhone will be unrecoverable in this mode.
Before doing anything else, download and install SafeEraser on your computer (PC or Mac).
This software is extremely easy to use. You will be able to configure and set up your iPhone as new in just one click.
Also if your iPhone is jailbroken, you won't lose the jailbreak after doing the new setup.
1 Phase. After downloading the software, install and run it on your computer. Then connect your iPhone with a USB cable to the computer.
2 Phase. You will have several options in the main software window. You choose "Delete all data" and go forward.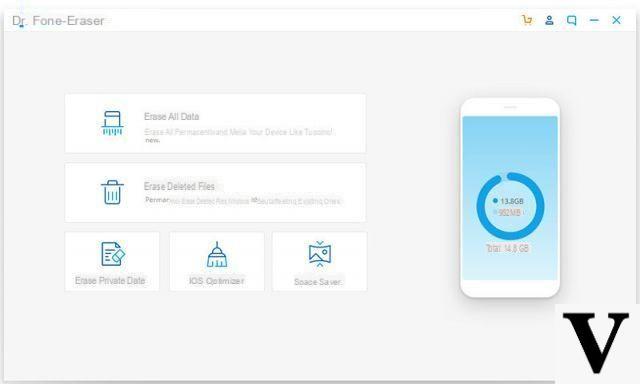 3 Phase. The program will start setting up the iPhone as new, without doing any reset. When the procedure is finished you will have a completely new iPhone. All your personal data (photos, sms, contacts, videos, etc ..) will be permanently deleted and will be unrecoverable even with powerful data recovery software.
Method 3: Set iPhone as new via Reset
This mode is also good if you have a second-hand iPhone and want to set it up as new before using it. You can do this directly on your iPhone.
Step 1. Go to Settings and then click on General, finally click Restore.
Step 2. You will see several recovery options. You choose "Erase content and settings"And a red button will appear"Clear". Click to go on.
Step 3. Wait for the iPhone to complete the reset procedure. When finished, your iPhone will shut down and restart automatically.
Step 4. After rebooting you will be asked to set up the iPhone. Select "Set up as a new iPhone"And you will have finished the procedure.
Note: With this second method you must know that if you resell the device, the purchaser will still be able to recover the data present in the memory and that has not been permanently removed. This is why, if you need to resell your iPhone, it is advisable to use the first method described at the top of this article.
hello they gave me an iphone 7 plus with a broken home button. I was able to use it for a while not long because another problem arose, while they called me and I was called to answer I could not hear anything so I deleted everything forgetting that I needed the ghost home button that I had put on the phone screen. So far so good ... ask me ... .. can you do something?
If I use the second method, do I also delete that account data from other associated devices or other iPhones with the same account?
Because I was given an iphone from which the data has not been deleted and in which the old owner's account is still entered. This person has another iphone associated with the same account and I do not want to delete his data from icloud or from the other device. What is the correct method to use this phone?
Thanks so much
No, the account data is not deleted but only the data on the device.




Yes, I too have the same situation !! it was given to me by my wife iPhone 5 s. I don't know what procedure to do to clean the phone without creating problems for her iPhone 7
If I format the iPhone with SafeEraser does it also delete the iCloud mail?
Yes, all data is deleted, including passwords and iCloud emails.
I restored the iphone with the second method above, I can now do it again via SafeEraser, so I am sure that all my data cannot be read by anyone
Yes, using safeeraser any data still present in memory are rendered unrecoverable.