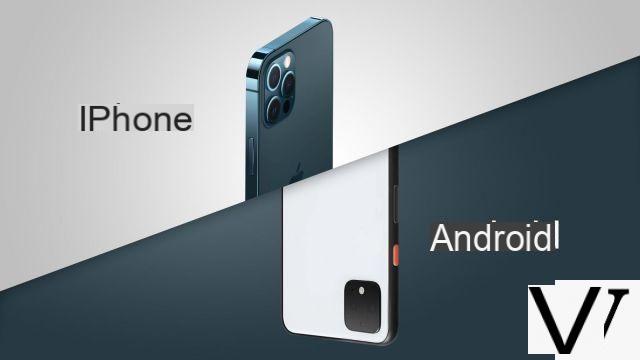 The worlds of Android and iOS have long remained clearly separate. Switching from one to the other was a source of headaches for any defectors. If you happen to be one of the bored users of their iPhones or those who, on the contrary, want to give up the little green guy, you've come to the right place. We will explain in detail how to make this change of course as transparent as possible for your contacts, your SMS, your photos and any other invaluable data that you want to find "on the other side".
From iOS to Android
Recover your contacts, calendars and photos
Leaving the world of Apple isn't as complex as it once used to be. With Google's apps now fully integrated with iOS, the journey is less chaotic. The first step is to create a Google account, which you will use anyway on your Android smartphone.
On your iPhone, download the Google Drive app. When opening for the first time, you are asked to enter your Google identifiers. Once connected, go to the tab Parameters, accessible from the menu located at the top left of the screen. In it, select Save.
Here you have the possibility to save your contacts, your calendars and your photo and video content. For the latter, you can choose to save them in original quality or in "high quality", which is more compressed than the originals. You should be aware that only the second option is unlimited in storage capacity. In case you want your original files, you will be limited to the 15 GB offered by Google. If you ever have more than 15 GB of photos and videos that you want to keep in their best quality, we recommend that you save them locally on a computer.
You can press Start backup, the data will then start to be saved to Drive. Note that the procedure may take from a few minutes to a few hours depending on the amount of data to be recorded and the quality of your Internet connection.
Once the backup is complete on the iPhone, all you need to do is set up your Google account on your Android smartphone. This step is often performed when the terminal is started for the first time. Otherwise, go to Parameters phone in the section Accounts and synchronization.
Recover your SMS
Unfortunately, Google Drive does not allow you to retrieve your SMS. If you want to find them on your new smartphone, you will have to go through a little longer handling, but far from being inaccessible, even to novices.
To get started, back up your iPhone content to your computer with the iTunes software. Make sure that the box "Encrypt backup"is unchecked, then click on Save now. This operation may take several minutes, depending on the amount of data to be backed up.
Once the backup is complete, you will have to go and find the file that contains the SMS. To do this, go to your computer in:
Sur Windows : C:Users[VotreNom]AppDataRoamingApple ComputerMobileSyncBackup3d

Sur Mac : ~/Library/Application Support/MobileSync/Backup/3d



In this folder, locate the file named 3d0d7e5fb2ce288813306e4d4636395e047a3d28 and copy it to your android smartphone.
On the Android phone, install the iSMS2droid app. When you start it for the first time, you must give it the necessary permissions to access your files as well as define it as the default SMS application. Once you have granted these permissions, tap Select File, and then select the file you just copied. The application then asks you if you want to import everything or if you prefer to keep only certain conversations. Tap the option of your choice and wait a few moments.
Finally, remember to choose the right default SMS application again by going to the Parameters and Applications et Applications by default.
From Android to iOS
It is easier to enter the world of Apple than to leave it. Especially since since iOS 10, the company offers an application called Move to iOS. This is available on the Play Store and downloading it is the first step.
When starting a new iPhone, after entering your account information and other Wi-Fi access, you are asked if you want to restore a backup. From the options, select Migrate data from Android.
Launch the Move to iOS app on your Android smartphone and do Continue on the iPhone. Your Android terminal will show you the list of data that can be recovered. Choose what you want to keep then press Next top right. All you have to do is wait to find your content on your new iPhone.