Nowadays almost all documents travel on the net in "digital" format, eg. in PDF or image format, and nobody asks for paper documents anymore. Just think, for example, of invoices (now "electronic") or contracts that are stipulated with banks, insurance companies, telephone operators, etc.: in all these cases the documents are requested in digital format and shared via email or through "cloud" services .
To "digitize"Any document (eg. An identity card, a tax code, a contract, etc ...), however, it is essential to carry out an operation called"scanning"Or" scan ". This operation can be done easily and quickly using a printer / scanner: just insert the document in it and then start the "Scan", after which the file is automatically sent and saved on the computer connected to that printer / scanner.
However, if you are not at home and only have your iPhone / iPad with you, how to scan documents? We have actually already seen how to scan a document with your mobile phone, however, below we want to focus on iOS devices and understand which applications are available on the Apple Store for this operation.
There are dozens of app scanner for documents available for iOS, but most of them are not of a good standard. The five apps you'll find below are based on excellent image quality, multiple formatting options, accurate text recognition, ease of use and extensive sharing options. They also offer clear privacy and security policies, as well as editing and annotation functions.
1. Scanbot Pro
Scanbot Pro offers excellent scan quality, solid text recognition, an elegant yet simple interface, and extensive sharing options.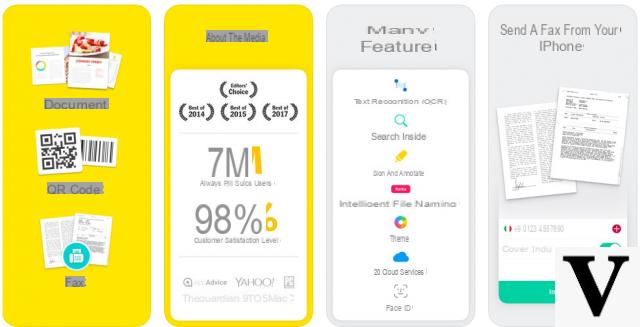 This app can easily scan PDF documents directly from your iPhone or iPad, while at the same time cropping the scans accurately, correcting any geometric distortions and includes useful PDF annotation features.
Documents will not be shared between Scanbot Pro servers, as it ensures that your information is safe from prying authorities and hackers. It won't even perform optical character recognition in the cloud.
There is a number of filters that you can use to edit your scanned document, as well as editing tools such as auto cropping, rotation, and file naming.
Scanbot Features:
Dedicated multi-page scanning mode
Automatic acquisition of your documents
Custom naming that avoids the hassle of naming each scan manually
Automatic text recognition (OCR) in 60 languages
Automatic upload of scans to 17 types of cloud storage
Extensive sharing (PDF, JPEG, TXT)
Exclusive features for iOS such as Touch ID app lock, passcode, Wunderlist integration, reordering of pages in multi-page scans and folders synced with iCloud
Although Scanbot Pro comes with a collection of very advanced tools it does not distinguish between different types of documents. Editing images also sometimes ruins the image itself as filters cannot be edited once scans are saved.
2. Microsoft Office Lens
If you own Microsoft Office, then the Microsoft Office Lens app might be a great choice. This free app for iPhone and iPad offers excellent features such as text recognition and scanning in different formats.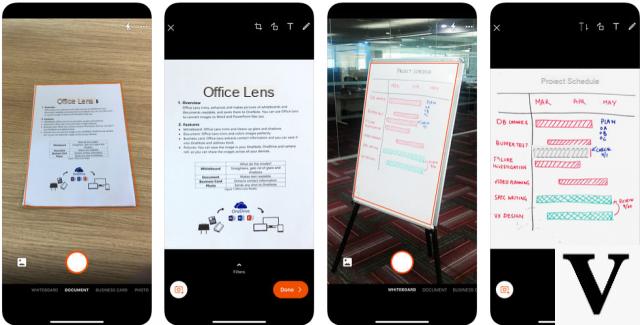 The quality of its scans is not as high as that of Scanbot Pro and it has fewer sharing options. However, it compensates for these flaws through its accurate text recognition (OCR).
If you don't want to pay for document scanning apps, Microsoft Office Lens is your best bet considering it also has excellent OCR technology, a simple user interface, image filters and dedicated scan modes for better results.
The downside of this app is that you have to install Word on your iPhone / iPad and then sign in with a free Microsoft account to log in, edit and save your results.
Microsoft Office Lens Features:
100% free (rare for iOS apps)
discrete modes for scanning documents and business cards
can convert scans to PowerPoint slides
recognize names, photos and contact information from business cards and add them to your contacts on OneNote
export scans to PDF, JPEG, DOCX
3 CamScanner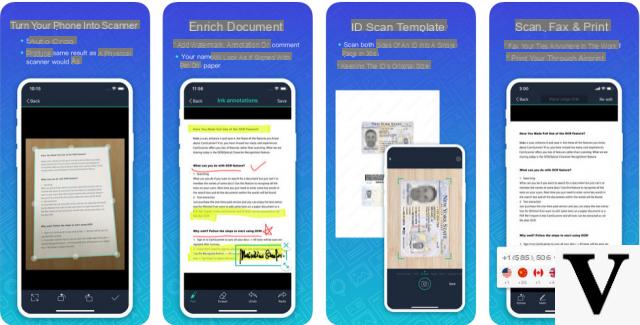 CamScanner is another free app for iOS devices that allows you to scan a wide range of documents with the support of cloud services. Scanned documents are converted to PDF and automatically uploaded to Dropbox, Google Drive, Evernote, OneDrive, or Box.
It is primarily aimed at business users who can use it to invite their colleagues to view or comment on scanned documents, as long as they have a user account. You can also add watermarks and annotations to documents using the advanced editing and passcodes can ensure greater security.
Plan premium offers additional features such as 10GB storage, batch download of documents, and send document links with password protection.
Features of CamScan:
Support Siri shortcuts to open folders and documents
Intelligent automatic optimization and cropping for clear and sharp image quality
Electronic signature to sign contracts to be shared
OCR tool to extract text for further editing or sharing (premium feature)
Extensive sharing options via email, social media or doc link
AirPrint and Fax documents in over 30 countries
Passcode or password protection for important documents
Optimized synchronization on all devices
4. Evernote Scannable for iOS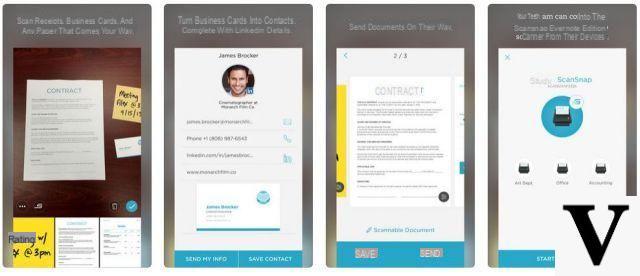 Evernote Scannable for iOS captures documents beautifully and quickly, turning them into high-quality scans that you can save and share instantly.
It offers quick and instant scanning, as well as options to save or share / export documents as PDF and JPG files.
Additionally, it can turn your business cards into contacts by extracting information from them or LinkedIn, which you can save to your contact list.
Evernote Scannable Features:
Works with ScanSnap Evernote Edition Scanner to send multipage documents to whoever you want
Your team can control a ScanSnap Evernote Edition scanner from their devices and share scans
Smart file sharing
Text analysis technology
Connects to LinkedIn for extra context
5 FineScanner

FineScanner quickly scans books and documents, creates PDF and JPG copies and applies online OCR for text recognition. This helps when further editing and sharing is required.
FineScanner functionality:
Capture and scan a variety of documents with perfect digital copies
OCR works in 193 languages ​​and 12 output formats, including DOCX, TXT and PDF
Scans can be opened with Siri shortcuts
BookScan captures shots of facing book pages, splits them into separate images, and corrects distortions or lighting defects
Support for Spotlight search and 3D touch
Integrated file storage with search and tag functionality
Sharing, export and AirPrint scans