WhatsApp Messenger it is a must-have for most smartphone users because it allows you to get in touch with friends easily and for free, through various telephony platforms such as iOS, Android, Symbian, Blackberry and Windows. This application makes chatting on phones easier and faster, so you can generate lots of chat conversations on your phone in a short time.
If you don't want WhatsApp to crash due to loading a huge amount of data, it is a good idea to try to save WhatsApp messages on your computer from time to time. So you can have a faster WhatsApp and at the same time keep all your chat messages safe on your computer. Other times it is necessary save Whatsapp messages on your computer for backup or even forensic use.
How to Save WhatsApp Messages on Computer
Solution 1: It's possible to use iTunes o iCloud to backup. When you sync iPhone with iTunes, all iPhone data is automatically saved in a backup file, and you can restore the entire backup file to your iPhone when needed. This solution is ideal if you want to create a backup before a device reset.
Solution 2. It is possible to use an alternative program to iTunes or iCloud able to recover all whatsapp messages from the iPhone memory and then extract them and save them on the computer. One of the best "Whatsapp Extractor" programs is dr.Fone per iOS. Find a detailed guide on how to recover and extract WhatsApp messages from iPhone in this article.
Solution 3. Download and install Whatsapp Recovery, a program agolable for both Windows and Mac that allows you to save all WhatsApp messages and conversations on your computer, in an .html or xls file. In addition to the messages already present in WhatsApp you can also recover deleted conversations !!
Download the free demo version of Whatsapp Recovery on your PC or MAC OS X


If you have a mobile Android, go to Whatsapp Recovery per Android
Step 1. Launch WhatsApp Recovery and connect your iPhone
After downloading and installing WhatsApp Recovery, launch it on your computer, and then connect your iPhone (supports iPhone 12/11 / X / 8/7 / 6S / 6/6 Plus / 5S / 5C / 5, iPhone 4S, iPhone 4 or iPhone 3GS). You will see a window like the one below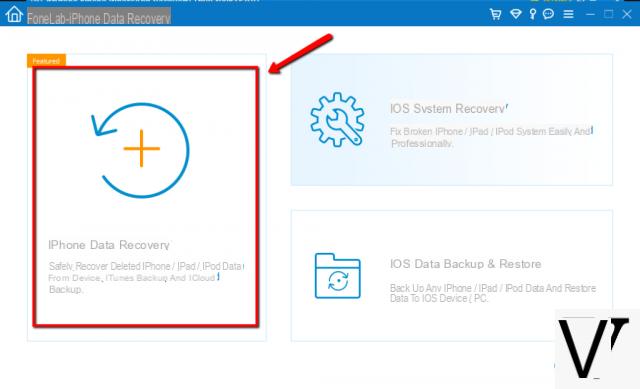 Click on iPhone Data Recovery and then connect your iPhone to computer via USB:
Step 2. Scansiona iPhone
For iPhone 12/11 / X / 8/7 / 6S / 6/6 Plus / 5 / 4s you can proceed directly to the scan by clicking on the green button "Start Scan".
During the scan you will see a bar with the progress of the process.
Step 3. Preview and save WhatsApp messages on your computer
In addition to WhatsApp messages, this program also allows you to retrieve and save attachments from conversations (photos, videos, etc.) and contacts on WhatsApp to your computer. After scanning you will see the preview of all recovered messages and files. All you have to do is select the ones to restore and click on "RECOVER"To save them on your computer in .html or .csv format. That's all. This is a quick and easy way to backup Whatsapp iPhone to your computer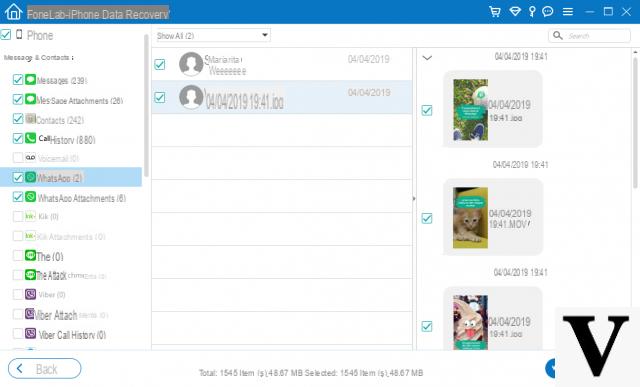 In addition to the WhatsApp messages saved and visible on the iPhone, this program will also be able to recover deleted messages. You can still decide before saving whether to save all conversations or only those currently on the iOS device.
Send WhatsApp Messages on Computer
If there are few messages to copy, another possible way to save them on your computer is to send them by e-mail. Once you have sent the desired chat to your mailbox you can download it to your PC / Mac or print it from your computer.
The steps to follow are very few and very simple:
Open the conversation thread you want to email
Select "Share"(Or" Next ") and select"E-mail".
Add an email address as if you were to forward to a phone number.
Tap "Send".
As long as you have data and / or MMS capabilities on your plan, this should work fine. However, depending on the network, delivery may take a few minutes. The sharing option varies depending on the messaging app used.
How to Transfer WhatsApp Messages from One Phone to Another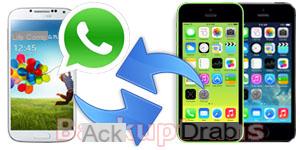 If you want to copy / transfer all whatsapp messages:
> from one iPhone to another iPhone
> give an iPhone its an Android device
> give an Android device its iPhone
> from Android to another Android mobile
the program to use is WhatsApp Transfer. It is a program able to copy both whatsapp conversations and attachments, in a simple, fast and safe way!
Find a detailed guide, step by step, on this page: How to transfer whatsapp data between iPhone and Android
If you need to transfer whatsapp from iPhone to iPhone read: How to switch whatsapp chat from iPhone to iPhone
If you need to transfer whatsapp from Android to Android read: Transfer Whatsapp Data from Android to Android
my phone was stolen but I had saved all cryt12 file whatsup data on pc; can I read them on the pc or with the new phone?
Useful article already like this, however: can you have in a PDF file all the chat of the individual user as it is displayed, a long vertical document to be scrolled through complete with graphics (boxes, backgrounds, etc.)?
Thank you
Why does it only find photos for me after scanning? On the Whatsapp entry it tells me that I have no file, but it is not possible
I kindly wanted to know if the deleted whatzapp messages can be recovered and read?
Is there a chat that can no longer read the deleted ones?
Thank you
In a few days I will change my phone from an iPhone 4s to an HTC one m8, I wanted to keep all the whatsapp conversations and media but I don't know how to do it. I have backed up and synchronized by connecting iPhone and PC (windows) but once iTunes is open I cannot find the whatsapp folder, where is it? And how do I once insert the nano SIM (different from the micro SIM of my current iPhone) into the HTC to restore whatsapp, conversations and media included?
I changed the iPhone 3s phone to a Samsung note3, unfortunately I was unable to keep whatsapp conversations and media despite always having backed up (on iPhone) .I lost everything or can I recover? Thank you

If you still have the iPhone you can try to recover them from the device itself.
If you no longer have it then it is not possible to recover anything without a backup ...
Hi everyone, after you save the conversations on your pc, from there you can then pass them on to another phone, possibly android ???
thank you
Here's how:
https://www.softstore.it/trasferire-whatsapp-da-iphone-su-android-e-da-android-su-iphone/
he scans it but the more a message comes out that does not have too much data
what should I do? I used the trial version
If the program does not find them, it means that they are no longer recoverable….
Once on the PC can they be put back into another phone?
To transfer whatsapp messages from one phone to another (e.g. between Android and iPhone devices) here's how:
https://www.softstore.it/trasferire-whatsapp-da-iphone-su-android-e-da-android-su-iphone/
scans me and says that I have no data in whatsapp ...
When it connects and I go to choose the chat to export I don't have time to press "export" that the program goes haywire and freezes
Guys, but how can I retrieve the photos and where?
After scanning you will be able to see all found messages and their attachments (including photos). To proceed with the recovery, that is to save the data on the computer, you need to purchase the program license
Thanks! I managed to save on the computer all the Whatsapp conversations I wanted ... I also recovered the ones I had deleted by mistake ...
the chats lasting months and months were you able to save them too? I get stuck with long chats! and they are the ones that I would like to save! 🙁
Save Whatsapp Messages from iPhone to Computer -