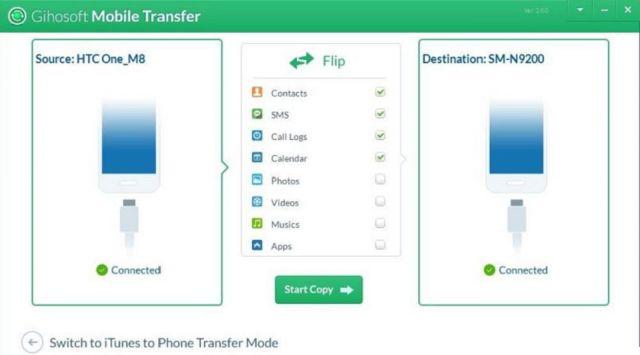 Samsung Smart Switch is a software that allows you to transfer files between different platforms such as iOS, Symbian or Android devices such as branded phones or tablets Samsung. Private data, applications and audio / video files can be transferred thanks to this application.
The disadvantage of this application is that it allows you to transfer only some files from another device (iOS / Android / Symbian) to Samsung and the process cannot work in reverse (i.e. from Samsung to other devices). So if you are switching from a Samsung device to an iPhone or an HTC or another Android device, this application will be of no use to you and you need an alternative.
In this article we report a valid alternative to Samsung Smart Switch which does not contain all the limitations just mentioned. We are talking about dr.Fone Switch. It is a professional tool designed to transfer data between different platforms - Symbian, Android and iOS are all supported. With the help of this program, you can transfer contacts, videos, music, SMS, calendars, photos, applications and call logs between different devices (and not only Samsung, but also Motorola, HTC, LG, Sony, etc). Now let's see the simple steps to follow to transfer data between two smartphones or tablets with this alternative to Samsung Smart Switch!
Download dr.Fone for PC or Mac from the links below (free demo version):
Start the program and click on the function TELEPHONE TRANSFER as highlighted in the figure below:
Use two usb cables to connect the two devices to the PC. For Android phones to be detected by the program, you need to go to the phone settings and activate the mode DEBUG USB. Once this is done you can proceed.
From the central part of the program select the data you want to transfer: sms, photos, applications, contacts, etc ... Finally, press the button Start Transfer to start copying files from the source phone to the target phone
Alternative solution to dr Fone Switch is Mobiletrans. Download MobileTrans for PC or Mac:
Step 1. Connect both devices to the computer
Install MobileTrans on your computer and use two usb cables to connect the two devices to your computer. From the initial screen of mobiletrans access the section "Phone to phone transfer" and here you will see the image of both connected devices. The one on the left will be the source phone and the one on the right will be the target. There is a "Flip" icon in the center that allows you to swap the places of the two devices.
Step 2. Sync data between Samsung / HTC / iPhone / LG devices etc ..
At the center are the options relating to transferable data: messages, photos, applications, contacts, etc ... Choose the desired files and press the button Start Copy to sync files automatically.
Samsung Smart Switch Alternative for Windows and Mac -