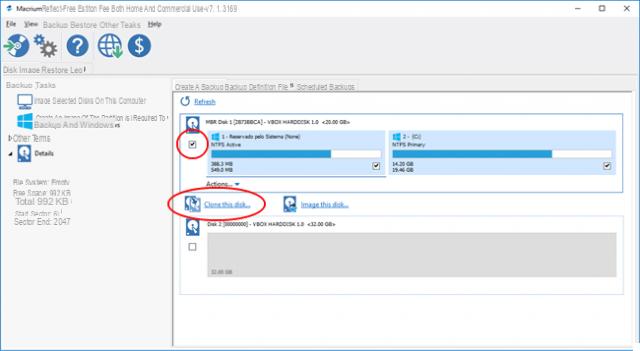 I have an old IDE hard drive with Windows 7 installed on it and I need to move it to my new SATA hard drive. I want to move the Windows 7 operating system to my new hard drive, and I've heard of a program that creates perfect copies of Windows from one drive to another. Can you help me? Thanks in advance.
There are many tools that help to copy or backup entire disk from one to another, but you need to be careful as many of such utilities help to backup normal data only, and not to copy system files . A professional software to use for such delicate operations is Windows Boot Genius. This software can help you clone entire hard drive or copy a partition from one drive to another, including the operating system and Windows file system. After copying Windows, you can start your computer with the new hard drive.
Download Windows Boot Genius on the computer where there is the disk and operating system to be copied. To proceed with the installation and use of the software, it is essential to enter the serial code obtained by purchasing the program license.
Once installed, follow the instructions below to do what you need.
Guide: How to copy Windows 7 from one disk to another
Step 1. Launch Windows Boot Genius
Run the software on your computer, and go to the "DISK MANAGEMENT ". You will see the interface below. If you want to copy the entire disk, select "Clone Entire Disk", instead if you want to copy only the Windows partition, choose "Clone one partition", and you will be guided to the second step.
Step 2. Choose source disk (or partition)
Choose the source disk you want to copy and which also contains the Windows 7 operating system. Click "Next" to continue.
Step 3. Select the destination disk (or partition)
Select the destination disk where you are going to copy Windows 7. By the way, the space of the destination disk must be larger than the source disk, otherwise the Windows 7 copy will fail.
Step 4. Start copying Windows 7 to new disk
Before the copy of Windows 7 begins, make sure there is no important data stored on the destination disk. The copy of Windows overwrites all data on it. The whole process of copying Windows 7 will take a few seconds. At the end a message like "cloned successfully" will appear. This means that you have successfully copied Windows 7 to the new disk.
If you are going to clone only one partition, you can choose the "clone a partition" option before Step 1, then the steps are similar to cloning the whole disk. It really is painless work. Try it yourself now. Obviously this procedure is fine to copy all versions of windows: Windows 10, 8.1, Windows 8, Windows 7, Windows Vista and Windows XP!
Even before trying it I think yes a nice program.
Thank you
it doesn't work, at the time of cloning it tells you to go to a site for authorization
How to Copy Windows 7 to New Disk -