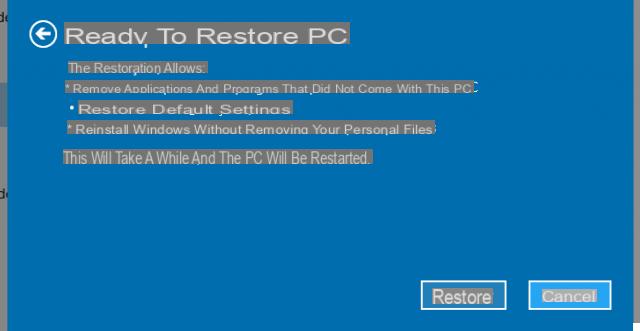 After installing Windows 10, my PC no longer worked as it did before. It started to shut down unexpectedly or to freeze. This has started to happen more and more often and now I would like to restore Windows 10 to find out if there is a problem with the operating system. But there are a lot of personal files and more than 100 games installed on my HDD. I don't want to lose these files and data. Is there any way that I can restore Windows 10 without losing data?
1 part. Reset Windows 10 from Settings (with loss of installed programs)
2 part. Reset Windows 10 with Aomei Backupper (without loss of installed apps)
Related Article: How To Reinstall Windows Without Losing Programs
How to reset Windows 10 from Settings
If Windows 10 is giving you problems and things are starting to get unsustainable, then you might want to try restore Windows 10 to solve the problem. This operating system allows you to reset your PC and / or return to a previous configuration using the function present in Settings. Here are the precise steps to follow:
Step 1. Click Start, select Settings -> Update & Security -> Recovery
Step 2. To reset Windows 10, simply click Get started under the heading Reset this PC.
Step 3. Click on Keep my files to keep the data files intact.
Step 4. click on NEXT if Windows warns that it will not be possible to roll back to an earlier version of the operating system.
Step 5. Click on Restore when required. Windows will restart and take several minutes to recover.
This method can really help you restore your Windows 10 installation. But it will only keep your personal files intact and it will remove all apps and settings. So how is that possible restore Windows 10 without data loss? Below we want to present a reliable solution.
Backup Windows 10 App before Restore
As the Windows 10 recovery feature keeps your personal files intact but delete all applications and installed programs, the solution we propose to follow is to first make a backup of these applications. Once this backup is done you will be able to bring all the apps back to your Windows 10 PC, immediately after the reset (from the Windows 10 settings).
Among the best programs for PC Backup there definitely is Aomei Backupper. Here's how to use Aomei backupper to backup Windows 10 apps or entire Windows system.
Step 1. Download and install AOMEI Backupper from the following button.
After installation, start the program.
From the software home click on the tab Backup on the left and then select System Backup
Step 2. As backup source select C: (both the operating system and all your programs are installed here). You just need to set a destination folder or disk to save this system data to
Step 3. Click on START Backup and wait for the end of the process
Now that you have done the Windows system backup, you can restore it at any time and you will find all the applications and settings as you left them before resetting Windows 10 !! To restore the backup made you can always use Aomei Backupper by accessing the "RESTORE" tab or from the "Basic" tab by selecting the backup and clicking on "Restore"As shown in the following figure:
NB: If by chance you have already done a Windows 10 update or restore and you have lost valuable data try to use Data Recovery to recover as many files as possible!
Restore Windows 10 without Losing Data -