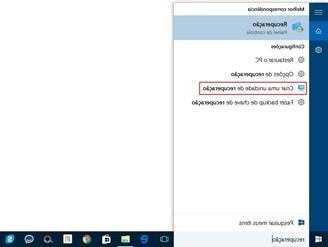 Are you worried that the system files of your Windows 10 PC might get damaged suddenly due to viruses or damage to the operating system? If something like this happens you could lose all your data.
Fortunately, there are preventive methods that allow you to avoid problems even in the event of a crash or damage to the Windows 10 operating system. Windows 10 itself provides the possibility of create a USB recovery disk, that is a key that you can use for repair and restore the system in case of inability to start the PC or other situations of "apparent death" of the computer. In addition to the solution provided by Windows itself, there are programs designed specifically to create a recovery disk and then repair the PC that has the problems, in this regard also read how to create recovery disc for Windows 10 with Windows Boot Genius.
Then there is also the Partition Assistant program which instead allows you to copy and transfer Windows to USB in order to carry the operating system (and data) always with you on a stick. By connecting this key to any other Windows PC you can use your software and it will be like being in front of your computer! For more info click on the following link:
How to Copy and Transfer Windows to USB
Here instead we report the steps to follow for create recovery USB stick for Windows 10, using the feature already included.
How to Create Windows 10 Recovery USB Key
Step 1. At the bottom left of your PC, in the search box write "Create recovery drive"
Step 2. Click on the item "Create recovery drive" to start the procedure for creating the recovery USB key for Windows 10
Step 3. Leave the box "Back up system files to the recovery drive " which will allow you to reinstall Windows via the USB stick if something goes wrong. This option obviously requires more storage but is definitely worth doing.
Step 4. Click on NEXT and Windows will take some time to calculate the amount of space needed for this operation. At the end of this process you will see the space needed to create the recovery drive. Make sure your USB stick has the required space and connect it to your PC (to any USB port).
Step 5. Proceed with the creation of the recovery USB key. Obviously, any data on the key will be overwritten and deleted, so make sure you connect an empty key to your PC.
Hello everyone, I don't know if this situation has already happened to you. For a few days my pc crashes during operation. Now, however, after several restarts Windows no longer starts. the screen with the error and QRcode appears, with the messages not always the same. I have tried almost all the recovery functions, but without success. I just miss to format everything. But I don't want to. Windows 10 latest version is installed.
I await some pious soul to lead me to Damascus .. 🙂
me or a problem with the window xp professional not m, i start the operating system anymore and i don't know what i have only a copy of dvd sp3 and i don't know how to start it ch8i can help me i would be really crato if some proffesioni me would help
hello, but then eventually how do you use it? you have to install windows normally and then after updating the files from the stick, or you can install it from scratch directly from the stick, what is the procedure? Thank you!
It installs from scratch from the stick
Thanks everything went well the key was created the required space was 8 GB, we hope not to use it
Create Windows 10 Recovery USB Key -