As you know WhatsApp allows you to backup your chats on Google Drive and to restore the same chats from Google Drive to your Android (or any other Android device, obviously after verifying the same phone number). However, there is currently no way to restore Whatsapp from Google Drive to iPhone directly. The cross-platform transfer is not yet supported but it is possible through the WhatsApp Transfer program, to copy Whatsapp chats from Android to iPhone. So if you have chats on Google Drive that you want to switch to iPhone, the only feasible solution is to first restore those chats on any Android mobile phone and then, through the aforementioned program, transfer the chats from the Android device to the iPhone.
# 1. Restore Whatsapp from Google Drive on Android
To restore Whatsapp from Google Drive on Android, just insert the sim in the mobile phone, install the latest Whatsapp version and start the configuration. Immediately after confirming the number, a warning of the presence of a backup on Google Drive will automatically open. Confirm and proceed with restoring conversations.
#2. Copia Chat da Android a iPhone
Once the chats are present on the device you can proceed with the transfer of them to your iPhone. That's how.
Step 1. Download and install Whatsapp Transfer
Here are the links to download the free trial version with which you can copy a limited number of chats:


Install the program on your PC or Mac and here is the main screen you will see: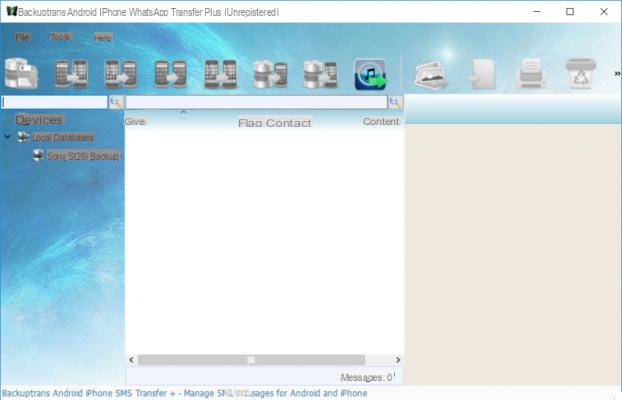 Done!
I arrive at the penultimate step but then it is as if the program does not recognize the Iphone as the string transfer messages from Database to iPhone is not active. Can this be done on a Microsoft PC or is a Mac required?
The N. maximum number of messages (20) that can be transferred for free refers to full chats or individual messages?
It can also be done on Windows….
The number 20 refers to the single messages transferred.
Why don't I enable the transfer messages from Database to iPhone string
Is there a method to transfer the chats that I have backed up with Drive from Android to Iphone if my Samsung phone has stopped working and therefore cannot be connected to the pc?
You must necessarily bring them first on an Android phone and then on the iPhone.
Does the transfer also affect all media present in the chats?
Good morning,
I would like to know if this method also allows you to transfer "important messages"
thank you
Yes, any message ...

At the end of the backup I get the following message:

"An error occured
database disk image is malformed

Or you can contact support@backuptrans.com for help"

Do you know how I can solve?
Does not work
Most likely you skip a few steps .. the procedure described is correct and working
Restore Whatsapp from Google Drive on iPhone -