Whatsapp is certainly the most used application of the moment and thanks to which it is possible to communicate with all our acquaintances in a simple and free way. It not only allows you to send text messages but also multimedia messages (MMS) with attached photos, videos or other files. However, if we accidentally delete a conversation, what we delete will not only be the text message but also photos and videos that may be present in it.
There is a way to recover deleted photos and videos from whatsapp? The answer to this question is yes. What you need is a program like iPhone Whatsapp Recovery that allows you to restore the conversations deleted from whatsapp and with them also any attached files (photos, videos, archives, etc ...) on the iPhone. If you have a cell phone instead Android, go to Whatsapp Recovery per Android
Below we first focus on recovering Whatsapp photos and videos from iOS devices and then we will see the Android case.
Guide # 1: How to Recover Deleted WhatsApp Photos and Videos on iPhone
Step 1. Download and install WhatsApp Recovery
Here are the links to download the free demo version of Whatsapp Recovery, the best Whatsapp photo / video recovery program for Windows PC or Mac.


Step 2. Launch WhatsApp Recovery and choose recovery mode
Once the program is run, it will ask you how to try to recover deleted messages, photos and videos from WhatsApp. You can decide between "direct" recovery from the iPhone / iPad memory or via iTunes or iCloud backup (if present). In our case suppose to choose the first mode, and after connecting the device to the computer via USB cable, click on the left on "Recover from Disp. iOS ". Finally we start the scan by clicking on SCAN.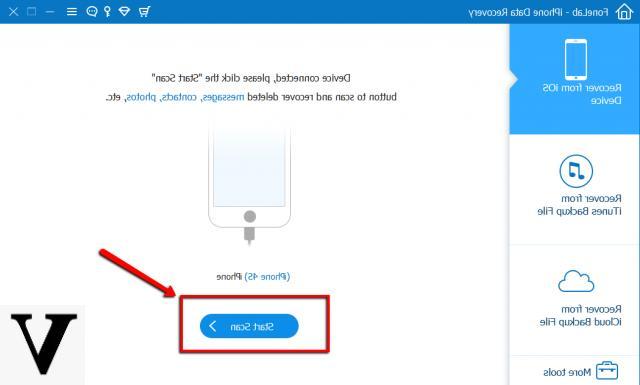 Step 3. Photo and video recovery
At the end of the scan, all the files and Whatsapp messages found in the memory will be shown in a "preview" window, as shown in the figure below. To recover deleted photos and videos from Whatsapp, access the "Whatsapp Attachments" folder and here you can see all the recoverable data.
In addition to photos and videos, of course, you can also recover deleted chats: text messages will be saved in txt or html format, instead the photos and videos will be saved in their original format.
To start saving, just click on the "RECOVER". Saving is only possible after purchasing the full license of the program.
That's it!
Guide # 1: How to Recover Deleted Photos and Videos from WhatsApp on Android
Now that we have finished seeing how to recover WhatsApp photos on iPhone, let's see how to recover deleted photos directly from WhatsApp on Android (Samsung, LG, Xiaomi, Huawei, HTC, etc ...)
If you don't know where to start then let us tell you how it works. First you need to know that the device keeps up to the last ones 7 days local backup all files, including those of WhatsApp. This will help you restore WhatsApp photos from backup. Also, if WhatsApp is set to backup you can try to recover lost images from automatic backup as well.
But if more than 7 days have passed, how to recover deleted photos or videos from WhatsApp on an Android device? In that case it comes to your rescue UltData per Android, a comprehensive Android data recovery tool. It can recover not only WhatsApp photos, but also WhatsApp messages, WhatsApp chat history, contacts, messages on your Android phone.
To get started you need to connect your Android device to your PC or Mac after installing the UltData program for Android.
Download and install the software on your PC or Mac in demo version. Here are the download links:


Main screen: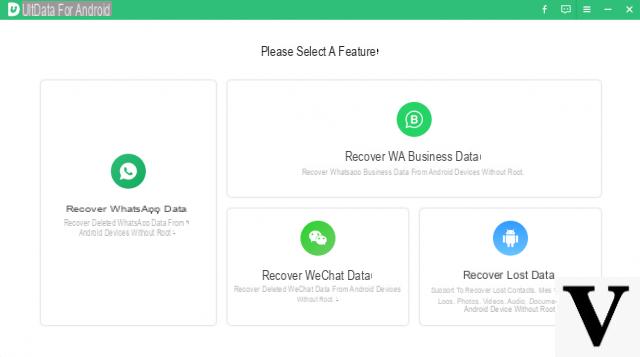 After connecting your Android mobile to your computer, please follow the guide to enable USB debugging (from phone settings).
After enabling USB debugging, a notification will appear on the phone screen. Click on "Allow"To initiate communication between the device and the computer.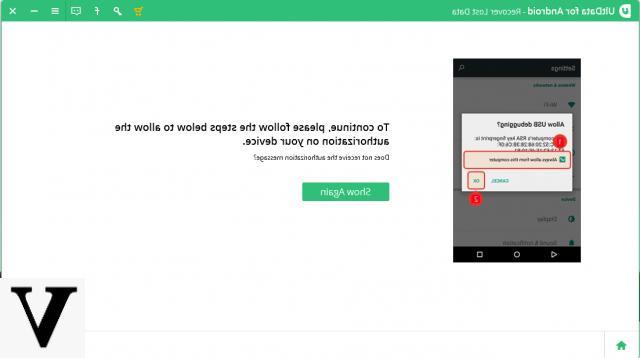 Choose the function of Whatsapp Data Recovery and start scanning your phone. At the end of the scan, all Whatsapp images, messages, photos, videos will be previewed on the central screen of the software. Choose the data to recover and click on "Recover" bottom right. You will then be able to save the photos and videos on your computer and keep them safe!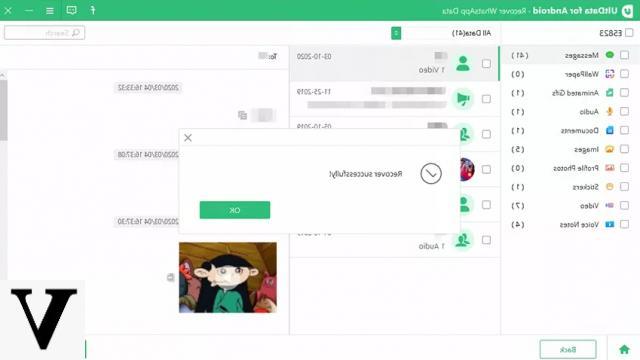 Two days ago I deleted a video from a chat that was sent to me.
The automatic backup of Whatsap was earlier so I do not have the possibility to recover it.
I should still have time with this program right?
Yes, do a scan to then check for that deleted video if it's still recoverable




I would like to know if it is possible to restore in the respective chats some images deleted from the Sent folder of whatsapp but of which the originals are still present in the phone gallery. Copying them from the gallery to the Sent folder doesn't work… ..
Hi, to free the internal memory I have deleted all the whatsapp photos and videos of the last 2 years on a non-routed android phone, there is a program that by connecting the phone to the computer allows me to recover everything or maybe an application that recovers my files directly to the smartphone? the photo files are still present in the memory, but if I try to open them it says it's impossible, what can I do? thank you so much
Good evening, I need your help.
In my case, I installed WhatsApp Business and then I went back to WhatsApp Messenger and all the chats and media files disappeared.
As I am impractical, can I solve it with the instructions provided in your article?
Thank you if you want to help me because in addition to important business chats I also had enormous emotional value!
Thank you

Follow the instructions in the article to understand if that data is still recoverable.
Is it possible to recover videos received on WhatsApp long ago and then deleted?
Yes it is possible that they are still recoverable
I would like to know if by restoring an old backup on my new iphone (always from iphone) it is possible to recover normal sms and sms, photos and whatsapp videos which, however, at the time of the old backup had been deleted (i.e. they were not visible on my iphone because they were manually deleted from your mobile).
No, if they were already deleted at the time of the old backup, they are now no longer recoverable.
Hello ,
Maybe that's a stupid question
But I try ...
Is it possible to know if the person I sent a photo to on what app has still saved it to us somewhere on the phone or on systems like Google drive?
No, you can't know unfortunately
Is it possible to recover photos from Whatsapp from a lost phone via another new phone ... of course the card has been repurchased?
I don't have much practice with this device and many technical terms are incomprehensible to me. … ..
Deleting a received photo deleted the entire wattApp photo album. ... how to find them?
The program recovered the whatsapp conversations that I had mistakenly deleted and saved them on the pc. Is it now possible to bring them back to my Iphone phone?
The dr.fone program for iOS also allows you to restore the recovered chats directly .. when you perform the recovery, the option to restore directly to the device should also appear (and not just save them on the PC)

I need help! I have deleted all the fail media folder, how can I recover?
Greetings! Unfortunately, I do not know how, the folder of Whatsapp images from the gallery has disappeared ... I can find them if I enter the archive, but I would like to return to having the folder of photos in the gallery conveniently (the one of Whatsapp videos works regularly). I have a Samsung Galaxy S4… Thank you so much!
I inadvertently deleted a whatsapp conversation from an Iphone 5s. Is it possible to recover all the videos, photos, audios and the entire chat? ... I am mainly interested in videos but I would also like to know if it is possible to restore the entire chat and return to view it in full in the list of recent chats as if I had never deleted it in short. Thanks
Scan the program to see if that data is still recoverable.
If recoverable, you can save them on your computer
I have a Samsung s6edge unfortunately I accidentally deleted the voicemail messages from three months ago is it possible to restore them?
Scan and check if there are any ...
good morning,
unfortunately I have deleted all the wapp media but from the memory… that is from the various file archive of my samsung Note II. are also recoverable in this case?
Just do a scan with the software to see if they are recoverable or not

Hi I wanted to ask you if it was possible that someone could recover deleted photos and videos sent with my phone, without my permission
Hello, it is possible to know to which number the photos that are saved in the cache memories have been sent. Archive of a Samsung young
I accidentally deleted an image that was sent to me 10 days ago, can it be recovered? I have a samsung
Yes it is recoverable!

They sent me a photo, only after I deleted the photo ... can it be recovered?

Yes, it can be recovered if you immediately scan with the program described in the article.
i unsato dr. fone… ..procedure successful, but I can't see the videos
Videos cannot be previewed ... Try to figure out from the file name if it is the video you are trying to recover
I deleted some photos from both watsup and tel, I have a Nokia lumia 735 I can recover them, because I had copied them in the comp but I got the latest virus, cryogenic or something like that. and I lost everything so I was hoping to recover them from the phone. What should I do?
hello, I'm in crisis with my phone. I have a Galaxy S2 that for some time now has begun to give problems often notifying me 'memory almost full'. i moved the camera photos to an sd card but the problem persisted. when trying to delete other data I accidentally deleted the folder containing the whatsapp media from the archive. I searched online for a solution and downloaded dr fone trial version but nothing, the scan only detects the data that is still present in the phone not the deleted ones. what else can i do? maybe the full version could work? thanks in advance, Giulia
Unfortunately, if the data does not appear after the scan, it means that it is no longer recoverable ...
i deleted a conversation and i should retrieve the voicemails you can do it
But I thought it could be recovered from wazzup chats because I sent the photos via wazzup from a Samsung to an iphon. Samsung now reset and iphon off which no longer sells.
My iphon went into the water and it doesn't turn on anymore so I lost 1000 photos and I hadn't even done icloud. on iphone i had transported them via wazzup of another number i have. i was wondering if i could retrieve wazup images where i sent the photos. but the phone. from where i sent them and a samsung which in turn i reset after sending photos to iphon. Now what is the solution. I would do the impossible to get my father's photos back. Thank you very much.
Connect the samsung to the PC and through dr.fone for Android try to scan for everything that is still recoverable in memory ...
Otherwise, if you have connected your iphone to your computer in the past, it is likely that an automatic backup was created via itunes. Start Dr Fone for iOS and click on "iTunes Recovery" mode to automatically search for any backups.
i deleted some photos from whatapp about 2 weeks ago from a nokia lumia 630 phone, is it possible to recover them?
I deleted some very important photos I had on my LG G2 from the archive two days ago.
Is it possible to recover them?
I noticed that if you delete the photos transferred from WhatsApp to the images, in the sense that they are deleted from the images then in the recovery those left only on WhatsApp cannot be recovered, why?
But I can't recover the photos received! I only recover those sent, why?
Isn't that wrong because I have ios 8?
I lost them by mistake

Mission impossible …… I need to recover some photos but I deleted them from whatsApp over a year ago. It's still possible?
Eh but I have to pay again like this, can't it be solved?
When I start it it tells me Windows error, why?
Try this other program: https://www.softstore.it/ios-software/dr-fone-ios/windows/

Recover Deleted Photos and Videos from Whatsapp
Recover Deleted Photos and Videos from Whatsapp -