Have you accidentally deleted contacts from your iPhone address book and don't know how to recover them? Have you already tried to recover them by looking for the backup file but have you noticed that you do not have a backup or it is very old? In these cases the solution is given by an iPhone data recovery software such as dr.Phone for iOS. This program is one of the few (but not the only) capable of recover iPhone contacts without backup iTunes or iCloud. Let's see in this article what are the steps to follow to restore contacts and get them back on your iPhone.
Solution n.1: dr.Fone

How to recover iPhone contacts without backup with dr.Fone

Solution n.2: FoneLab

How to recover iPhone contacts without backup with FoneLab
Solution n.1: dr.Fone
Dr.Fone for iOS Supports all iPhone models: iPhone 12/11 / X / 8/7/6/5/4. It also supports all iOS and iTunes versions.
How to recover iPhone contacts without backup with dr.Fone
Step 1. Download and install dr.fone for iOS
Here are the links to download the iPhone contact recovery program on your PC or Mac:



Supported Windows systems: Windows 10/8/7 / Vista / XP
Mac systems supported: Mac OS> 10.7
After installing and running the program you will see the following splash screen: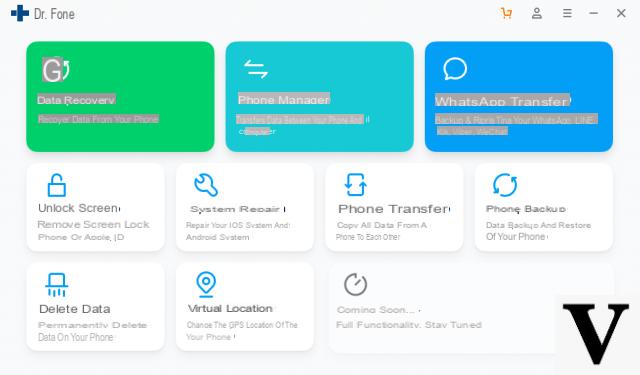 Click on the function DATA RECOVERY and this screen will open: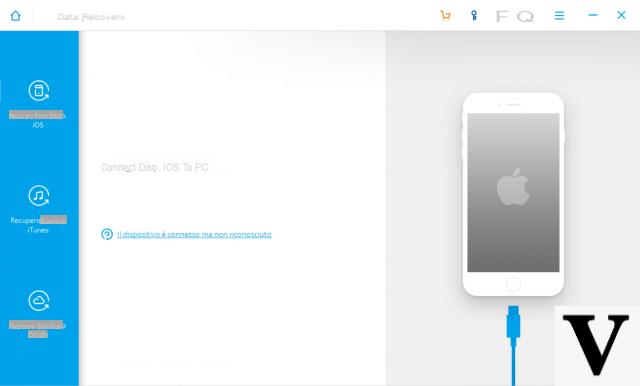 Step 2. Scan your device
Connect your iPhone to the computer and select the recovery mode from the iOS device from the program (precisely because we are in the absence of a backup !!). At this point you can start the scan by clicking on the "START SCAN".
NB: If you connect an iphone 3gs / 4, you will see a slightly different screen which will ask you to download a plugin and put the device in DFU mode by following some simple steps.
Step 3. Recover iPhone Contacts
After the scan, which will take some time, you will see a screen with all the data found in the memory and organized in different folders: Camera Roll, Messages, Contacts, Notes, Voice Memos, Call Log, etc ...
In our case we click on "CONTACTS"And we will be able to preview all the contacts in our iphone address book: both existing contacts and those deleted but still recoverable (the latter will be highlighted in orange).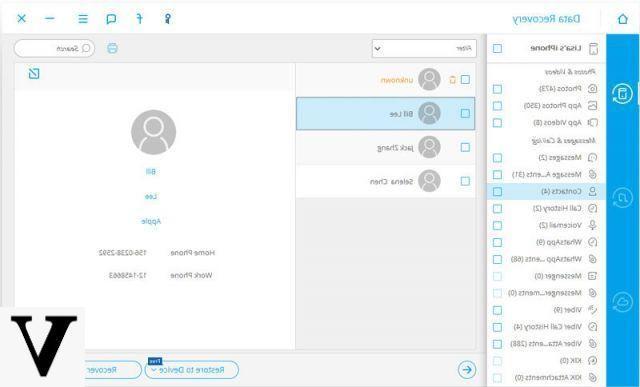 Select the contacts to recover and click on the "RECOVER"To save the contacts in vCard or VCF format. The file saved with this format can be reloaded on the iPhone in a very simple and fast way or directly through dr.fone or using an alternative program such as TunesGO.
With the latest version of dr.fone for iOS you can also restore the recovered contacts directly to the iPhone by clicking on "Recover on iDevice"Instead of" Recover to Computer ".
If by chance you have activated the "iCloud" service on your iPhone, try to recover iPhone contacts from iCloud as well.
Solution n.2: FoneLab
If the contact list on your iPhone is lost or deleted by mistake, activating the flight mode it's a good first step to take. This will prevent new data from being stored on your device and perhaps overwriting the lost contacts you are trying to recover.
With FoneLab per iOS, you will be able to recover lost / deleted iPhone data including photos, contacts, videos, files, WhatsApp, Kik, Snapchat, WeChat and other data even in the absence of iCloud or iTunes backup. With the free trial version of this program you will have the opportunity to preview if your contacts are still available and recoverable from the internal memory.
How to recover iPhone contacts without backup with FoneLab
Step 1: Download and install FoneLab for iOS on your computer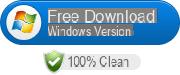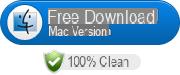 After installation the program will open automatically. A first screen will open showing the limitations of the trial version. Click on Try free to continue using the free version.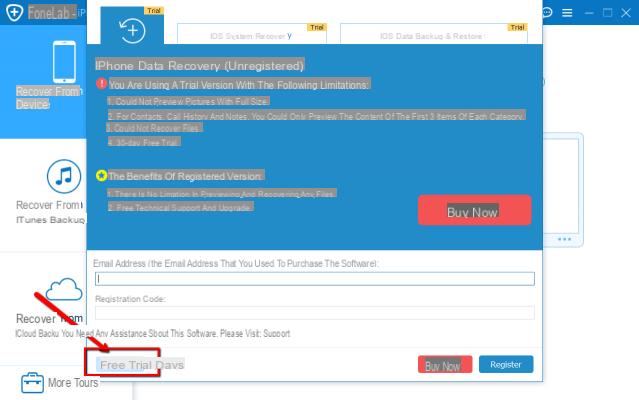 This will open the initial screen of the program with all the available functions.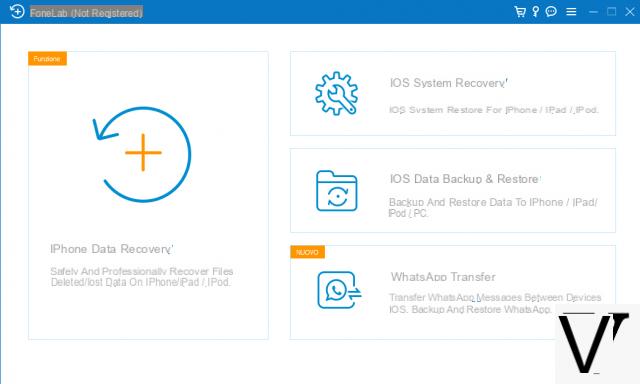 Main features:
Easily recover photos, videos, contacts, WhatsApp and other data from iOS device
Preview data before recovery.
Works with iPhone, iPad and iPod touch.
Step 2. Connect iPhone to your PC / Mac
First connect your iPhone to the computer. FoneLab for iOS offers more than one recovery mode to recover lost contacts from iPhone: recover directly from the iOS device and also recover data from any iTunes or iCloud backup file. Press on iPhone Data Recovery to access the data recovery function: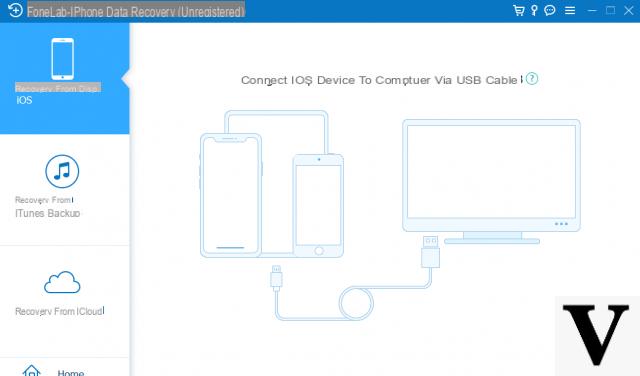 Step 3. Scan your iPhone
click on Start Scan. All your iPhone data will be scanned and listed in the right panel. On the left, instead, the types of data that can be recovered by the program will appear (among these you will surely find the folder Contacts)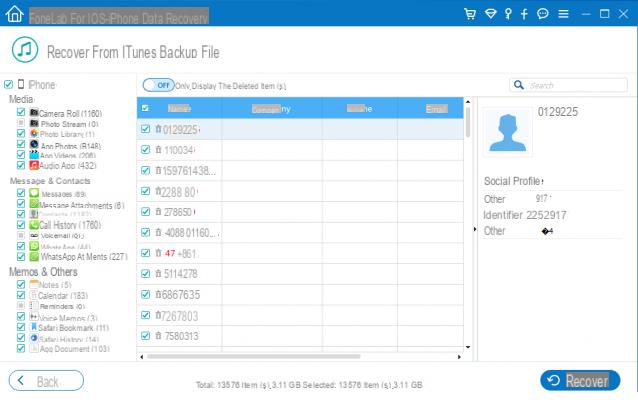 Step 4. Recover deleted / lost contacts
Select Contacts in the left panel and your contact list will be displayed in the right panel. You can choose an item to view detailed information. The lost / deleted contacts will be displayed in red. You can turn on the switch to view only deleted items.
Check and select the lost / deleted items you want to recover. Then press the bottom right on Recover and select CSV, HTML or VCF format as the output file format where you want to save your contact list.
That's all! Simple, right? Download the free version of this program now and check if the lost contacts are still recoverable (even without backup!).
Hi, before placing the order I would like to know if the program is also valid for those like me who initialized the iphone and then realized that they no longer have the iphone backup. Thank you
It is always worthwhile to scan with the demo version to see if the contacts and other data are still recoverable.
it works
Hi, I bought your program and I scanned my ios but, I wanted a clarification from you: among the contacts I recovered (those in orange) I saw that for the same name it retrieves more number but with different starting number (type: prefix - 00- 011) what they mean
Those starting numbers are the international prefixes. If your contacts are all Italian then their area code will be prefix only (Italian mobile numbers).

So does it indicate that I called them even when they were abroad, or did I get calls from them while I was abroad?

No, those prefixes are indicative only ... what you need to consider are only the digits of the number that appear after those prefixes ..
The scan does it for free and without complications, but to recover the file I have to spend 120 euros to buy the program? it is madness!
No, by purchasing from the link proposed on our site: https://www.iphonexpertise.it/order/drfone-win.php
The cost of the program is 68 dollars, which is just over 50 euros.
Obviously, the purchase is only suitable for those who have extremely important data to justify the expense.
Thanks for the report and the detailed guide. I was able to recover most of the contacts I had deleted. Only someone is named "unknown", but I think it is more 'than normal since I did not recover immediately after the cancellation.
Bel software! 🙂