The app WhatsApp with its one billion users worldwide it is the most popular "free messenger" that allows you to be in contact with your friends and relatives through calls, messages and free sharing of photos and video clips. But this wonderful app is agolable only on smartphone, which means that you can only take full advantage of it on the small screen of your mobile (iPhone, Android mobile, or other phones).
However, it would be really nice to be able to install and use Whatsapp even on larger devices such as tablets and the iPad (Apple's flagship tablet). In this article we see the solutions that are there to be able to use Whatsapp on iPad or Tablet with Android operating system. Unlike mobile phones, tablets do not always contain the USIM and for this reason we should find a way to use whatsapp without a phone number. Here are the most effective solutions we can recommend.
# 1. Use Whatsapp on iPad or Tablet with Whatsapp Web
One way to access WhatsApp on iPad and other tablets is to use it via Web WhatsApp which can be installed in the following way, using Safari in case you have an iPad. Before seeing how to configure this service, let's see what Whatsapp Web is and how it works.
Info on Whatsapp Web
It is a web service that allows users to access WhatsApp also via PC, thus facilitating the saving of multimedia files (photos / videos) on computers directly. It wasn't initially agolable for iPhones and could only be activated using Google Chrome. But then WhatsApp Web was also enabled on iOS devices, which means that iPad users will be able to activate it on their tablet to use Whatsapp from there as well.
How to activate Whatsapp Web on iPad
Step 1. From your iPad, open Safari and log in to web.whatsapp.com.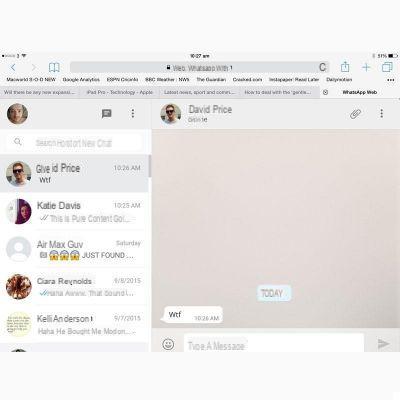 Step 2. Find and tap the "Load Desktop Site" option from the favorites menu.
Step 3. The reloaded page will show the WhatsApp web interface with the QR code that will allow you to establish the connection to your iPhone. Scan the code with your iPhone to pair the two devices.
Step 4. You will then be able to see all recent messages or voice notes, even via your iPad
However, there are two limitations with this mode:
1. Voice notes cannot be sent (they are still playable).
2. Notifications are not supported by the iOS browser
#2. Using Whatsapp on Android Tablet with WhatsTablet
On Android tablets in addition to the solution provided by Whatsapp Web there is another way to solve the problem. In fact, thanks to the app WhatsTablet you can also install and use Whatsapp on your Android tablet (Galaxy Tab, Lenovo Tab, etc ..). This application basically creates a pairing between your mobile and your Android tablet so that you can use Whatsapp on both devices. Once this is done synchronization, even the contacts you will see on Whatsapp Tablet will be the same ones present on the Whatsapp of your mobile phone. Here are the simple steps to follow:
Activate the internet (Wi-Fi or data connection) on your smartphone and then open WhatsApp on it
Open the Whatsapp settings menu on your mobile phone and then click on "WhatsApp Web"
Now log in to the site with your Android tablet WhatsTablet and click on the button DOWNLOAD to download the application APK file
Always from the tablet go to Documents -> Download History and click on the downloaded file "WhatsTablet.apk"
The installation will start but will be blocked because you will be asked to click on Settings and activate "Unknown Sources" to proceed with the installation.
Finish installing the app on your tablet until a QR code appears on the tablet.
Now place your smartphone on the QR code of the tablet
Once paired, you can finally use Whatsapp both on your tablet and on your mobile / smartphone
How to Use Whatsapp on iPad or Tablet -