You finally have a nice iPhone or a nice iPod Touch in your hands and would like to start customizing it by inserting your favorite files and why not also a large music library with all your favorite songs? Nowadays a smartphone or mobile device without music inside it always remains incomplete because music can fill those moments of waiting or keeps us company when we are sad or worried. Music on iPhone or iPod is therefore a "must" and below we want to help you understand how to upload music to iPhone / iPod, that is how download songs to iPhone or iPod and / or how to transfer music from computer to iPhone and iPod.
How to Upload Songs to iPhone / iPod
The first mode for upload music to iPhone / iPod is to download directly the music tracks on the iOS device. If the iPhone / iPod Touch is connected to the internet there are tons of ways to do this. But even if it's not connected to the internet, you can take advantage of some software tools to use on your computer. Here are some ways to download and upload songs to iPhone / iPod
# 1. Upload Music to iPhone / iPod with iMusic
#2. Upload Music to iPhone / iPod from iTunes
# 3. Upload Music from PC to iPhone / iPod with TunesGO

WAY 1. Download music to iPhone / iPod with iMusic
iMusic is a software for PC and Mac that allows you to download music from Youtube quickly and easily. Songs downloaded from this program go directly to the music library iTunes thus making it very easy to synchronize and upload music to iPhone or iPod. It is also possible to connect the iOS device to the computer via USB and then via iMusic to transfer the downloaded songs.
But let's see in detail how to download songs with iMusic and then transfer them to iPhone / iPod.
To start, download the "trial" version of iMusic on your PC or Mac:


After downloading and installing IMUSIC you will see the following initial screen: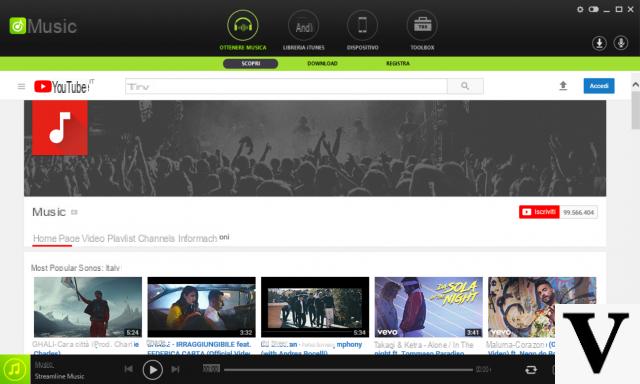 Using a USB cable, connect your iPhone or iPod Touch to the computer and wait for iMusic to detect it. In the "Device" section of the program you should see a window like this: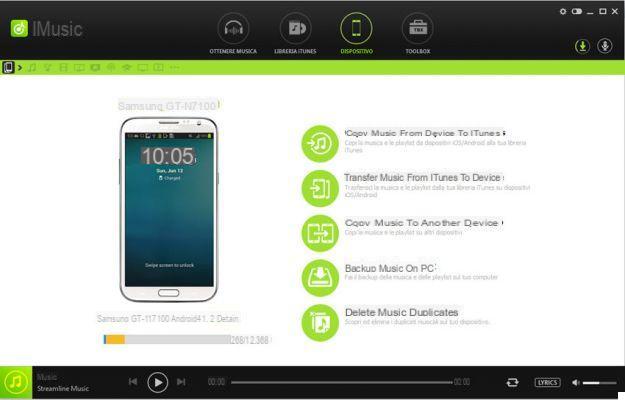 Now return to the initial screen of the program ("Get Music") To browse Youtube for songs or music playlists you would like to download and copy to your iOS device. Once you find it, you will have to copy the URL of the video or playlist and then paste this url in the "download" section as you can see in the following figure: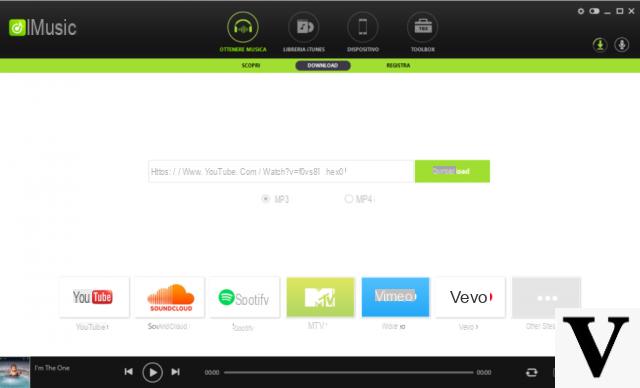 After pasting the url click on DOWNLOAD and the program will immediately download the song or the entire music playlist. These songs, as mentioned before, will be saved in the iTunes library and will also be visible in the "library" of the program:
To load these songs on your iPhone or iPod just select them and then right-click on the option EXPORT -> iOS device

WAY 2. Upload music to iPhone / iPod by purchasing it from the iTunes Store
This method is very simple and consists of opening the iTunes program on your computer and going to the top of the tab STORE, which is the iTunes music store. Here you can browse the music categories and search for the songs you want to buy and upload to your iPhone or iPod.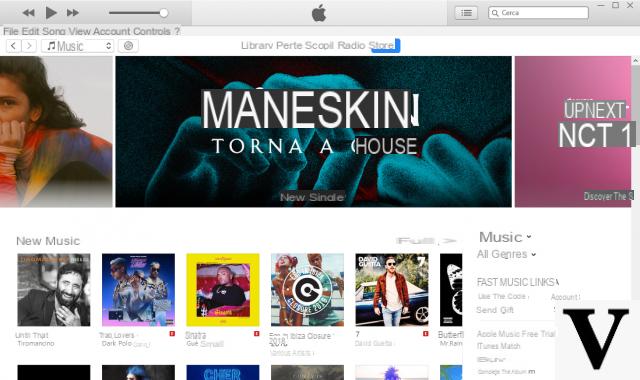 Once you have selected the album or artist, go to the page with the details of the music tracks that can be purchased. All the songs can be listened to in preview by clicking on the appropriate icon of the "play"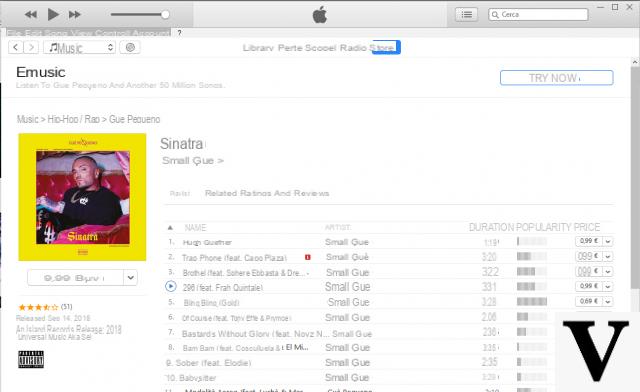 The prices of the songs are only accessible, starting from € 0,69 for one song. By making the purchase, the song is downloaded to iTunes and is therefore easily imported to your iOS device. In this regard, read how to sync iTunes music with iPhone

MODE 3. Transfer music from PC / Mac to iPhone / iPod
If you already have a large music library available on your computer, perhaps in iTunes and you want to load it on your iOS device as well, then what you need is itunes itself (which allows you to synchronize the songs on the iPhone, but only the songs "purchased ) or an alternative program to iTunes called TunesGO.
TunesGo allows you to upload songs to iPod and iPhone even without iTunes. Here's how it works.
First download and install the program on your computer (Windows or Mac):


Install and start TunesGO. Then connect your iPhone or iPod to the computer via USB cable. Once connected, the program will detect the iOS device and the following window will open.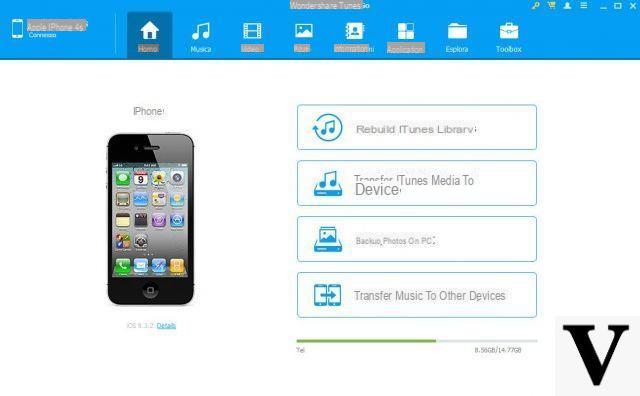 To transfer all the music on iTunes, just click on the "Transfer iTunes Media to Device" button.
If you want to transfer music from your computer to iPhone / iPod, click on the "MUSIC" category at the top and then click on "Add". You will then be able to search for the music files on your computer that you want to upload to your iPhone or iPod.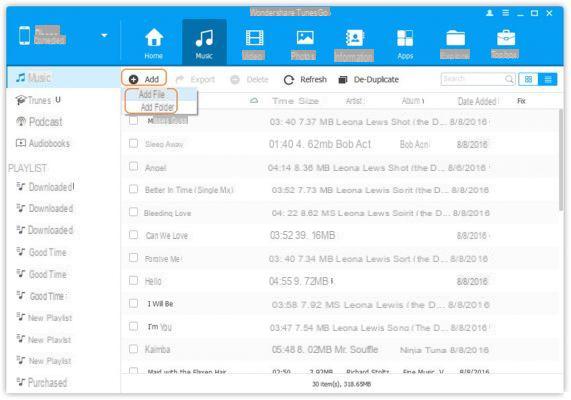 In addition to single songs you can load entire playlists as well music: just click "Playlist" -> "Add" and then "Add playlist from computer".
Thanks so much for the tip!