If you are looking to insert a PDF on Facebook to share it with your friends and acquaintances, you will be a little disappointed because you will notice that it is not possible. If you ask Facebook support how to upload a PDF, the official response will look something like this:
It is possible to upload a PDF file only to a page of a Facebook group but it is not possible to add a PDF to your Facebook profile. If you want to share a PDF on Facebook you must first upload it to a hosting such as fileden.com, box.net, sendspace.com, dropbox.com and then post the link of that PDF on the Facebook page you want.
Uploading a file PDF on Facebook so it can be done if you have a company page, a Facebook group or a link. If you try to import a PDF into your profile you will see an "Invalid file type" error like the one shown in the following image:

Share PDF on company page
Share PDF in a facebook group
Share PDF on Facebook via link
Why should i upload a PDF file?
While images are great for grabbing the attention of your friends and profile readers, a PDF file is a great asset because it can provide more information. Aside from that, images uploaded through social media are often compressed, so the quality of your work may not always meet your standards. On the other hand, a PDF file does not change its format or visual appearance even if it is uploaded to social media. PDF provides your readers with a great experience with images and textual content at the same time
Share a PDF on a Company page
Have one company page it is an advantage for those who want to upload a PDF file as Facebook allows companies to upload their menu in this format, for example. All you have to do is go to your Facebook page, view the links on the left side of the page and click on "Information". Once that page opens, find the "more information" area and click on "Add menu". A window will appear allowing you to select and add a PDF file for upload.
However, this solution is ideal for those who have a restaurant or pizzeria and want to upload the menu in PDF format. If you have a different business we recommend that you read this other solution.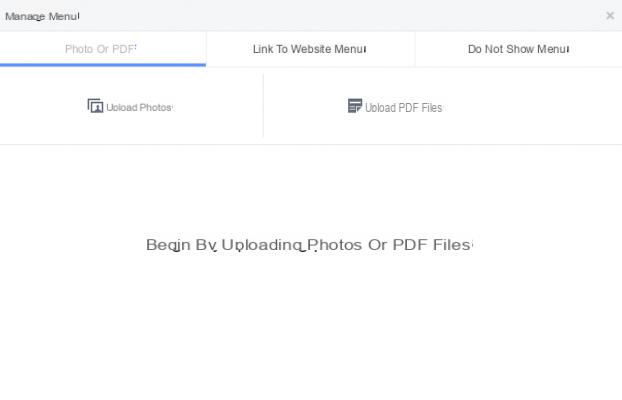 Upload and Share PDFs in a Group
If you don't have a business page but want to share a PDF file with your friends, you can also do it through i Facebook groups! Simply go to the Facebook group or create a new one and then click on the area where you post your text and images and select the "other" item. A drop-down menu will appear showing you that you can "add filesWhich will allow you to share your PDF file as well.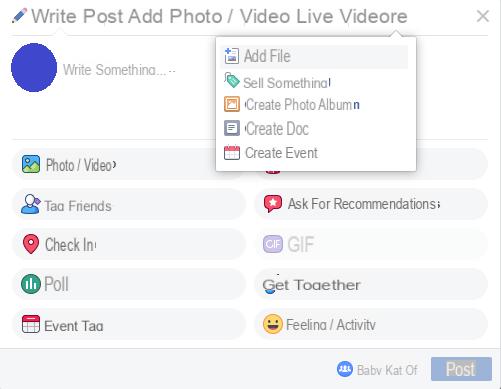 Share PDFs on your profile or in any post
There is another way to share your PDF files directly on your profile page and it is in the form of a link or an image! By converting your files PDF to images (read how to convert PDF to images) Facebook will then allow you to upload such images as you usually do with photos.
However, if the PDF has many pages you will have many images to upload and this could be confusing. In that case the best solution is to share your file PDF as a link. That is, you could upload the PDF to your website or file sharing sites like Google Drive or Dropbox and, once uploaded, share the PDF as public link and post this link on your profile. This way, your Facebook profile will be able to present a link that directly shows the file where your readers can download it.
If you want to do something even nicer (and more professional) you could also use a free service like FlipbookPDF.net that uploads your PDFs online making them "browsable" as if they were real flyers or catalogs. Once you have accessed the FlipbookPDF.net website, upload the PDF and click on Converted. After the conversion you will receive the link that you can immediately share on your Facebook pages.
You will actually see two links - the first is yours Browsable PDF ready to share on Facebook and the second is the area link ADMIN from which you can make some customizations such as changing the logo, changing the background or changing the size

Copy the first link and log into your Facebook account to paste it wherever you want. From the admin area of ​​that flipbook you can also copy the PDF cover image and add it as a photo to your post.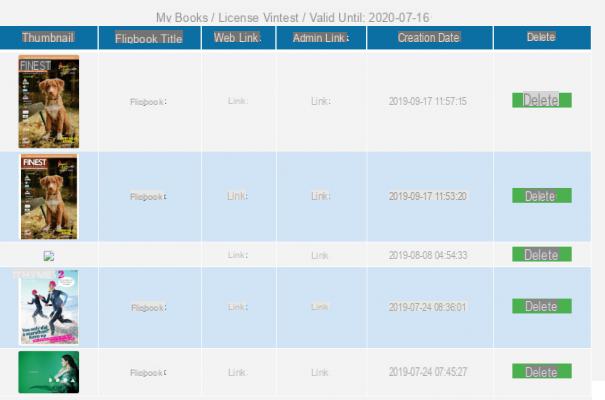 If the url to paste in the post is too long you can use a free service such as goo.gl for the "short" version of the url, ideal for sharing.
This method just described is actually ideal for sharing PDFs on any social network, so it's fine for uploading PDFs to Twitter, Linkedin, Instagram, etc ...
Nice idea of ​​sharing a PDF in "browsable" mode. Possibly it is possible to insert this PDF through an iframe directly into the facebook page or post? If so, how?
thank you!
Yes, once you have created the flipbook, access the ADMIN area and click on the "Embedded code" button. Then follow this guide to be able to paste that code (with iframe) on facebook:
http://flipbuilder.it/support/inserire-file-sfogliabile-su-pagine-facebook.htm
How to Upload and Share PDF on Facebook? -