But below we want to reveal how to move Whatsapp to SD card, WITHOUT ROOT. Here are the details.
What you need:
Latest version of Android SDK
You also need to install Google's USB drivers on your Windows PC. Sometimes the Windows system automatically downloads these drivers when you connect the Android device to the PC
Step 1: Connect your Android phone to PC and then go to the folder where you extracted the Android SDK files and look for the "adb.exe" file.

Step 2: Run the file from the windows command prompt. If you don't know how to do it, just click on Start, type "cmd" in the Windows search and the command prompt will open. At this point drag the exe file mentioned above into this black window

Step 3: Run the command now adb shell pm set-install-location 2 (or adb shell pm setInstallLocation 2) and click enter to finish the operation.

Step 4: Now you just have to move WhatsApp to the SD card. Go to Settings on your Android device and click on WhatsApp. You will notice that the "Move to SD card" option will now be activated.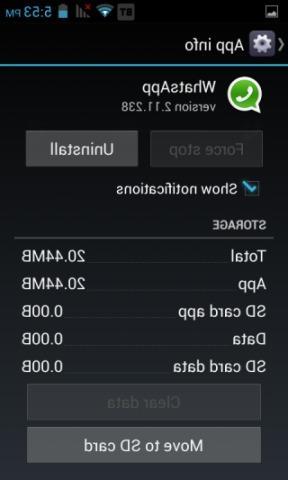 If you are looking to free up some space on your phone or if you want to safeguard the contents of WhatsApp, the method just described can certainly help you. A certainly simpler alternative, however, could be to export Whatsapp messages to your PC or Mac, to be able to archive, print, etc ...
I have installed Android on my pc but the adb.exe file does not exist.
Until the launch of Adb.exe everything is ok ...
But then no option appears to move WhatsApp to sd !!!
has it worked for someone? lack of drivers, connecting the phone to the computer does not install a deserving nothing. You install one thing and miss the other ...
Cannot run this app in your PC
To find a version for your PC, contact the software distributor
Access denied
Help me please!
How to Move Whatsapp to SD Card without Root -