Do you want format your iPhone and delete all data on it for resale? There are plenty of guides on the Internet that talk about restoring your iPhone back to its base operating system, and then syncing junk files to overwrite the data, preventing personal data from being recovered. This just described is easy to say but complicated to do.
Then it must also be said that the data overwriting is erratic. There is no assurance that the data can be fully overwritten. If the data is not permanently overwritten then it can be recovered via basic forensic methods, such as using dr.fone for iOS.
And dr.fone itself also possesses a powerful data removal function from iOS device. With dr.fone you will be able to erase all the data on the iPhone permanently and it can be restored to factory conditions. For more info click on the following article:
Delete iPhone / iPad Data with dr.Fone Erase
Another solution is SafeEraser. SafeEraser for iOS is a small program that can help you format your iPhone with just one click and then automatically overwrite all the data. All that needs to be done is to run the program, connect your iPhone and format it. Let us check how it works in detail.
Before formatting your iPhone, it is a good idea to back up your data, also because after formatting it will no longer be possible to recover data (sms, contacts, photos, videos, notes, etc.). To back up your iPhone, you can use iCloud or iTunes. Both can help you back up iPhone data completely, and it's easy to restore all content to other iOS devices later. If you will choose another phone instead, such as an Android one, then it is advisable to use TunesGO to backup and transfer all iPhone data to your computer.
After making the backup you can start formatting your iPhone.
1 Phase. Run SafeEraser and connect your iPhone to computer. It fully supports all iPhone models (iPhone12 / 11 / X / 8/7/6/5 / 4S /) and all iOS versions.
Phase 2. Choose the option to "Erase" all data and settings (including messages, contacts, call history, notes, personal account information, passwords and other personal data).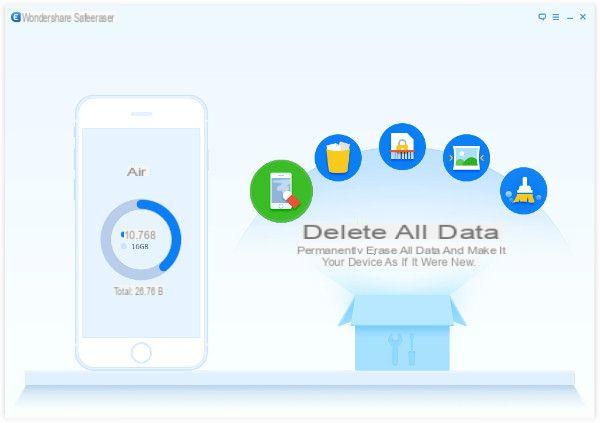 Phase 3. (Optional) Select the data wipe level (default is set to medium) and continue to wipe all data and settings from your iPhone.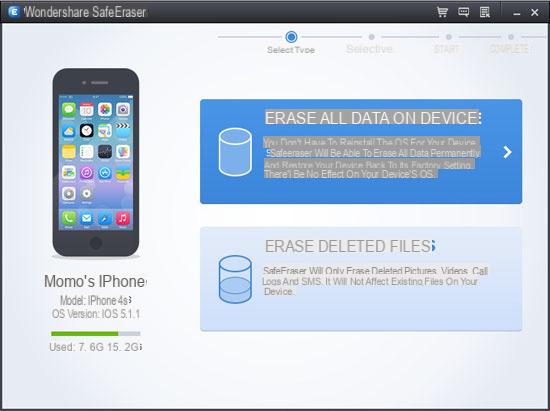 The formatting process will take some time. When it's done, you'll basically have an iPhone NEW, without any trace of your personal data. For the sake of your privacy, remember to deregister your iPhone from the Apple website, specifically from here: https://supportprofile.apple.com/MySupportProfile.do. This way your iPhone will have no linked account and will be ready for resale.
My iiphfone5s is the same as Leonardo's case, I think many iphfones are a bit bogus.
hello, but sorry I have an iphone 5 ios 7.1.2 blocked for almost a month .. when I connect it everything is fine it detects it in short, but it always remains the same on the white screen of hello, hello, hola choose wi fi etc ... it does not change nothing. I also did the procedure by putting high instead of medium but it does nothing. I respring but nothing happens. BECAUSE? Help.