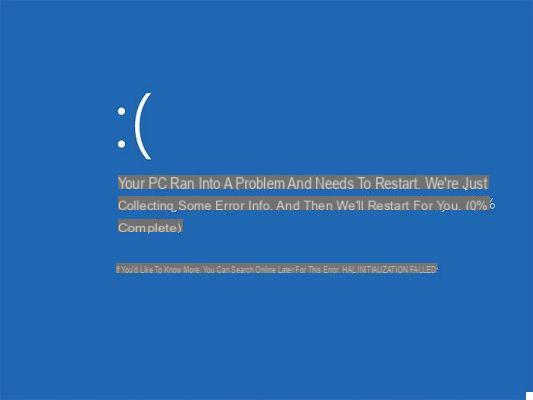 La BLUE SCREEN (also called Blue Screen of Death or STOP Error) appears on Windows when there are serious problems in the system. When this blue screen appears it becomes impossible to access the files on your computer and the only thing you can do is turn it off. In this article, however, we show an effective solution for fix blue screen on Windows 10/8/7 / Vista.
Causes of the Blue Screen Problem on Windows
Blue screen errors on Windows are usually caused by hardware issues or driver & software issues.
The blue screen at startup occurs when Windows encounters a "STOP error." There are different types of stop errors, and for that we have also written an article on how to fix STOP errors, according to the code that appears on the blue screen. In general, however, this error occurs in the presence of corrupt or missing system files and / or that stop working. The only thing Windows can do in these cases is to stop the computer and restart it. The blue screen can lead to data loss and if it happens while you are working, nothing is saved.
How to Fix Blue Screen on Windows 10/8/7 / Vista
When Windows shows the Blue Screen of Death, in "theory" you should reinstall Windows from scratch. But obviously many people prefer to avoid such a solution because it would mean wasting time and data.
There are actually two possible solutions that we are going to illustrate below.
SOLUTION n.1: Driver update
Since 90% of the times in which the BLUE screen appears on Windows, the cause is given by the presence in the system of missing drivers or obsolete, the first thing we recommend is to use a program like Driver Easy to test and update these essential Windows components. It will take you 2 minutes to do this:
Step 1. DOWNLOAD and install Driver Easy on your PC
Step 2. Start the scan and update the drivers
That's all. This solution is obviously adoptable if your PC starts up and you can work on it. If not, we suggest the following solution.
SOLUTION 2: Windows Repair with Boot Genius
Another solution. sometimes even more effective, is to use Windows Boot Genius, a professional tool capable of repairing the system and solving the blue screen problem on Windows 10/8/7 / Vista. To proceed with the installation and use of the software, it is essential to enter the serial code obtained by purchasing the program license.
Here are the steps to follow to resolve the blue screen error:
1. Insert the CD / DVD / USB into the working Windows computer and create the recovery disc by clicking the button BURN of the Windows Boot Genius program.
2. Go to the PC with the blue screen problem and insert the CD / DVD / USB created in the first step into it. Turn on the computer and immediately press the key (F10, F12…) to access the BIOS and set the computer to boot from CD / DVD / USB. Then restart your computer.
3. Upon reboot, the computer will log into the WinPE system and start Windows Boot Genius from there. Go to the "Windows Recovery" section and select the solution based on the "symptoms" of your PC problems. For each solution you will find a detailed description of the resolution.
As mentioned above, the blue screen on Windows can also cause data loss. In this case you can try to recover the deleted data using either Windows Boot Genius itself (from the "Deleted Recovery" section) or a software such as DATA RECOVERY.
Solution 3. Data recovery from PC with BLUE screen
If the blue screen appears every time you start Windows, this obviously prevents you from accessing your data. For this reason we want to report a program that allows you to recover data from a PC stuck on a BLUE screen. This program is RecoverIT. With this program you can create a "recovery" disk (usb or cd / dvd) with which you can access the computer with the BLUE screen problem and recover all the data before any disk formatting operations. More info about it, at the following link:
PC Doesn't Start Up Properly? Here's how to recover your data!
hi I keep windows 7 an acer 5750g laptop never had problems for 10 years, suddenly I get a blue screen with various things written in English, after playing or sometimes it goes haywire when I watch videos on youtube or if I play on the lottomatica account with casino, comes out often The Intel graphics media accelerator driver has stopped working and has been successfully reset, can you help me? Driver Easy is useful as a program I have seen that it gives me so many things to update. I await answers thanks.
Windows 10 is by far the worst software designed by Microsoft. To say that it is problematic to say the least (blue screens and so on and so forth) is an understatement. But the most disconcerting thing, which really leaves you astonished, stunned, stunned and finally amazed, is
that years after its debut, the Microsoft team has not yet found the "square"….
Guys I found myself with two W8.1 computers with the same blue screen after a Microsoff update, on both the same error? Is it possible that there is a bug in the 8.1 update?
One of the two is a touch and I can't do anything.
What I do?
Hi!
My blue screen problem is due to a violation of privacy by tampering with my external hard drive (I don't know if to steal information or to destroy everything that was stored in the harddisk every time the Backup was started and recovery of Windows 10. Startup that normally took place every Sunday at 19.00 and instead turning on the computer on Monday I realized by pure chance that it had started and after a short time I got the blue screen.
What do you advise me to do to solve the problem?
My thanks in advance with my regards.
Antonino V.
Does the blue screen always appear when connecting the external hard drive to another PC? I advise you to try.
but if it doesn't let me do anything, I just move the mouse. how do i do all these things you recommend. regards
The movement of the mouse (with its working click) is enough to do all these things.
How to Fix Blue Screen on Windows 10/8/7 / Vista -