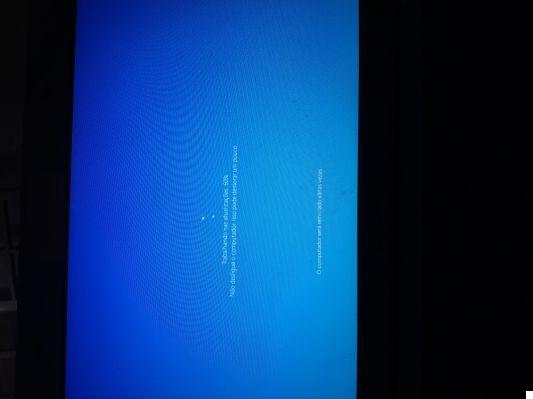 You have just downloaded theWindows 10 latest update, but when the PC restarts something tragic happens: it gets stuck on installing the latest update. What to do in this case?
Unfortunately it can happen, especially when the updates are continuous and non-stop. We have already seen what to do when there is some problem with the Windows 10 update. However, there are also cases where some files fail to work during the update, and this completely blocks the PC. So let's see what the solutions that we can implement even in this critical situation.
Before you begin: be aware that some updates take a long time to complete. Always check if even after an hour the Hard Disk has never written anything or if the percentage has not continued. Depending on the speed of your PC, the time taken for any update can be from a few minutes up to a full hour, it depends on many factors ...
What to do if PC Locked during Update?
>> Force restart your PC
That's right: even if you are told not to turn off your PC, you still have to try to do this little maneuver. In many cases, Windows 10 has many means of restoring files that have been changed by mistake, sometimes even performing a system restore completely automatically.
It is possible to do this by holding down the power button for a few seconds. Wait a few seconds and then turn it back on. Windows 10 will notify you that the update has not been completed: along with this event, it can also restore a saved image of the system.
Once the restart has been forced, it will be possible to try again to install the updates to unblock Windows 10 from some problem that was holding it back in the previous attempt. In addition, you can also try uninstalling some programs that prevented the update or perform some maintenance before trying again.
What to do if the "PC freeze during update" event repeats?
There are many solutions, and not all of them can definitively fix the problem. Save your most important files before continuing.
Boot the PC into Advanced Reboot to perform a reset. Open the start menu and go through the restart functions (such as Shut down, suspend and so on) and press and hold Shift in while you click on Restart. Windows 10 will take you directly to Advanced Reboot (if so, you can also find this function under settings. Once your PC is in Advanced Reboot, you can select the Startup Repair. This function allows you to repair the various problems that hinder the startup or restart of the PC, also using a previously saved system image. If you can't enter Advanced Reboot from within Windows 10, note that it usually opens by itself after some failed boot.
If you can't get into Advanced Reboot with these ways, you can create one USB flash drive (or a DVD) with theWindows 10 installation. Microsoft provides a tool to download the latest ISO and provides the means to prepare the stick. You can find everything here (https://www.microsoft.com/itit/softwaredownload/windows10).
If you can log into Windows 10 and all of these solutions have had no effect, you can try making one scan system files. Open the Command Prompt by right clicking on Start and going to "Command Prompt (Administrator)". Inside, write "SFC / scannow". If a message appears explaining that errors were found but have not been repaired, type the command "DISM / Online / CleanupImage / RestoreHealth".
If the previous solution has no effect or leaves you with an error message, you just have to do a system restore. Enter the Settings and look for the options to perform a reset (you can simply search for it with the bar at the top). Choose the option for reset Windows 10 without touching your personal files
If everything really fails, create a Windows 10 installation pen and start from scratch, installing all the latest updates before the programs. Always remember to save your files! If something goes wrong and some files are deleted, use a program like Data Recovery that is able to recover deleted files from PC even in extreme cases.
In windows10 update it is blocked at 4% I had to reformat it and a problem that many encounter and give me a state of help
Hello, this morning I started the last update of Windows 10 (actually it started by itself), I'm still waiting ... It froze at 44%.
The problem is that I have Windows 10 on the "VM Ware" virtual machine and I can't do anything. If I turn off the virtual machine and turn it back on, I find myself in the situation left earlier ...
I do not know what to do.
If you can give me some advice. Thanks
Luca
Same thing happens to me, stuck at 77%. I do not know what to do
Stuck on "undoing changes made to the computer in progress" what should I do? I am not ignorant on the subject
For me the situation is more serious.
The pc after the windows 10 update does not restart and there is an audio signal: 4 short clicks.
Anyone know what that means?
Thank you
Stopped for three days update at 1% MICROSOFT CIOFEC A !!!!!!!!!!!!!!!!!!!!
I tried everything from crtl + shift + I go out but history repeats itself since yesterday computer blocked and think that updates serve to improve the system! Cabbage but then what are they for.
Computer stuck at "Log in to your Microsoft account" screen
Then you understand why one switches to UBUNTU. Update as you work, it doesn't block you for updates. Plus it's free with hundreds of free programs. I had to send an urgent email, I've been stuck for an hour for this damn update. Luck the tablet😜
Same problem after w10 update stuck after login with spinning balls
I have tried to update twice but it remains stuck at 27% for hours
I too have the problem, I have the Toshiba notebook blocked for 6 days, tried several times to restart, but nothing, with enormous effort and several hours, manages to get to the login, after it crashes on the Welcome page, the wheel with the dots turn, turn ...
Done update but stuck on the black screen with Lenovo writing, I can't go on
Locked on 27% for hours
Hello I also stop at 27%… ..how did you solve the problem? +
I turn mine on, the background landscape appears, no icons on the left of the desketop, no wifi symbol in the lower left, no audio symbol, only icons on the taskbar that do not open the program, google edge etc., if I click they produce just a square.
a tragedy ,,,, downloaded update, the pc no longer starts "press f2 to enter setup" but does not show signs of life
what to do
Unable to configure windows updates, undo changes
Don't turn off your PC, it's been like this for three hours, helpppppp!
Microsoft should hire programmers ...
Pc locked for 24 hours, with the following written:
Wait for. Installation of a system update in progress
I have tried everything to unlock it
Ctrlaltcanc f8, nothing does not unlock
Who can help me?
Same thing, done update win 10 1903, on restart black screen and balls that run for 6/7 hours ... ..
I installed update kb4507453 made reboot stopped at the start screen with spinning wheel of dots and after 3 hours it was still there notebook locked
unfortunately after the update to win 10 1903 I had to block the updates since the KB 4497936 once installed blocks the notebook on restart and you have to restore everything
Win 10 doesn't work for me. I restored it to a previous version but it has been on and off for 48 hours. I turned off from the ignition, it was piping hot.
[Windows 10] PC Locked During Update? -