If you are on this page it is most likely because you need convert PDF to Word on macOS Big Sur and Catalina and possibly also easily edit the document before conversion. Too often, PDF documents have problems when you try to edit them and you don't have the right tool to edit the document. What you need to convert and edit PDF on macOS 10.15 (Catalina) or Big Sur or any other macOS version is a PDF Editor program. Below we report PDFelement per Mac, one of the most popular PDF editors on the market and compatible with all mac OS systems.
Convert PDF to Word on MacOS (Catalina / Big Sur)
Step 1: Download PDFelement on your macOS
Click on the following button to proceed to download the app. It is a 64-bit app therefore 100% compatible with macOS 10.15 Catalina and Big Sur.
Step 2: Open the PDF
After installation run the application and open it on your Mac. You will see the following initial interface: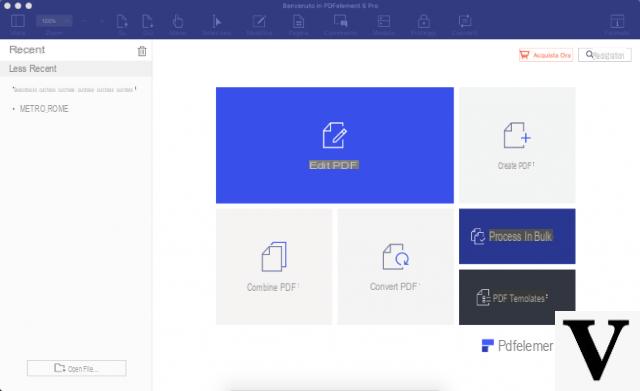 Step 3: Convert PDF to Word on MacOS Catalina
Once the document opens in PDFelement, click on the "Fillet"And select"Export to". In the displayed options, select "IN WORD"To choose Word as the output format.
In the window that appears, rename the file if necessary and select an output folder in which to save the converted file. Click on "Save"To complete the process.
How to convert PDF to Word on macOS 10.15
You can also use smallpdf.com, a free online tool for converting PDF to Word. Here's how it works:
Step 1: Go to Smallpdf.com to access the online converter.
Step 2: Upload the PDF file. You can do this by dragging the file into the main window or by selecting the file from your computer, Dropbox or Google Drive.
Step 3: As soon as the file is uploaded it will be converted immediately. You can download the file in Word format after the conversion is complete.
This method offers a practical and free solution for convertire i PDF in Word, but it has some shortcomings. Some disadvantages are:
There is no guarantee that the data on the document is secure. Once the file has been uploaded to the online platform, the service may share the data as it wishes
This online solution has very limited functionality - you cannot edit the PDF document in any way or even the Word document after conversion.
Sometimes online tools like this fail to convert the document, especially if the document is large in size.
For the reasons indicated above, we recommend that you follow the first solution, namely that of PDFelement per Mac, which is an app also used professionally to convert and edit PDFs of all kinds (including scanned PDFs).
How to Convert PDF to Word on MacOS (Catalina / Big Sur / M1) -