Traditionally, the Watermark (in English "watermark") was born with the application on paper of a logo or text obtained from the variation in the thickness of the paper itself, but they were visible only when the paper was held against the light. Today there is digital watermark applied to multimedia files such as images or videos and the addition of these watermarks is done through software such as Photoshop or similar and has the aim of identify and protect copyright of the information contained in the file.
If you don't know how to add watermak on photos and images, below you will find several methods, all simple to implement and without having to have skills in graphics or photo editing software.
Types of watermark software
There are several types of software or online tools that you can use as an alternative to Photoshop that can help you add watermarks to your images. The process is much easier with such tools as long as you choose the right software. You can easily complete the watermarking on a single photo or a series of photos in minutes.
Watermark software can be categorized into browser-based (online) apps, desktop programs, and mobile apps. If you are using your own computer, there are tools like Microsoft Paint 3D (totally free) which can help you to put watermark on your photos.
There are also watermarking apps for Android and iOS platforms in case you want to watermark images directly from your smartphone or tablet.
The following are several options that you can use to add watermark on photos totally Free .
#1. 123 Watermark Software
NEVER Watermark is one of the best programs around when it comes to watermarking and adding watermarks on images and photos. The main feature of this program is that it allows you to add the watermark even to hundreds of photos at the same time: just select the folder containing the images, choose the watermark and apply it. Inside 123 Watermark there are also a lot of options that allow you to customize the watermark in order to obtain a quality and highly professional result.
Let's see in detail how this amazing watermark program works.
Step 1. Download and install 123 Watermark on your Windows PC

After installation you will see the following main screen: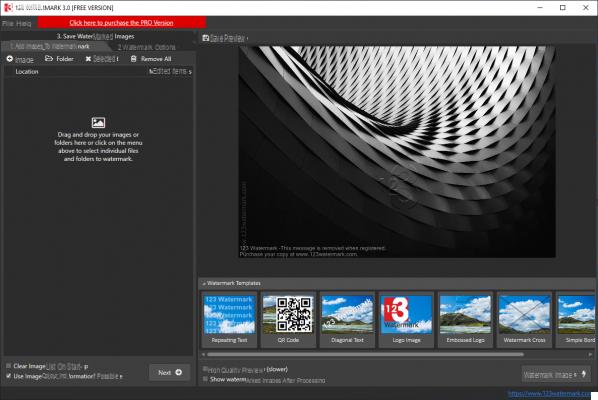 Step 2. Import photos / images
Click on the "Add Images to Watermark"To select the photo / image or all images you want to apply a watermark to. In our test we selected 7 photos, as seen in the following figure: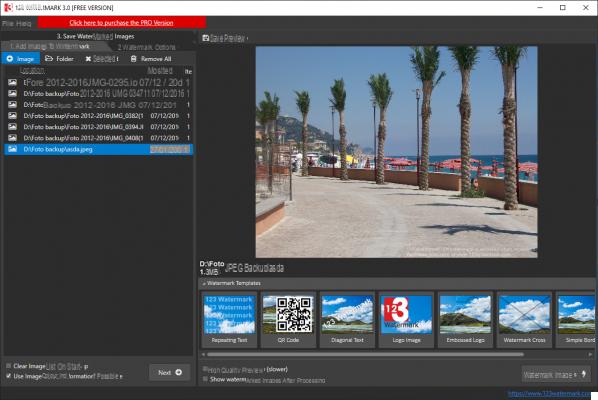 Step 3. Create and add watermark to photos
To quickly add a watermark to your photos you can click below on one of the ready-to-use "templates". For example, we selected the "Embossed Logo" model and then from the "Watermark Options" section we went to increase the size in the% Proportional field. Here is the result obtained: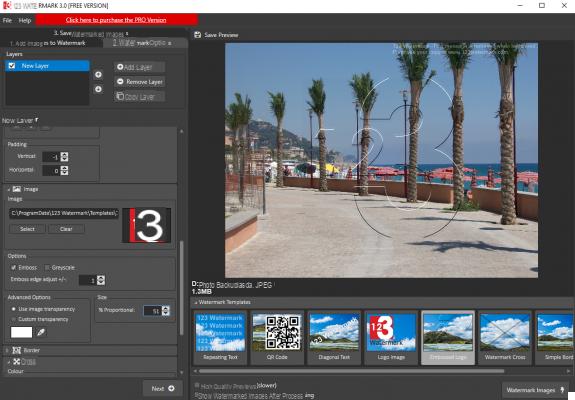 Of course, you can customize the watermark image as you want. You can also create a watermark from scratch, for example by entering text in the "Watermark Text", Choosing a base color and one for the outline and possibly adding symbols (by clicking on the Symbol button).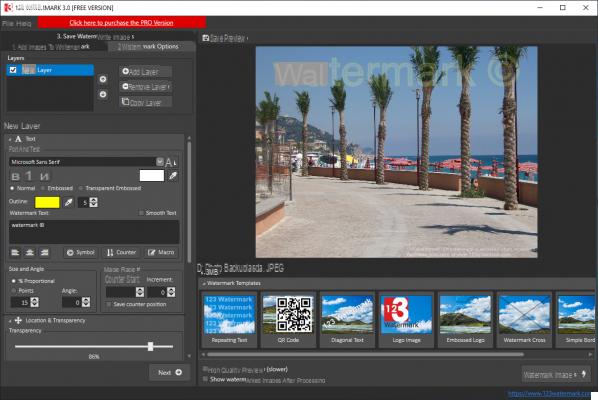 Once you have written what you want you can choose where to place it, the angle and even apply a transparency (by moving the "Transparency" slider) so that it is not too invasive.
You can also replicate the text watermark on the entire image by clicking the "Tile Vertically" box in the Options section. Or insert a cross from the "Cross" section below.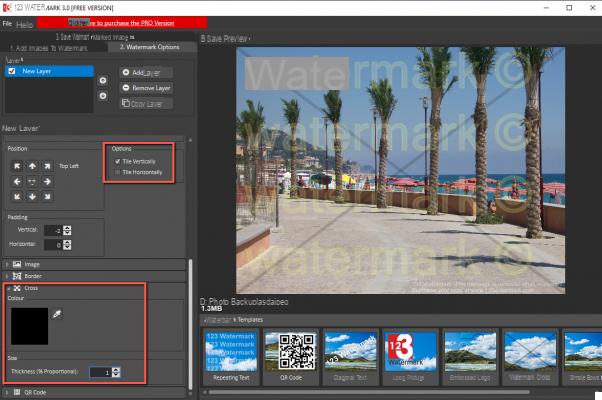 The types of watermarks you can create and their combinations are practically infinite. Once you have created your favorite watermark you can save it from the File -> Save Session menu so that in the future you can apply it to your photos without doing it all over again.
Step 4. Save images with watermarks
Finally, to save the photos with watermark applied, simply access the tab SAVE WATERMARKED IMAGES, click on the "Save to File (s) tab and choose an output folder, as shown in the following figure: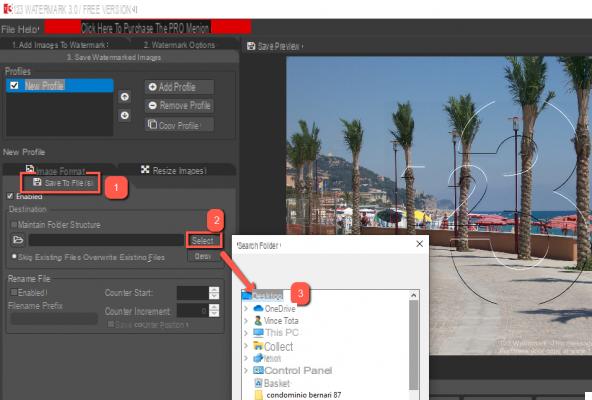 After selecting the destination folder click on the button WATERMARK IMAGES at the bottom right and the program will make the change on all the photos you have imported.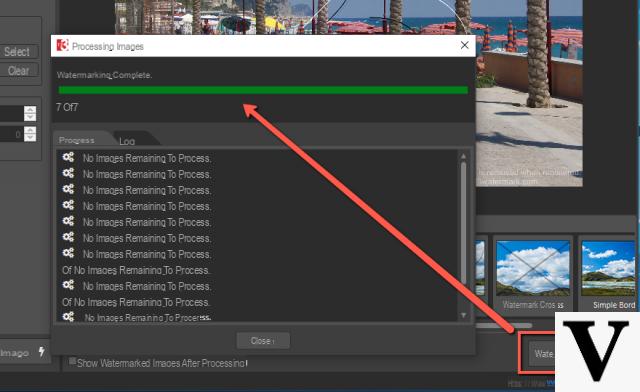 Watermarked photos will be automatically saved in the set destination folder (original photos / images will not be modified).
Here is also a short video tutorial that shows what we have already described above.
Video Tutorial: How to Watermark Photos with 123 Watermark
If by any chance you have video files that you want to watermark then you should download the program 123 Video Watermark as also described in the guide on how to add watermark to video.
#2. Microsoft Paint 3D to add watermark to photos on PC
This program is a free way to add watermarks to images without using Photoshop. you can do it by superimposing text on the image thus creating a watermark, although it may not look as professional or pretty as with other photo editors.
What you need to do is open the app Paint 3D on your Windows PC and then import the image. Then click on Text at the top and from the left sidebar you can write what you want, choose color, font, size and position.
#2. Watermark Online Service
There are several free online tools that you can use to add watermark to your images quickly and easily. Some of these are listed below.
A) PicMarkr
PicMarkr allows you to upload up to 5 different images and apply three types of watermarks: text, tiled and image.
A text watermark simply adds a string of text to the image, while an image type watermark allows you to place logos or other images on the original photo. Instead, a tiled watermark superimposes an image or text over the original image.
The main drawback of PicMarkr is that you can't choose the opacity of the secondary image that overlaps the original, so it won't blend well with your original photo.
B) Watermark.ws
Watermark.ws is flexible and has many options. It offers a quick and easy way to watermark your images and it's free too. You can drag an image or text anywhere in the image and adjust the color, font and opacity of the image. The advantage of using this tool is that it gives you professional looking results and you can edit your image as many times as you want.
c) Watermarkphotos.net
This browser-based watermarking software allows you to watermark images locally so that none of the files are transferred to their servers for watermarking. This grants you an extra layer of privacy unlike other online software that watermark your images on the platform itself.
#3. Software per Watermark (per Windows e mac)
You can use software compatible with your computer to add a watermark to photos. Such tools do not require an internet connection (as does the online service), which makes them faster. You can also store your images on your computer's local drive.
There are several apps for Watermark for Windows and Mac computers. Among these we can mention Watermark.ws, PhotoBulk (paid for macOS), and uMark (free), etc ... Even IrfanView for Windows can be used to apply watermarks on images
# 4. Photo Editor to add watermarks
If your photo editing tool doesn't have a built-in watermark feature, you can use image editors like GIMP (free and open source) or Pixelmator for the same purpose. The results of the watermarking process using image editors will depend on your design level, but for many people it's an easier (and cheaper) way to create watermarks instead of Photoshop.
# 5. Watermark Applications (Android and iOS)
If you are using your smartphone, tablet or iPad to watermark your images on the go, there are several mobile apps for Watermark to use on Android and iOS.
Among them is iWatermark (Android / iOS), which allows you to choose images from your phone's gallery and add watermarks such as a copyright or custom logo with just a few taps. It also offers a "batch" watermark feature so you can watermark multiple images at the same time.
Then there is also the Shortcuts app for iOS, which helps you automate several functions besides watermarking. You can create a link that watermarks your entire image collection and even resize and upload it to social networks.
[Free] How to Add Watermark (Watermark) on Photos & Images -