Facebook is finally opening up to profile videos in Spain and Europe, and to a lesser extent to Live Photos taken with iPhone 6s.
Facebook is increasing initiatives in the field of video, and more broadly of moving images. After opening up to animated GIFs in October, and after switching to a video player without a plugin last week, the social network is now opening up to profile videos on the one hand and in Live format Apple photo on the other hand.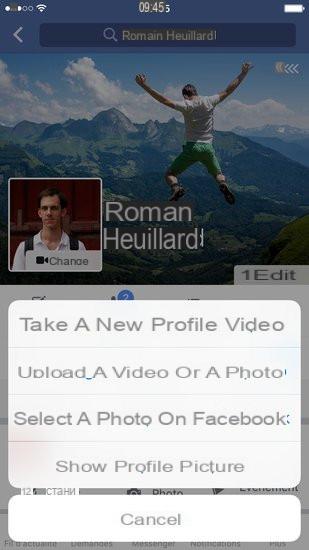 Profile video arrives in Spain and Europe
For starters, after months of experimentation in the United States, Facebook has finally started the global rollout of the profile video feature. As the name suggests, this feature allows you to replace your inanimate profile picture with a video.
If you haven't already, you can save or download one overnight. According to our findings, the function is still only accessible from the iPhone application. On Android, the menu that appears when you tap on your profile picture reads "Coming soon: profile videos".
Either way, you can record a video on the fly or download one from your camera roll. In both cases, the duration is limited to 10 seconds, and you are prompted to choose a thumbnail for displaying an inanimate profile picture.
IPhone 6s Live Photos gradually rolled out
Facebook also introduces support for the Live Photo format for the new iPhone 6s and iPhone 6s Plus. "Living photos," as Apple calls them, are really just short 3-second videos that are captured automatically when a photo is taken. Now, a fraction of users can upload these videos to the social network.
Live Photos may be vulgar videos, but at first they are only visible to owners of iPhones and iPads running iOS 9. Users of Android devices, Windows PCs and even Macs will only see a still photo.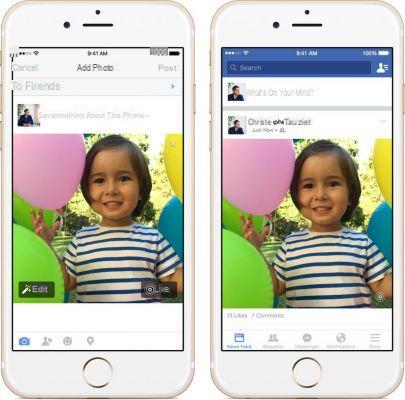 Related contents

The creator of the GIF format lifts the veil on the pronunciation of the acronym
Facebook abandons Flash: videos faster and in HD