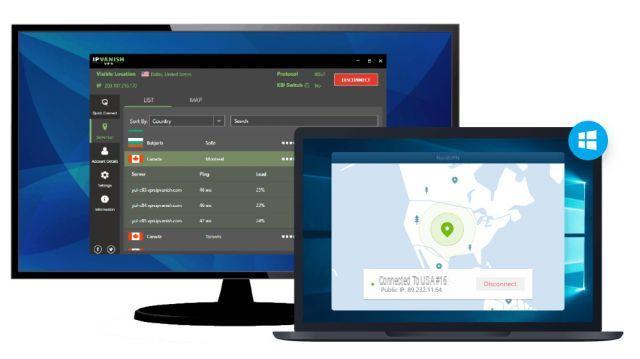 After seeing in detail what a VPN is and how it works, the time has come to figure out which VPN service to use in order to browse through our Windows PC in a anonymous, sure and take advantage of all the other benefits of the VPN connection, such as:
access content restricted or censored in some countries
unblock websites and download torrents with the utmost discretion
protect your privacy preventing Internet services from collecting browsing data
browse anonymously hiding your real IP address
navigate safely even when using public WiFi networks
But what is the best VPN for Windows that allows you to get all these benefits? There are a myriad of VPN connection providers and below we want to draw up a real ranking (as done for the best antivirus for Windows PCs) based on the following factors: effectiveness of the service, price, speed and security. Here is the summary table of this 2021 ranking:
# 1. CyberGhost VPN for Windows
CyberGhost is at the top of this ranking for several reasons, but essentially for the high number of servers available, for the high speed of the VPN service and for the possibility to try the service for free before subscribing.
The number of servers and their geographic location is one of the crucial factors to consider before buying one VPN service. In fact, a VPN service with its many servers spread geographically allows you to bypass all geographical restrictions imposed on websites or content (social network platforms, streaming links and even TV shows).
CyberGhost VPN offers 1800 servers spread across 60 countries at the moment and all this at one very competitive price as can be seen from the following figure:
Using CyberGhost VPN is really simple. If you have a Windows PC here are the steps to follow to download and install CyberGhost VPN on your PC.
# 1. Log into the CyberGhost site and then click on the button "Request the offer now"To take advantage of the active discount. Once you have made the purchase you will have the data to access your control panel and proceed to download the software compatible with your computer or operating system (windows, mac, ios, android, linux, etc. ..).
# 2. Proceed with installing the app. When you open the tool you will see a screen like this:
Using VPN software is really trivial. Just click on the switch to activate the VPN connection. You will be able to choose the server (nationality from which to draw the new IP) and you can also activate the VPN based on what you need to do, for example for torrering or online streaming.
# 3. Choose the function to use: surf anonymously, unblock streaming (eg Netflix, Youtube), unblock website (eg Facebook), download from torrent anonymously, protect your WiFi. Or you can choose a server to adopt the IP of the country you want, to use during your navigation.
To have no limitations, we recommend that you activate a "premium" plan from This Page, at the lowest prices on the market.
#2. HMA! PRO VPN
HideMyAss (HMA) was one of the first companies to develop a VPN software to allow people to browse anonymously, overcome the limitations of geo-blocked content and feel safer in the world of the Internet. HMA! VPN is a service available for all platforms (including Windows) which is characterized by the high number of VPN servers located all over the world and by the high quality of the service offered.
Once you have accessed the official page of the service, you can immediately proceed with the download of the Windows version or with the creation of a free account to try the service without having to spend a cent.
After installing and activating your account, you can immediately start enjoying the benefits of the VPN connection. In particular, you will have 3 modes of use:
As mentioned above, there is a 1 month free license to try the service. At the end of the free month, you can purchase the renewal at very affordable prices:
Here are all the features and features you will find in HMA VPN !:
Over 290 IP several to choose from located in over 190 countries
Super-fast servers
Protocol OpenVPN (safer and faster than others)
Ultra-fast connection
Stable connection even when HMA VPN switches from one IP to another
Random IP (which changes for example every 10 minutes)
Function Kill Switch to block all internet traffic for specific apps or for the whole system if the connection to the VPN drops.
Smart Kill Switch function to start HMA VPN automatically if you run a "risky" app for your privacy
DNS without log
Protection against IPv4 and IPv6 protocols vulnerabilities, as well as DNS breaches
Speed ​​test to check the fastest connections to use
Protect up to 5 devices at the same time, including Windows, Mac, iOS, Android, Linux, and routers.
# 3. Hide.Me - VPN for Windows
Hide.Me in our opinion it ranks in the first places because it is a very valid VPN service compatible with Windows 7, 8 and 10 PCs. It offers a system that with one click allows you to connect to the desired VPN server and start browsing safely and in complete anonymity. In addition to Windows PC, Hide.me also provides apps for other operating systems such as MacOS, iOS and Android, and allows you to activate up to 5 simultaneous connections to be hooked to one of the 115 servers made available, located in 23 countries around the world. .
Advantages Hide.Me:
Certified protocols
Ideal for travelers
Ability to activate a free plan
Presence of over 115 servers
It offers the possibility of 5 simultaneous connections
Advanced settings like Kill Switch
Disadvantages Hide.Me:
A bit complex configuration of concurrent connections
Premium version has a slightly higher cost than competitors
Hide.Me VPN it is available in 3 floors including a 100% free plan which offers a maximum of 2GB of data transferred per month and the possibility of choosing from a maximum of 3 servers (locations). Hide.Me VPN offers a transparent policy on privacy so you can be sure that your online activities will not be monitored or recorded. The main features of Hide.Me VPN include P2P torrenting, unlimited data transfer (with paid plans) and 5 simultaneous connections with the premium plan.
How to install Hide.me on Windows:
Step 1. Log in to This Page and DOWNLOAD the Windows version of Hide.me. After installation here is the screen you will see:
Step 2. Click on MODIFY to choose the country and IP to use (instead of your real IP)
With the free version you can choose between 3 countries (Netherlands, Canada and Singapore). Once you have chosen the location and IP, return to the home screen.
Step 3. Click on ENABLE VPN to start surfing with the new IP
As proof of the excellent functioning of the program we have traced our IP address before and after using the Hide.me software. Here is the result: on the left the real IP address (displayed by the site mioip.it) and on the right the new address obtained thanks to the Hide.me VPN connection, choosing the server in the Netherlands:
The great advantage of Hide.me is that you can download the VPN program for Windows and use it Free to verify its operation. In addition to the choice of up to 3 countries, the FREE version has a limit of 2GB of data traffic that can be used under VPN.
Below are the 3 plans provided by Hide.me VPN (click to access the purchase page):
# 4. Express VPN for PC
When it comes to best VPN software for Windows, service Express VPN it is certainly at the top of the ranking for several reasons. It is a very fast and ultra secure VPN and is backed by the best encryption technology. Express VPN is an excellent choice for users with a Windows 10, 8, 7, XP and Vista PC and can be installed with just a few clicks on various computers and notebooks including Acer, Asus, Dell, XPS, Latitude, Lenovo, ThinkPad, etc ..
Advantages of Express VPN
It does not track usage and browsing
Excellent customer service
Supports Peertopeer (P2P)
30 days satisfied or refunded
Extensive server coverage
Disadvantages of Express VPN
A little expensive, but the service is worth the price
Express VPN can be activated by choosing one of the three plans: 1 month for $ 12,95, 15 months for $ 6,67 per month and 6 months for $ 9,95 per month. To make sure it is indeed among the best VPN software for Windows PCs, Express VPN offers a 100% hassle-free money back guarantee on all of its plans, allowing you to experience the service firsthand.
How to install ExpressVPN for Windows:
Register to subscribe by clicking on ACTIVATE EXPRESS VPN from the official page
Download and install the ExpressVPN VPN app for Windows. Here is the main screen of the VPN software:

Click on the button to activate the VPN and start surfing anonymously. By clicking on the "Choose Location" button you will also be able to connect to any of the 148 server locations

Once connected you can browse freely, in total safety

# 5. NordVPN - VPN for Windows
Another great PC VPN service is definitely the one offered by NordVPN. Unfortunately, like almost all the best VPN services, it's not free but it's still not overpriced. It is available in 3 plans: 1 month for $ 11,95, 2 years for $ 3,39 per month and 1 year for $ 5,75 per month.
Benefits of NordVPN
Servers present in more than 60 countries
No monitoring and saving of logs
Powerful data encryption
Allows up to six simultaneous connections
"Kill switch" function to block the internet connection as soon as the connection to the VPN network fails
Disadvantage of NordVPN: Speed ​​may decrease if double encryption is enabled
Each plan offers the same set of features like kill switch, DNS leak protection, and auto connect. Furthermore, it offers a good experience on Windows as well as on other devices. It offers military-grade encryption using state-of-the-art technologies and can even encrypt data twice for an extra layer of online privacy. With great customer service, top-notch performance and a 30-day money back guarantee, NordVPN is truly one of the best VPN software available for Windows.
How to install NordVPN on Windows:
Step 1. Sign up for the service and Activate a NordVPN plan from this page.
Step 2. Download NordVPN for Windows from this page. After installation you will see this screen:
Step 3. Log in to the software by entering your email and password. Once logged in you can choose the server and the country and click on CONNECT to start surfing safely
# 6. CyberGhost VPN
CyberGhost it's one of the best VPN for Windows for several reasons, starting with the fact that it offers military-grade encryption and is easy to install and use. In addition, it has servers in more than 27 countries and offers super fast connections for streaming and also for downloading P2P torrent files.
CyberGhost VPN Benefits for Windows
Lots of servers available to choose from
Secure and advanced encryption
Simple to use
Super fast
30 day money back guarantee
Disadvantage CyberGhost VPN for Windows: Track some data related to the connection
CyberGhost VPN offers three plans to choose from: $ 11,99 for 1 month, $ 2,75 per month for 3 years, and $ 5,49 per month for one year, each backed by a hassle-free 30-day money back guarantee. CyberGhost VPN offers a strict nolog policy and, in addition to being one of the best VPNs for Windows, it can also be used on other platforms such as MAC, Android and iOS.
# 7. Buffered VPN for Windows
Hungarian service, Buffered VPN It is a well-designed and feature-rich VPN for Windows, and it also offers live support on its website in case of technical problems. Although it only has 37 servers, it is located in popular locations including Australia, the Netherlands, Singapore, Panama, and the United States.
Benefits Buffered VPN for Windows:
It works very well especially on Windows
Simple to use
Great features and P2P compatible
Live chat support and 30-day money back guarantee
Buffered VPN Disadvantage: Stores some connection data for internal use
Buffered VPN offers three plans to choose from: $ 12,99 for a monthly plan, $ 8,25 per month for a yearly plan, and $ 9,99 per month for a two-year plan. Each plan offers several premium features such as open port detection, domain name protection, a kill switch, high-security OpenVPN encryption, and nearly 100% uptime.
# 8. Avira Phantom Free VPN for Windows
Avira Phantom it is certainly among the best free VPNs for Windows with the possibility of using annual and monthly payment plans. The free plan is limited to 500 MB per month and does not require any information or registration to try it out. It's aimed at home users, and its free plan doesn't offer the ability to stream anything, but it's a great choice for low-bandwidth usage, especially when traveling.
Avira Phantom VPN Benefits:
Simple to use
Good performance
OpenVPN encryption
Servers in 20 countries
Disadvantages Avira Phantom: Not compatible with Linux and Initial connection a bit slow
Avira Phantom has recently been online and is not yet developed worldwide. Comuque offers the possibility to connect to 20 servers around the world and this also with the free plan. It offers DNS leak protection to prevent loss of DNS requests and a "kill switch" to prevent data loss in the event of a connection failure. In terms of encryption, Avira Phantom VPN offers OpenVPN at the highest level on Windows and Android platforms and Layer 2 Tunneling Protocol (L2TP) for iOS and MAC users.
# 9. Betternet VPN for Windows
Betternet is an easy-to-use free VPN for Windows and is also compatible with many other OS platforms and browsers, including MacOS, iOS, Android, and Chrome. It allows you to hide your IP address and does not keep any type of file or information. It is regarded as one of the best VPNs for Windows, because once downloaded and installed it provides a stable and high quality connection.
Betternet VPN helps you avoid IP-based restrictions and access streams of sports, videos, and more. While it's one of the best free VPNs for Windows, it offers an impressive list of servers located in several countries including Singapore, Australia, the Netherlands, and the United States. Once you have installed Betternet VPN on your Windows PC, just click on the "Connect" button to start surfing in complete anonymity:
# 10. SecurityKiss VPN for Windows PC
Besides what the name might suggest, SecurityKiss VPN is probably one of the best free VPNs for Windows and other platforms. It works by redirecting your online data through a secure gateway so that all your communication and online activities such as social networks, instant messages, emails and web browsing are encrypted.
After installing the program on your Windows PC, as shown in the figure above, you can choose the country and IP and then click on "Connect"To start the VPN connection.
A free plan with a limit of 300MB per day and a maximum of 4 server locations. However, even this free version has 1024 bit security and fast servers. Then there are also paid plans to choose from that offer access to extra features like the ability to open multiple connections at the same time.
# 11. Neorouter VPN for Windows
One of the main features of Neorouter VPN is that it offers connectivity without having to do the configuration to different servers. This free PC VPN service also supports other platforms including Android, iOS, Raspbian, and Linux 32 and 64 bit. Neorouter supports P2P connections and can be run without administrator rights.
Some of the key features of Neorouter's free VPN include private server, cross-platform compatibility, and mobile user profiles. Getting started with Neorouter is a breeze - you simply need to create an account, download the software, launch the web client on your Windows PC (see figure above) and you're ready to surf the Internet securely.
# 12. TunnelBear VPN for Windows
tunnel Bear is a Free VPN for Windows which, however, also includes paid plans. The only limitation of the free plan is that you are limited to 500 MB of traffic per month, but other than that you have 20 servers and support for up to 5 devices. TunnelBear collects minimal data and, with its security policy, it is not necessary to provide your name to register. Some of the noteworthy features of TunnelBear VPN for Windows include vigilance mode, lightning-fast speed, and ever-present technical support.
If you are going to download torrents or just want to maintain privacy while browsing the internet on a Windows PC, you should ideally use one VPN (Virtual Private Network). There are several Windows VPN services to choose from, and with the above overview you will finally be able to make the best choice. You will be able to use either one Windows VPN free than a paid Windows VPN ... it all depends on your needs.
Best VPNs for Windows PC 2021 -