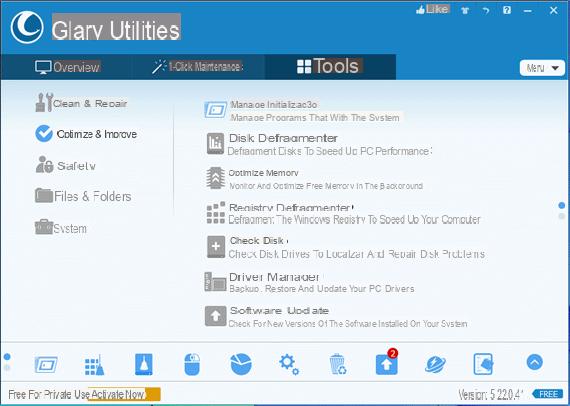 There is nothing more nerve-wracking than having a slow PC, so slow it takes 150 minutes to boot up and forever to open a program, view a video, save a file, and so on. When the computer is new everything seems to go smoothly, but after a few months of use they begin to notice slowdowns and Windows performance degradation. After a few years the slowdowns become very noticeable and if nothing is done maintenance on the PC the problems worsen until they occur system crash, actual blocks, appearance of blue screen, etc…
In order not to get to these limit situations and to improve the performance of the Windows PC, below we wanted to list those that are currently the 3 best programs to clean, optimize and speed up Windows. All these programs are offered in demo mode, that is, you can try the software for a few days before any purchase to verify that your Windows PC actually becomes more reactive and faster in all operations.
# 1. IObit Advanced SystemCare
IObit Advanced SystemCare offers a powerful and effective approach to optimizing Windows, and is placed at the top of this ranking also for its ease of use. Even the less experienced can easily clean and optimize their PC without any effort.
IObit Advanced SystemCare is available in two versions: a free version that has basic cleaning functions and a Professional version that includes real-time optimization, privacy protection, deep registry cleaning and 24/7 technical support. This latest version costs only 19 euros / year and the license covers three PCs.
Whichever edition you choose, the IObit Advanced SystemCare interface is well designed, easy to use and intuitive to use.
Like most optimization for PC, IObit Advanced SystemCare cleans files and folders but also repairs the Windows registry, detects any malware in the system and corrects errors on the disk; all via a simple control panel.
>> IOcare Advanced Systemcare website
>> Download IObit Advanced Systemcare (15 days free trial)

#2. Wise Care 365
Wise Care 365 is another popular cleaning and optimization software that has become for many an indispensable program to be able to optimize the Windows registry and thus avoid slowdowns and system crashes.
As you can see from the figure above, the program interface is very intuitive and allows you to quickly access the optimization function (by clicking on the "Check" button) and all the functions from the top menu. On the right, however, there are other applications integrated into the tool that allow you to perform various interesting operations such as optimizing the RAM memory, uninstalling programs, quickly searching for files, and so on.
The strength of Wise Care is undoubtedly that relating to cleanup of logs andWindows optimization. Thanks to these functions you get an acceleration of the startup and shutdown of the PC, a greater stability of the Windows system and consequently an increase in the speed of Windows in all the various operations.
>> Wise Care 365 website
>> Download Wise Care 365 (7 days free)

# 3. Iolo System Mechanic
Iolo System Mechanic removes junk files and unwanted apps, blocks bloatware and unwanted autorun settings, cleans RAM and clears various logs, browser histories and caches.
In addition to freeing up system resources, it also eliminates traces of browsing activity to protect your privacy.
Its Windows optimization toolkit really makes a difference: after downloading and trying System Mechanic you notice a significant speed improvement PC, especially when Windows starts. The free version is very good, but the premium version is worth considering if you use it regularly. This premium version also includes a file recovery tool and can be used on all PCs in the house.
The noticeable performance increase found after running System Mechanic has made it one of the best tools for optimizing your Windows system.
>> Go to the Iolo System Mechanic website
>> Download Iolo System Mechanic

# 4. PowerBooster PRO
Powerbooster Pro is another very easy to use program that provides an effective solution for migliorare the prestazioni Windows system. Inside this program there are all the useful tools to optimize PC performance. This sophisticated PC software is able to acquire, analyze and optimize Windows settings and at the same time do a thorough cleaning of the disk by removing useless files, invalid or defragmented files. Finally, there is also the registry cleaner tool that fixes system errors by preventing crashes and reducing Windows startup time.
>> Go to the PowerBooster PRO website
>> Download PowerBooster Pro

# 5. Ashampoo WinOptimizer
With the program WinOptimizer, you can get faster speed for your Windows PC through one of the easiest to use interfaces. It is certainly one of the best solutions to adopt for Windows optimization, especially for inexperienced users.
Ashampoo WinOptimizer makes the Windows maintenance. In fact, with its regular use, the PC will always be performing and fast, and the blocks and hitches that are found on a used PC will not occur. Your computer won't run as fast as it was on the first day you bought it, but it can at least become usable for your daily operations.
In addition to the Windows maintenance function, there are other interesting tools in this program that allow you to configure and optimize your Windows computer so that it works best according to your needs.
>> Go to the Ashampoo WinOptimizer website
>> Download Ashampoo WinOptimizer
https://www.softstore.it/miglioriprogrammipulireottimizzarevelocizzarewindows/
Best Programs to Clean, Optimize and Speed ​​Up Windows -