What are the photo editing programs for?
The photo often represents a precious moment of our life. Often, however, we notice the presence of some imperfections in the photos that could ruin everything. Thanks to photo editing programs you can retouch and correct these photos as you wish, in order to improve the image quality and better save those precious moments that would otherwise be lost. On the net there are dozens (if not hundreds) of photo editing programs and obviously they are not all the same. In this article, however, we want to focus only on best professional photo editing programs which, it is true, have a small cost (from 20 to 30 euros) but which guarantee the best compromise between quality and ease of use.
1. Movavi Photo Editor
The photo editing program developed by MOVAVI It is definitely one of the best photo editing programs which allows you to make changes of a different nature on a photo or image. An interesting feature of this program is the function Magic Enhance. With it, with just one click you can automatically improve the quality of the photos (the program adjusts the various parameters in order to obtain a better brightness, contrast and sharpness of the photo).
In addition, it allows, thanks to various correction tools, to obtain absolute precision in photo-retouching operations. You can also crop, flip, rotate and straighten images giving free rein to your creativity.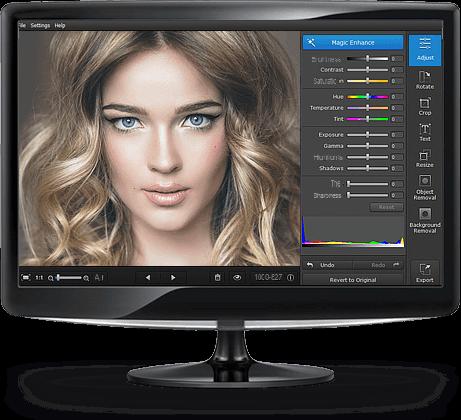 Movavi Photo Editor is available for both Windows PC and Mac OS X. Here are the links to download the free demo version:


The latest version of Movavi Photo Editor has new and interesting features:
New photo-retouching tools
Over 70 special effects to retouch your digital photos
New collections of themed effects: cartoons, Disco, Pop Art, and others ...
Ability to apply effects to a single image
Add effects to favorites so they are easy to find
Ability to copy and paste photos or parts of photos
New fonts for captions and watermarks
A completely overhauled and very elegant interface
New guide for using photo object removal tools
Full compatibility with 4K monitors
Screenshot: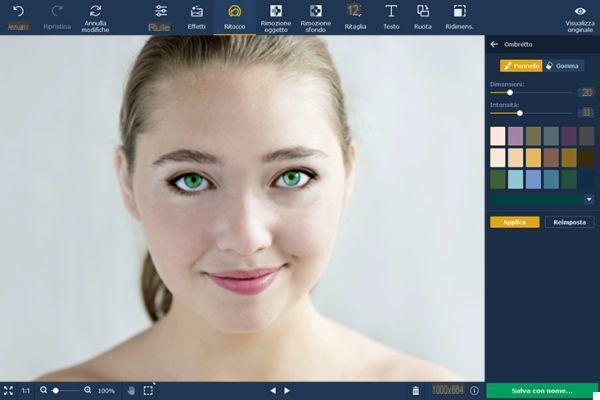 For more details click here: Movavi Photo Editor
2. PT Photo Editor
PT Photo Editor is a simple but at the same time professional photo editing program capable of solving most of the problems related to the quality of the photos, and obtaining practically perfect images. With PT Photo Editor, you can correct the color of the photo, solve the problem of underexposure / overexposure to light, remove red eyes, eliminate unwanted objects from photos, improve the color tone, stylize photos and turn each photo into a work of art with your creativity.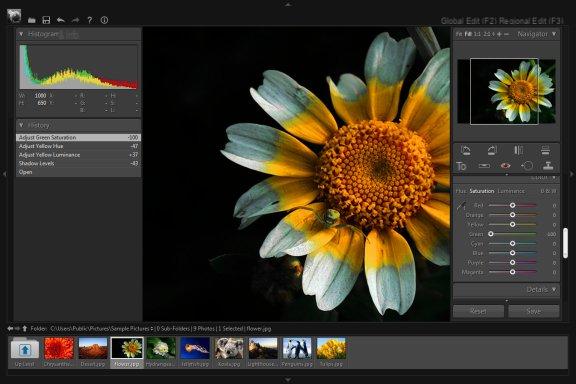 >> DOWNLOAD PT Photo Editor
>> Learn more about PT Photo Editor
The PT Photo Editor interface is clear and intuitive, even if it is in English. From it you can easily access the different photo-editing tools you may need. On the left of the interface instead you can view the information of the photo and have the history of all the operations carried out on the photo.
In PT Photo Editor there are two "Photo Edit" modules: Global Edit e Regional Edit.
The "Global Edit" module provides many adjustment tools for applying photographic enhancements to the image. For example, by simply dragging the sliders, you can brighten an underexposed photo, improve its brightness, and selectively adjust the color to give the photo liveliness.
The Global Edit module also provides several photographic fixing tools, helping you to remove red eyes, imperfections, erase unwanted objects, and get rid of other photographic imperfections (eg blur, blurred photos, etc…).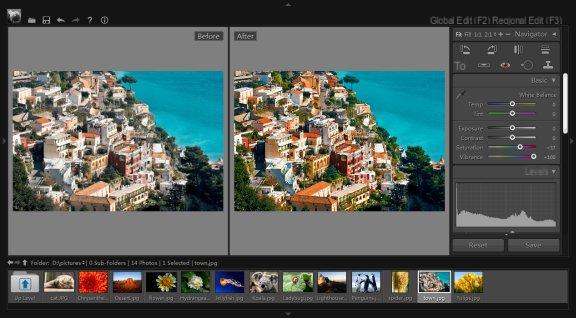 The "Regional Edit" module instead allows you to selectively edit your photo, apply color and tonal adjustments to a specific area. You can use different tools to make your selection. The Regional Edit module provides several tools that adapt to the different types of selections that need to be made. For example, the "Gradient" tool is used to create a gradient region, the "Brush" tool allows you to select or deselect the area to paint, and the "Quick Selection" tool allows you to select an area of ​​similar colors by clicking or by drawing a line in the photo. Further complex selections can be made with the "Lasso" tool. You can also smooth the edges of a selection with the gradient.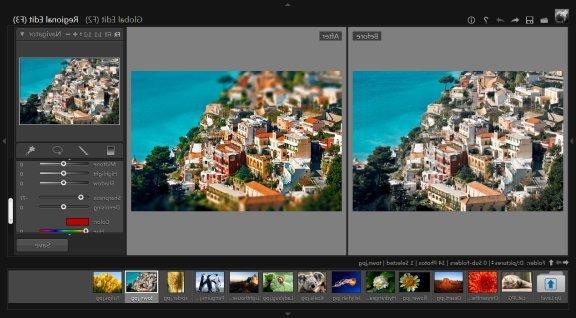 You can create several selections in a photo. For each selection, the effect adjustments comprise two parts: foreground and background. If you want to adjust the selective area just choose the 'Foreground' panel. If you want to apply effects to the area outside the selection instead just choose the 'background' panel. All this facilitates and speeds up all the photo editing operations that you want to carry out on a photo.

In PT Photo Editor, all photo editing operations take place in real time. This means that if you are not satisfied with the work done, you will not have to undo all the previous operations, but just change the last actions.
PT Photo Editor is compatible with Windows XP, Vista, 7, 8 and Windows 10. If you often work with files in RAW format, you will not have problems because the program supports RAW files as well as photos in BMP, JPEG, PNG, TIFF format , DNG. Edited photos, on the other hand, can be saved to your computer in JPEG, PNG or TIFF format.
3. PT Portrait Studio
While the Photo Editor program is professional photo editing software that allows you to make "general" changes on a photo, the software PT Portait Studio on the other hand, it is specialized for the retouching of portraits in photos, that is, it allows you to retouch the faces (faces) of the people portrayed in photos. With this photo editing program you can perform numerous operations such as: remove wrinkles from the face in photos, remove pimples, remove dark circles, whiten teeth in photos, remove skin spots on the face, and much more.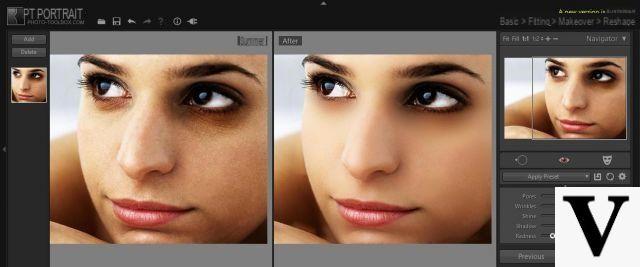 On the site https://www.modificatofoto.net/ you will find all the guides relating to the operations listed above.
It is true that you can do these operations with Photoshop but if you don't have time to study Photoshop and you are looking for a simple, practical and quick to use solution, then PT Portrait Studio is the one for you.
Hi, finally someone who knows Movavi! I am convinced that for the very low cost it is an excellent quality / price product. I have been using it for some time and I am very happy with it
Best Professional Photo Editing Programs -