You have some important chats on WhatsApp that you would like to save and keep on your computer? Or are you in the situation that WhatsApp begins to slow down due to the large number of chats stored and for this reason you want to backup messages on a computer and free up memory space?
In this article we point out an easy way to do the WhatsApp backup from iPhone to PC or from Android to PC. Follow this guide to understand how to make a copy of WhatsApp messages on your computer so that you can read them whenever you want and avoid the risk of losing them or deleting them from your mobile.
How to backup Whatsapp from Android or iPhone to computer (PC or Mac)
The smartphone (iPhone or Android) sometimes cannot communicate directly with the computer, which is why it is necessary to use a tool called WhatsApp Transfer and which allows you to backup your messages.
Whatsapp Transfer allows you to backup WhatsApp data on your PC or Mac, quickly and easily. In order to transfer messages from WhatsApp to computer, first download and install this program on your WINDOWS or MAC OS X computer.


Once you have downloaded and installed Whatsapp Transfer follow these steps.
Before starting, make sure you have iTunes 11.0 or higher installed on your computer. As for the Android mobile phone, however, USB Debugging must be activated, otherwise it cannot be recognized by Whatsapp Transfer. If you don't know how to do this, read the article How to activate USB debugging on Android. Also, on your Android device, go to Security and make sure the "Unknown Sources" option is activated
Step 1) Connect your iPhone or ANDROID device to the computer with the USB cable and start Whatsapp Transfer.
Step 2) The program will detect the connected device and import all Whatsapp messages present in the memory. In the case of Android devices, a message will appear on the screen of the Android phone. Click at the bottom right of this message, on the entry "Backup Data", Without entering the password. Then click on the software on "OK"To continue.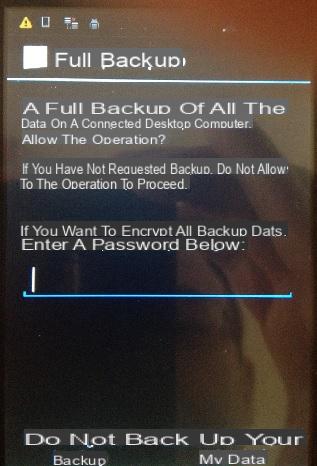 Whatsapp Transfer will show all whatsapp messages on your iPhone or Android device (Samsung Galaxy, LG, Motorola, Sony, HTC, Sony Xperia, etc ...)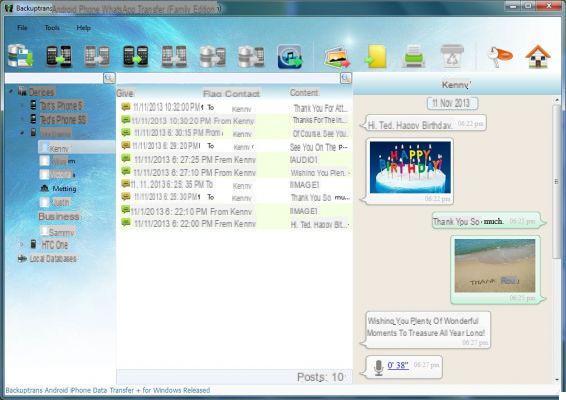 Step 3) At this point you can proceed and backup whatsapp messages on your PC (or Mac). Select from the left sidebar on the name of your device (under "Devices") and then click on the first icon at the top left "Backup Messages"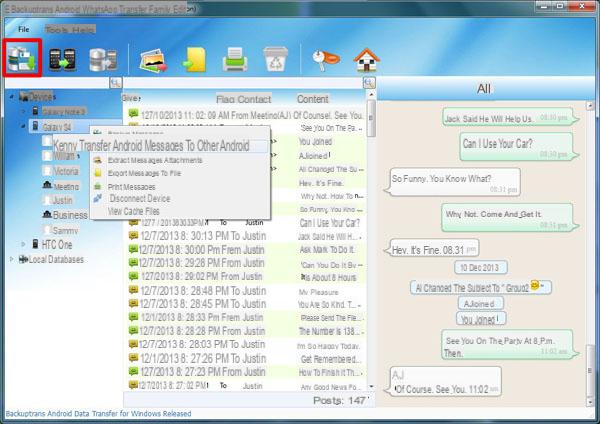 If you want to backup the messages of only one person, then all you have to do is select the contact name and then click on the icon Backup Messages per I will proceed.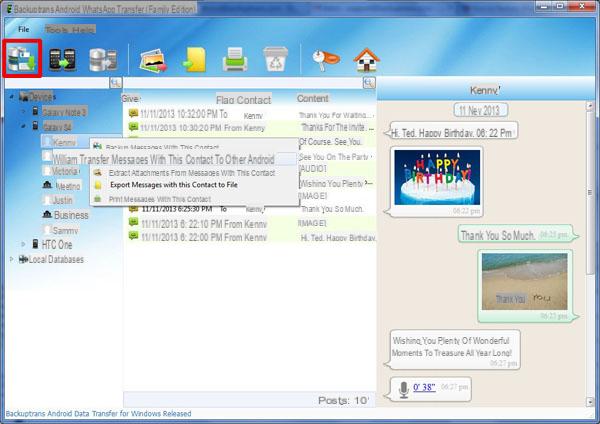 The whatsapp chats will be saved on your computer and you can archive, view or print them without any problems. This backup created on your PC will be able in any open via Whatsapp Transfer to do all the operations just mentioned or to copy these messages to other devices (Android or iPhone).
The power of the Whatsapp Transfer program is that, in addition to backing up whatsapp messages (and attachments), it also allows you to transfer whatsapp conversations from one device to another directly, with a simple click!
Question: When I then transfer the backups and chats to my computer, will my phone finally go empty? Because it is precisely because of the whatsapp backups that my memory is constantly full. Ps. thanks in advance <3
Yes, once the backup is done you can delete everything from your phone to free up space.



I need to transfer conversations from Android to iPhone. Having already a Mac, is it possible to transfer them from android to Mac and then to the cloud and then to the iPhone?
No, the only way to transfer chats from Android to iPhone is to use software like the ones described in this article:
https://www.softstore.it/trasferire-whatsapp-da-iphone-su-android-e-da-android-su-iphone/



It is possible to import only the chat of a contact that I previously extracted and sent by email
now the chat is empty because once extracted and sent by email I deleted the history
now i can import that zip file somehow and have it remount on what up?
I have an iPhone 7
Hi, since I have to change my phone (from iphone to android) and the iphone no longer allows me to make the backup, I would like to know if once backed up with dr.fone it is then possible to transfer the chats back to the new phone. Does it work like a real Whatsapp backup? Or is it not possible to "reactivate" the chats?
Thanks in advance
Hi, I would like to know how I transfer chats from whatsapp transfer to the phone?
Thank you
Just connect your mobile phone, in Whatsapp Transdfer select the desired chats with the right mouse button and choose the target device.
Can you use drphone if the phone memory is full and you can no longer access whatsup with your cell phone? Thanks
Yes, you can use it anyway
Hello everyone!
I bought the "Personal Edition" to backup my chats from the Samsung Galaxy S6 to the PC.
I connected the smartphone to the PC, I started the software and the following message appears:
***
The software will downgrade WhatsApp Messenger on your Android Phone so you can transfer chat history. No data lost when downgrading. Want to downgrade now?
Note:
1 WhatsApp Messenger has been verified on your Android Phone
2 It is recommended that you backup current WhatsApp messages on Android Phone SD card first before downgrading.
a) Go to WhatsApp > [Menu Button] > Settings > Chat Settings
b) Tap [Backup Conversations]
3 Turn off Wifi connection on your Android Phone.
***
I follow all the instructions, but when I click on "Yes", Backuptrans WA Sync (version 3.1.7) starts up on my Samsung, but nothing happens and another message appears on the PC:
***
An Error Occurred.
Can't read pre-installed WhatsApp Messenger data on you Android. Please check HERE to get a solution.
***
I have enabled both USB debugging and the "Unknown Sources" option.
How come the Android device is not revealed? How can I solve? Thanks in advance!
Very strange ... make sure Whatsapp is closed while trying to transfer or backup ... if it is open it may not be able to read the data.
Or try reinstalling whatsapp on your device ..

I tried to reinstall WhatsApp and, although the software was able to downgrade, when the backup message appears on the phone display, if I select "Backup Data" and press "OK" on the software, a new message appears:

***
An Error Occurred
Can't read WhatsApp data from Android device. Please check the following:
1 WhatsApp Messenger has been verified with phone number on Android Phone.
2 WhatsApp account has not been deleted on Android Phone.
***

The fact is that to verify the phone number on WhatsApp, I have to update the application and if I do, the messages from the previous post reappear and the chats are not extracted from the software.
I tried it with my husband's Galaxy S7 and his was recognized without problems the first time… I don't know why.
Guys have you already tried to print after saving them I can't ... can you tell me how to do it? The printer is visible but there is nothing to send the print.
To print the conversations (all or only those of a contact) just click directly on the icon on the program (with the image of the printer)
But how do you save messages, do you also save photos and videos? And then can I download or copy them to the pc to put them in a folder ??
I need to know if messages that have been deleted can also be recovered
To recover deleted messages you need to use dr.fone (http://www.drfone.it)

Thanks for answering me, so with Dr, Fone I can save the voice messages that another user sent me ?? !!
why I wanted to buy Whatsapp transfer to save the conversations in html and then since it does not save whatsapp transfer the voice messages of a specific user, you need dr fone a to be able to save only the voice messages I received from a person that interests me ??
thank you in advance

Yes, with dr.fone you can do what you ask for
Is there a program on softstore that saves voice messages?
Whatsapp transfer saves the conversations in HTML and my voice files that I have sent; but it does not save the voice messages of the user who writes me or sends me a voice sound, there is another program on your site or there will be a Whatsapp transfer which also saves the voice messages and images that a user sends me ..
Thanks in advance, waiting for your reply
Here are some solutions to also save attachments (photos, voice messages) on your computer: https://www.softstore.it/salvare-messaggi-whatsapp-da-iphone-sul-computer/. The program to use is dr.fone. There is both the version for iOS and for Android devices.
hello I have android version 4.4.2 smartphone lg. I tried to click several times for 7 times but nothing opens to me the svulippatore mode. and then on my phone there is no written "version number" but only "phone name "And in" state "" my phone number "and then" unknown ". Is there no other way to activate usb debugging? Then once activated, is there any way to deactivate it?
how do i buy the full version? and how much is it?
Why does it only save me 20 messages?
The demo version saves the first 20 messages.
You have to buy the full version to have no limitations.
copy whatsapp messages in the emeil of a nokia 530
Do you know how long whatsapp messages remain stored? That is, if I connect my cell to the PC today, how much time back can the maximum reach with the messages sent and received? 10 days? 1 month? 1 years? or even from the first installation of whatsapp on the mobile?
Sure of your answer, thank you in advance
Unfortunately you cannot know a priori ... the memory of the device does not have a logical sense that follows in the allocation of data ... it is also possible that you can recover conversations from months ago but not those of the previous day! You have to do a scan with the program to understand which and how much data are recoverable.
to me the program crashes as soon as I press export
Hello guys…. I also encountered the same problem. When I try to send the conversation you to email, you tell me sending in progress but it doesn't arrive… not even in the spam folder. How can we do? Thanks.
Try using this program: https://www.softstore.it/android/whatsapp-recovery/
It is true that it is not free but at least it allows you to save whatsapp messages on your PC without problems of any kind.
The problem is that I tried to send a conversation via email and it says sending in progress but it does not arrive !!! I don't know how to do otherwise.
Backup Whatsapp Messages on PC or Mac -